ELLISVILLE-It's been a banner year for Jones College's Shivum Desai of Hattiesburg who has been recognized for several academic honors.  The Phi Theta Kappa International Honor Society, Rho Sigma chapter president at Jones has been selected as one of four, Gold Scholars on the Coca-Cola 2019 Academic Team.  This national scholarship program recognizes 150 community/junior college students annually with scholarships totaling nearly $200,000.  Desai was selected based on his score in the All-USA Academic Team competition among more than 2,000 applicants. Students are scored on several factors including academic rigor, demonstration of leadership and service, campus and community engagement, student assessments and overall scholastic application.
"Earning these awards and being recognized is a dream come true. Because I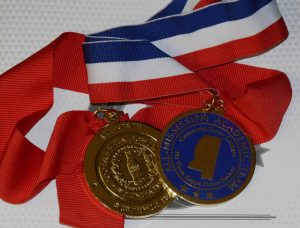 am new to this country, I always thought it would be difficult to be like previous students who have achieved great honors. However, humbling myself and exposing myself to different environments has allowed me to become successful," said Desai. "My parents, Sanjay and Karuna Desai, are my main motivation and are the reason why I work hard to reach my goals. They have always supported me on all of my endeavors and have given me everything I need."
Desai was formally recognized at the PTK Annual Convention with a Gold Medallion and a check for $1,500 for fall tuition. Additionally, Desai was selected to PTK's All-Mississippi Academic First Team which also awarded him with a medallion and $500.  Earlier in the academic year, the former native of England and Oak Grove High School graduate was named as Jones College's HEADWAE student representative and Tullos Scholar. The future invasive cardiologist will continue his education at the University of Mississippi as a prestigious, Lyceum Scholar.