ELLISVILLE – Live, theatrical performances of the popular, Disney movie, "High School Musical," presented by Jones College's theater department, are expected to attract large crowds as Covid-19 regulations are easing. Musical performances will be on Friday, April 8, and Saturday, April 9, at 7 p.m. and at 2:30 p.m. on Sunday, April 10, in the M.P. Bush Fine Arts Auditorium. Tickets are $10 for adults and $5 for children under 12 years of age. Jones College faculty, staff and students are admitted free of charge with their Jones College ID. Tickets will be available for purchase online. Check the Jones College Arts, Music, and Performance Facebook page for details. Additionally, information regarding current Covid-19 Health Department and CDC guidelines and mask requirements can be found on Jones College and the JC Arts, Music, and Performance department's social media in April.
Following a smaller cast show, "Godspell" in 2021, and the cancelation of 2020's musical, "Momma Mia," because of the Covid-19 pandemic, JC musical theater director/producer, Dr. Jennifer Bruton said she wanted to bring as many students as possible on board for a popular show that would be enjoyed by both the performers and audience.
"This generation of students grew up with the 'High School Musical' franchise which includes three blockbuster movies and several spin off series," said Bruton.  "The original, 'High School Musical' movie, which the musical is based upon, was in theaters in 2006, and vaulted Zac Efron, Vanessa Hudgens, and Ashley Tisdale to stardom."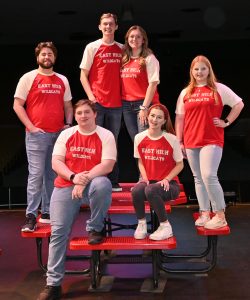 One of the lead characters, Troy is played by Conner Smith of Ellisville. He is portrayed as one of East High's most popular students and a star basketball player. The new girl in town, Gabriella is played by Natalie DeWitt of Laurel. This shy, smart girl is also a great singer and upstages Sharpay, played by Anna Leigh Ragsdale of Mize. Everyone soon learns Troy has a hidden talent that also threatens Sharpay and her brother Ryan's (played by Wesley Nelson Carmical of Ellisville) popularity and starring roles in the school's musical. Troy isn't exactly ready to shine on the stage but he likes performing with Gabriella as their relationship blossoms.
Musical hits from the original soundtrack include, "Breaking Free," which landed as #4 on the pop charts. Other songs like, "Wildcat Cheer," "We're All in This Together" and "Get'cha Head in the Game," will also likely have the audience singing along with the cast.
"I knew we were going to have a great turn out for auditions when we started playing, 'We're All in This Together' and the students broke out into the dance moves from the movie!" said Bruton.
The Jones Colleges musical theater production of "High School Musical" features 30 students and a live band. Additionally, Musical Theater incorporates the talents of various Jones College programs, including the commercial and residential maintenance program, and the band and cheerleaders to help make this production come to life.
Familiar to the JC theater stage, is sophomore mechanical engineering major, Conner Smith. As Troy, played by Zac Efron in the Disney movie, the veteran singer and theatrical performer is familiar with playing the lead role in theatrical productions. In fact, Smith has a lot of experience being cast in the lead roles as Jack Kelly in "Newsies," Kerchak in "Tarzan," and Doodie in "Grease" during his high school acting career at South Jones. Most recently, last spring, Smith played the double role of John the Baptist and Judas in "Godspell" at Jones College. He said he is looking forward to being the star basketball player in this year's musical.
"I've always loved the Disney movies, 'High School Musical' so I thought I would enjoy being in this production," said Smith. "It's fun playing a character that's not that different from who I am."
His female co-star, Gabriella played by Natalie DeWitt of Laurel, is a freshman, pursuing a degree in speech pathology. She is also no stranger to the theater stage.
"I love being able to bring Gabriella to life and play a character that I haven't performed before. I feel that we can all see a bit of ourselves in Gabriella, however, as an extrovert, getting the opportunity to play a character like her has been different and exciting," said DeWitt. "I have had a love for performing and have been involved in many plays throughout my life. It is truly so special to work with such a talented cast like this!"
Feeling insecure about the new girl at East High is the fashionable and feisty, Sharpay. She is portrayed by music education vocalist, AnnaLeigh Ragsdale of Mize.
"'High School Musical' has been one of my favorite movies since I was little with Sharpay being my favorite fashionable character. Being able to play her character is a dream come true!" said Ragsdale. "Sharpay's bitter attitude has been a fun way to step out of my comfort zone during rehearsal."
Coming to Gabriella's rescue is her best friend in the movie, Taylor McKessie, played by Wayne County's Mya McLain. The sophomore pre-law major has no problem playing the smart girl with real-life roles as the President of Phi Theta Kappa Honor Society and being selected for the JC Hall of Fame and Letter "J" academic honors.
"I love Taylor McKessie! She's too smart for her own good sometimes and she has to show her edginess and strong spirit in subtle ways that don't put her in the spotlight for all the wrong reasons. She's blunt, hard working and knows what she wants. I get compared to her a lot actually!" said McLain.
As everyone seems to demand Troy and Gabriella's time, they find little time for each other which works perfectly for Sharpay and Ryan, who devise a plan to disrupt the new couple's opportunity to shine on the stage.
To learn how the drama at East High unfolds, buy your tickets in advance, online by checking the Jones College Arts, Music and Performance website and social media pages. For more information about the Jones College Arts, Music and Performance department, call 601-477-4203.
Cast, Crew and Ensemble
Sarah Adams, Ellisville – Ensemble
Ni'Riyah Bell, Laurel – Ensemble
Wesley Nelson Carmical, Ellisville – Ryan
Ta'Nyia Cooley, Shubuta – Ensemble
Natalie DeWitt, Laurel – Gabriella
Reagan Gass, Waynesboro – Kelsi
Cameron Glenn, Laurel – Chad
Mackenzie Golemon Moselle – Ensemble
Jordan Grimes, Leakesville – Ensemble
Dasani Hill, State Line – Susan/Ensemble
Christopher Holloway, State Line – Crew
Kamaya Hutton, Laurel – Crew
Kathryn Hyatt, Laurel – Ensemble
Beyonce Kenny, Rolling Fork – Cathy/Ensemble
Mackenzie Lacy, Pass Christian – Martha
Eboni McDonald, Taylorsville – Ensemble
Mya McLain, Waynesboro – Taylor
Mya McLaurin, Bay Springs – Ensemble
Alexis Millwood, Brandon – Ensemble
Briannesha Mingo, Sandy Hook – Costume/Crew
Lee Mixon, Stonewall -James/Ensemble
Brandon Murray, Laurel – Ensemble
Bralynn Newell, Newton – Mrs. Darbus
Abby Nix, Ellisville – Ensemble
Eileen Ortega, Collins – Cyndra/Ensemble
AnnaLeigh Ragsdale, Mize – Sharpay
Phoenix Riley, Petal – Crew
Ethan Robertson, Columbia – Ensemble
Dreamanda Ross, Monticello – Ensemble
John Scott, Hattiesburg – Ensemble
Jaylon Sims, Raleigh – Zeke
Conner Smith, Ellisville – Troy
Matthew Taylor, Richland -Ripper
Payton Voge, Laurel – Stage Manager
Dalton Whitehead, Columbia – Alan/Ensemble
Donovan Williams, Laurel – Jack Scott