ELLISVILLE – Before the fall semester began in August, Jones College officials announced a vaccine incentive offering students tuition credit for proof they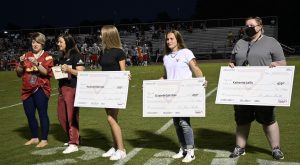 received the COVID-19 vaccine. Each student received a $50 tuition credit including the big winner of the incentive program, Samantha Bishop of Florence. Her name was drawn during the Thursday, September 9, football game. The freshman is the recipient of the $1875 tuition credit or one-semester full tuition.
"I was already vaccinated when the college announced the incentive. I was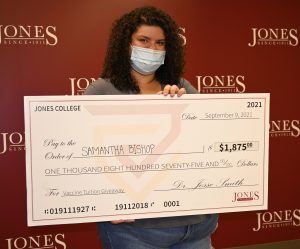 happy to receive the $50 credit. I didn't realize there were weekly drawings for tuition credit until I heard my name announced at the football game as the grand prize winner!" said Bishop.
Mackenzie Golemon of Moselle was one of the four, weekly random winners of a $470 tuition credit. Golemon said she has her mother to thank.
"I wasn't going to participate in the drawing or get the vaccine," said Golemon. "However, my mom wanted me to get vaccinated and enter the drawing, so I did. It's best to always do what mom says!"
Elizabeth Gustafson of Grenada thanked her roommate and Lady Bobcat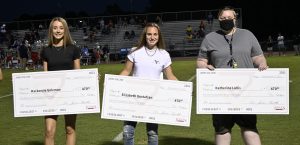 Soccer teammate, Acacia Rodriguez. She encouraged Gustafson to enter the vaccine incentive drawing.
"Coach Dolores encouraged the team to get vaccinated, but it was Acacia who suggested I enter the drawing. When I was notified of winning the drawing, I thought it was a scam! I almost didn't respond to the email, but Acacia knew the message was from Jones College's Student Affairs Office because Acacia is also the Student Government Association President. I'm glad she knew it was legit!" said Gustafson.
The third winner, Cameron Glenn of Ellisville said he received the vaccine in March. It was his mother, however, who encouraged him to enter the vaccine incentive tuition drawing.
"I was actually the first person to turn my vaccination card in to enter the drawing," said Glenn. "I got vaccinated because health and safety reasons are a priority to me, but it's also nice to have won the tuition credit."
Additionally, Katherine Lollis of Ellisville was a recipient of the $470 tuition credit. She said the tuition credit was "unexpected but appreciated."