ELLISVILLE – Trey Hilton of Pearl not only earned the Region III Intercollegiate Tennis Association's (ITA) Arthur Ashe Leadership & Sportsmanship Award but the Jones College sophomore tennis player was also named the National winner representing all Junior College men while doing something he loves.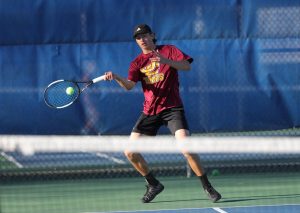 "I do the right thing because it's the right thing to do and to be acknowledged for that is almost inconceivable," said Hilton. "Receiving the Arthur Ashe Leadership and Sportsmanship Award is a tremendous accomplishment that I never saw coming. So, you can imagine my excitement when I heard I received the national award as well. I was thinking that I'm getting all of this for doing my thing; just being me!"
Trey had to hear the news second-hand because he gave up his chance to play in the national tournament in Tempe, Arizona to answer a "call to duty." In fact, his father, Troy Hilton said Trey is preparing to be a 4th generation Crew Chief of Chinook helicopters for the Army. Troy called Trey with the news during a break from Army Boot Camp.
"I was overwhelmed with joy for Trey," said his father, Troy. "I was extremely happy but not completely surprised. Trey has always been a very hard worker. When I told him he won, he had to stop a second because he was in awe. He was like, 'Wow, I can't believe it!' He had spoken so highly of the previous winner, James Williams, his teammate at Jones. For Jones to win back-to-back is a testament to the type of program and values that Coach Brooks Buffinton has instilled in his players."
Trey shared the journey to follow in his dad and grandfather's footsteps as Chinook crew chiefs started about a year ago. The plan mapped out to join the Army National Guard was an opportunity that he couldn't refuse. He planned his time at boot camp and AIT so that they would be consecutive, with the goal to return to Jones College as soon as possible. Sitting out only one semester would be difficult but missing the National Tennis Tournament was also a struggle for the NJCAA All-Academic Second Team and Distinguished Academic All-MACCC honored student-athlete.
"This was my biggest struggle!" said Trey Hilton. "Our tennis team is unlike any team that I have played with before. We are a tight group, but I knew the team would be great with or without my presence. I wish I was there, but we all knew that I needed to be somewhere else; that God had other plans for me."
Those plans include returning to Jones College in January 2022, to complete his associate degree in Business and play tennis. After pursuing his bachelor's and master's degrees in economics at USM, Hilton will be a part of the Army National Guard ROTC before taking a commission from the U.S. Army to helicopter pilot school in Fort Rucker, Alabama. However, he will first learn to be a mechanic on the Chinook helicopter during AIT and then he will be assigned to the National Guard base in Meridian. While there, Hilton will learn how to be the Chinook Crew Chief, just like his grandfather in the Viet Nam war.
"The military is well respected among my family, and I wanted to continue this honorable job. It has also given me insight into what I am capable of doing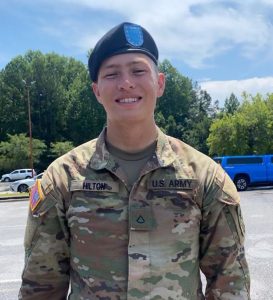 physically and mentally, who I want to become, what kinds of things I want to do in my life, and what I am willing to do for my fellow man as well as for our country. I want to continue to see the United States as a strong and free country!" said Trey.
His father is very proud of his son's accomplishments on the tennis court as well as receiving the Regional and National Arthur Ashe Sportsmanship & Leadership awards. However, having served in the Army, Trey's decision to join the Army is extra special to his father.
"During these changing times, the most selfless thing a person can do is serve their country. Trey has always made me proud, and he continues to do so in his choices," said Troy Hilton. "I am very fortunate that Trey chose a college that goes beyond what is expected. I appreciate Coach Buffington, the Jones administration, the athletic administration, and everyone for being so accommodating to Trey academically and athletically while he prepares for his military service."
The Jones College Men's Tennis Team finished second in the MACCC regular season and in the Region 23 Tournament in May. The Bobcats finished 16th in the NJCAA Division I National Tournament in Plano Texas in June. Trey said winning first place is something he is striving for next year!
—