ELLISVILLE – A section of Highway 11 was dedicated in honor of a longtime Jones College coach on Tuesday morning.
The Mississippi Department of Transportation (MDOT) designated the portion of the highway in the name of Elmer J. Higginbotham during a ceremony held at the Family Life Center of Ellisville's First Baptist Church.
Several people spoke at the event, including Higginbotham's daughter, Mary Boleware.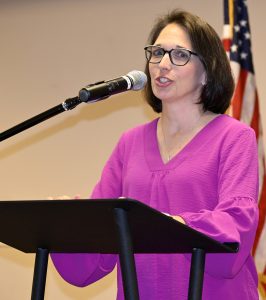 "Jones is where I pretty much grew up," said Boleware, who teaches Physics at Jones College. "Daddy has always been in the community because everybody knew who he was because he was Coach Higg. We would go to Therrell's Drug Store on Saturday mornings and get a grilled cheese and a cherry coke. Whether it was at the gas station or the grocery store, everybody knew coach Higg.
"When he retired from coaching, he decided to stay in the community and he really wanted to make a difference for the people of Ellisville. He was not born and raised here, but he loved it and he just wanted to make an impact for the community."
Higginbotham was a beloved figure at Jones where he coached from 1971-92. He was an assistant football coach from 1971-87 and head football coach from 1988-91. He was also head baseball coach from 1971-88.
While serving as an assistant coach to Sim Cooley, the Bobcats won three state football championships and participated in the playoffs 12 times. He also helped the Bobcats go to the Junior Rose Bowl in 1977.
The section dedicated to Higginbotham runs from the intersection of Highway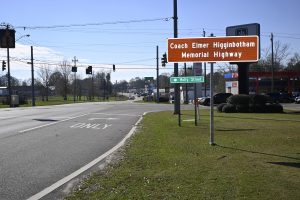 11 and Hill Street to one mile south past the entrance to the college. Southern District Transportation Commissioner Tom King said it was an honor to dedicate this portion of the highway to Higginbotham.
"Dedications like this are one of my great privileges as transportation commissioner," he said. "You get to learn about a great Mississippian who made our state better in so many ways.
Honoring Coach Higginbotham with this highway dedication is a great testament to the good he did for countless students who he was able to coach throughout his life.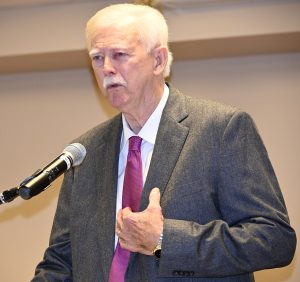 "He was very well-liked and very well known. He was a community inspiration to a lot of people and students that he coached. He was loved by everyone I've talked to here today. It's an honor to be here for this dedication. This lets people know that MDOT does more than just build highways and bridges. We care about people."
Joey Davis, who was a trainer for the football team as a Jones student in 1979-81, remembers the first time he met Higginbotham.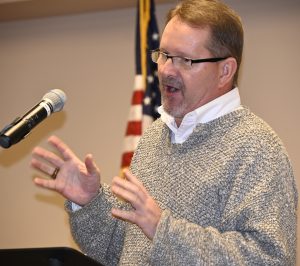 "It's an honor to talk about Coach Higg and what he meant to me," said Davis, who later served as the school's athletic trainer and taught Western Civilization and other subjects for over 35 years. "From the first time I met him, he was a great friend. I pulled up to the gym on the first day. If you know me, you know generally my truck is filled up with fishing stuff.
"I didn't know who he is, but he walked up to me and said, 'Two questions, son. How deep are they? And what color are they biting?' From then on, I knew I had a friend. Coach Higg was a great coach and teacher. He possessed those attributes that you hear people discuss like integrity, family, loyalty and work ethic. He possessed all of those. He loved his community, he loved his church and he loved Jones Junior College."
Robert Thomas, a wide receiver from Coffeeville, Alabama, played at Jones in 1988-89. He said Higginbotham was a major influence in his life.
"Coach Higg was more of a father figure to me," said Thomas, who is now a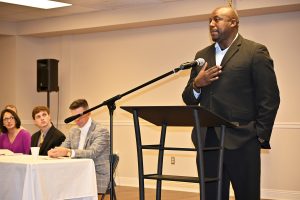 pastor in Sumrall. "Being here for two years and not having a father in the picture for two years, coaches become your father.
"When he and his wife went on vacation, there was always a fridge that sat outside of their house on their porch with food in it for us. Now, we had to figure out how to cook it, but the food was there. I think that was amazing for somebody to take the time out to think about you while they were absent."
Thomas said Higginbotham's love for Ellisville was clear.
"It's pivotal for kids and athletes and for people to see that you are not only a coach, but you are a part of the community – you live here, you eat here, you shop here," said Thomas, who credits Higginbotham for helping him to earn a scholarship to Tennessee-Martin. "I think that's phenomenal to show that his heart was here. His legacy will live on, not just on the highway, but in the lives and in the houses he visited from time to time."
Higginbotham coached in numerous postseason bowl games and several All-Star teams in football and baseball. The Macon native was a three-sport letterman in high school, participating in football, baseball and basketball.
After graduating from Macon High School in 1962, he earned a football scholarship to East Mississippi Junior College where he became an All-State player. He received his BS degree at Livingston University in Alabama and his ME at the University of Southern Mississippi.
He served as an assistant coach at East Mississippi and was the head coach at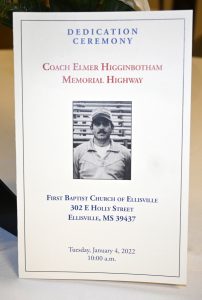 Leakesville High School, posting a 13-7 record in 1969-70. He then became offensive line coach at Jones in 1971, where he served until becoming head coach in 1988. He was inducted into the Jones Sports Hall of Fame in 2011 and the Mississippi Community/Junior College Sports Hall of Fame in 2015. He is also a member of the East Mississippi Sports Hall of Fame.
Higginbotham was an active member and deacon at Ellisville's First Baptist Church. He was a member of the Ellisville Lions Club and was named Lion of the Year. He was named a Melvin Jones Fellow by Lions Club International. He was a lifetime member of Masonic Lodge #161 and was an active member of the Gideons. After retiring from Jones, he established three businesses in Ellisville.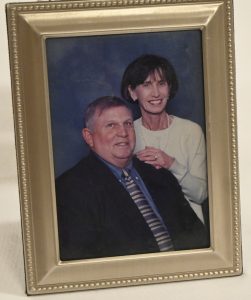 His wife, Sandra, was an instructor at JCJC and retired in 1995. She passed away in 2015. Both of their daughters, Michele Whittle (Tim) and Mary Boleware (Garland), are JCJC graduates.
His three grandchildren are Tanner Boleware, Hunter Boleware and Brock Walley.
"He passed away 10 years ago and for 10 years to have passed by and for him to still be making such an impact – this room full today tells me a little bit of how he impacted people," Mary Boleware said.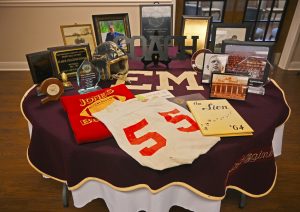 "When I get to drive to work and I see that sign, I'm sure I'll tear up. I'm sure I'll grin a few times, but I'm sure I'll tear up, too."
Higginbotham died on July 26, 2011.
(Story written by Shawn Wansley, JC SID-Photos by Teresa McCreery, JC Director of PR/Media)