ELLISVILLE – For the first time in more than 30 years, the Sertoma Club of Laurel held its monthly meeting at Jones College in Ellisville to get an update on the college and to give the Jones College Foundation a $15,000 check to increase the clubs' endowed scholarship, for a total of $25,000. The Sertoma Club established the scholarship in 2015, after establishing an annual $500 scholarship in 2013. Scholarships are one method of ensuring the clubs' mission of helping children with speech and hearing issues find resources and assistance.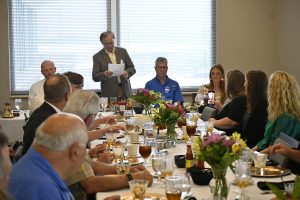 "We've been blessed to have good sponsorships for our golf tournaments and T-Ball programs," said Vice President of the Sertoma Club, Wayne Myrick. "The Sertoma Club of Laurel has assisted anyone needing help in obtaining hearing aids to cochlear implants. The newest project the Club has been involved with includes installing assistive listening technology in theater auditoriums that can broadcast directly to a wide range of hearing aids to help the hearing impaired enjoy performances."
The additional scholarship money provided by the Sertoma Club will provide more scholarships and possibly bigger scholarships for Jones College students majoring in speech and hearing related majors. Freshman MaKayla Blakeney of Raleigh was awarded this year's scholarship during the meeting and shared why she is majoring in audiology or speech pathology.
"I have a family member that is deaf, and growing up around him, I've always been very interested in it, and I wanted a job in the health field because I love helping people. Being an audiologist or speech pathologist is a combination of all the things I'm interested in," said Blakeney, who is also a member of the Lady Bobcat Softball Team. "Receiving my education is very important to me; my parents have always pushed and supported me. This opportunity arose and it's been amazing! I am very blessed and grateful."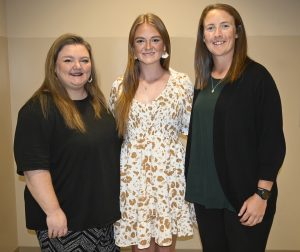 Head Softball Coach, Tori Dew shared when she was a student at Jones College, she also received a Foundation Scholarship like Blakeney. "Scholarships are one way to get an education and move your life forward for the next 20 to 30 years. My JC Foundation Scholarship helped me further my education and I'm honored to be a part of MaKayla's life to watch and see how she does in the future."
The impact of scholarships goes beyond the student recipient. Jones College's Vice President of External Funding, Sabrina Young explained that the Sertoma Club has established a legacy that is sustaining and far reaching.
"Not only does the student benefit through education, but the community needing these services is also impacted. The Sertoma Club helping the education community brings it all full circle because scholarships impact hundreds of lives as students become professionals providing life-changing services to even more communities."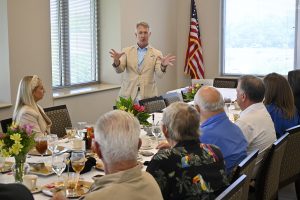 During the Sertoma Club's meeting, Jones College President, Dr. Jesse Smith also shared some of the college's priorities and current projects that impact services and education. Currently, Jones College provides workforce training for about 9,000 noncredit students in addition to the annual average of 4,600 traditional college aged, university parallel students on campus in Ellisville and at the four County Centers in Bay Springs, Leakesville, Stonewall and Waynesboro. The Jasper County Center in Bay Springs is currently pursuing an expansion to support local industry and current market demands. Additionally, Jones College is embracing the possibilities of Artificial Intelligence and how to safely incorporate it into education to benefit the community. One example includes a new, STEM Center currently being designed to provide interactive, technology laden labs for science, math and technology majors in addition to students majoring in medical related fields.
Students traveling to campus will enjoy the renovations to the Student Union in the back part of the A.B. Howard Gymnasium which will include a Starbucks and a place for students to "hang out."
Smith ended his update on Jones College by emphasizing, that while you can get a good start at Jones College, it doesn't mean you have to stop there. "We have people competing at the highest level in most industries because they got a great start and they have aspired to continue to improve. How they make it to the top is all about the journey," explained Smith.