ELLISVILLE – In a year that is anything but normal, the Jones College Maroon Typhoon Marching Band has welcomed its first known service dog member this fall. Laurie, the three-year-old Golden Retriever is baritone saxophone player, Sara-Beth McKellar's service dog. The Vicksburg native was diagnosed with epilepsy as a sophomore in high school after her first seizure. McKellar was preparing to lift the barbell during a powerlifting competition when she passed out and began seizing. She started taking medication for epilepsy to try to control the seizures, but they were happening almost weekly.
"It always seemed to happen at the most inconvenient time," said McKellar. "I fell down the bleachers and herniated a disc, and I had a seizure in the bathroom and somehow locked the door," said McKellar. "My mom (Kiely) is a nurse and she was very relieved when we got Laurie, especially when I decided to come to Jones for college."
Having her sister, Anna Claire on campus her freshman year helped to ease mom's concerns. Last April, the family decided to launch a fundraising campaign to get a service dog, for additional reassurance. The day before McKellar's birthday, the family drove to Madison, Virginia to pick up Laurie from Service Dogs by Warren Retrievers. This life-saving addition to the family has changed Sara Beth by providing her more independence.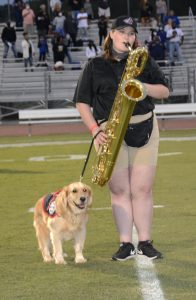 "I'm a pretty shy person and the last thing I wanted was to draw more attention, especially after having seizures," said McKellar.  "Having Laurie has certainly attracted more attention; however, she has also helped me to become more sociable and independent."
McKellar is also happy to report she has been seizure-free since adopting Laurie six-months ago. There have been a couple of close calls she admits, but Laurie was there ready to help.
"I have learned to take more breaks while working on the computer," said McKellar. "Hopefully, I will grow out of the seizures like my dad, who inspires me, too." Sara Beth's father is Dr. Jason McKellar, the principal for the Academy of Innovation in Vicksburg.
Also inspired by Sara Beth and Laurie, is Director of Bands at Jones College, Dr. Ben Burge. This is the first time in his 21 years of teaching that he recalls having a service dog in the marching band. Laurie is also reportedly the first canine in the Maroon Typhoon Marching Band's history.
"I'm grateful Sara Beth has Laurie to provide that very special service. The puppy has added a lot of smiles to the band! She is adorable. However, we know we must let her work and not disturb her, but after practice, Laurie gets some love from band members," said Burge. "We gladly welcome our first 'marching' service dog and Sara Beth. We are glad they are both members of the Maroon Typhoon Marching Band!"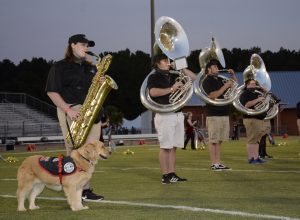 Sara Beth said her freshman year in the Maroon Typhoon was a lot different than this year with COVID-19 and social distancing protocols. Yet, her sophomore year has been special because of Laurie.
"Thankfully, Laurie enjoys band too. She does not like Walmart!" said McKellar. "I also hope as people who are intrigued by Laurie and want to get to know her, they will also want to get to know her handler and learn how Laurie provides medical help, protection and loves her 'person' while continually working."
The Maroon Typhoon Marching Band's next performance will be Thursday, October 29, during the home football game where the Bobcats host the Wildcats of Pearl River Community College.