ELLISVILLE- Jones College's theater production of "Hairspray" is taking audiences back to the '60s when the beehive and the flipped-bob hairdo's were popular and social problems erupted. Star-struck teenybopper, Traci Turnblad, played by Kassidy Chandler of Laurel, takes the audience on an adventure to see her dream of dancing on a TV show and dating the popular heartthrob, Link Larkin, played by James Bilbo of Ellisville, come to life. Along the way, Traci is exposed to a world with racial tensions and change on the horizon. While poking fun at the stereotypes of the era, JC's production of "Hairspray" with its catchy tunes and clever lyrics features a talented cast of more than 35 students, a live orchestra and a couple of seasoned pros. "Hairspray" is produced and directed by JC theater instructor, Jennifer Bruton, and she is assisted by musical performer, Bruce Smith.
"We chose "Hairspray" because we wanted something familiar, fresh and really fun! This is a high-energy show with a big and very diverse cast. The students made our casting decisions very difficult since over 60 of them auditioned! The administration has been incredibly encouraging and we're receiving additional support from across the campus, from set construction to styling wigs!" said Bruton.
This year, an additional performance includes opening night on Thursday, February 28, at 7 p.m. The cast will perform two shows on Saturday, March 2, at 2:30 and at 7 p.m.  The final performance of "Hairspray" will be Sunday, March 3, at 2:30 p.m. in the M. P. Bush Fine Arts Auditorium on the JC campus in Ellisville. Tickets are $5 for children 17 and under and $10 for adults with free admission for JC students and faculty with a valid ID. Tickets can be purchased at the door. The movie version was rated PG, however parents should use their discretion for children younger than middle school. For more information, please contact Jennifer Bruton at 601-477-2675 or email her at, jennifer.bruton@jcjc.edu.
The Broadway musical "Hairspray" is based on the John Waters movie and is a winner of eight Tony awards. Set in Baltimore in the early 1960s, "Hairspray" challenges the audience to see all the characters as equals regardless of race, size, or gender. While at the WZZT-TV studios, host Corny Collins played by the seasoned performer, Bruce Smith of Ellisville and Motormouth Maybelle, played by JC student, Denise McAddo of Bay Springs, spin the tunes that all the hippest kids are dancing to.
"I am so excited to be involved with Jones College Fine Arts," said Bruce Smith who graduated from Jones in 1990 and performed in both of the college's musicals. "The experience helped me prepare for a career in music and I am so excited to see this same thing happen for the students now. Jones was such a wonderful launching pad to prepare me."
Also, joining the student cast is former JC Theater and USM graduate, Harlan Mapp of Hattiesburg as Traci's mother, Edna Turnblad.
"The role of Edna has always been on my list of roles I would love to play simply because it's so offbeat and different. She's a big woman and loads of fun!" said Mapp. "Most importantly, I get the chance to interact with students who are in the same place I was just three years ago.  I hope I can impact their theatrical lives like Joe Vanzandt did for me when he joined the cast of 'Smoke on the Mountain' when I was at JC."
Tracy Turnblad is played by Laurel's Kassidy Chandler, who is debuting on the Jones stage, however, she is a familiar face to audiences attending productions at West Jones High School and the Laurel Little Theatre. The musical, "Hairspray" drew her back to performing Chandler explained.
"This is one of my favorite musicals of all time because it is a really fun show with a great message. After taking some time off from performing, I began to really miss it.  When I found out the musical was going to be 'Hairspray' I knew this was the show I wanted to get back into performing in musical theater," Chandler said.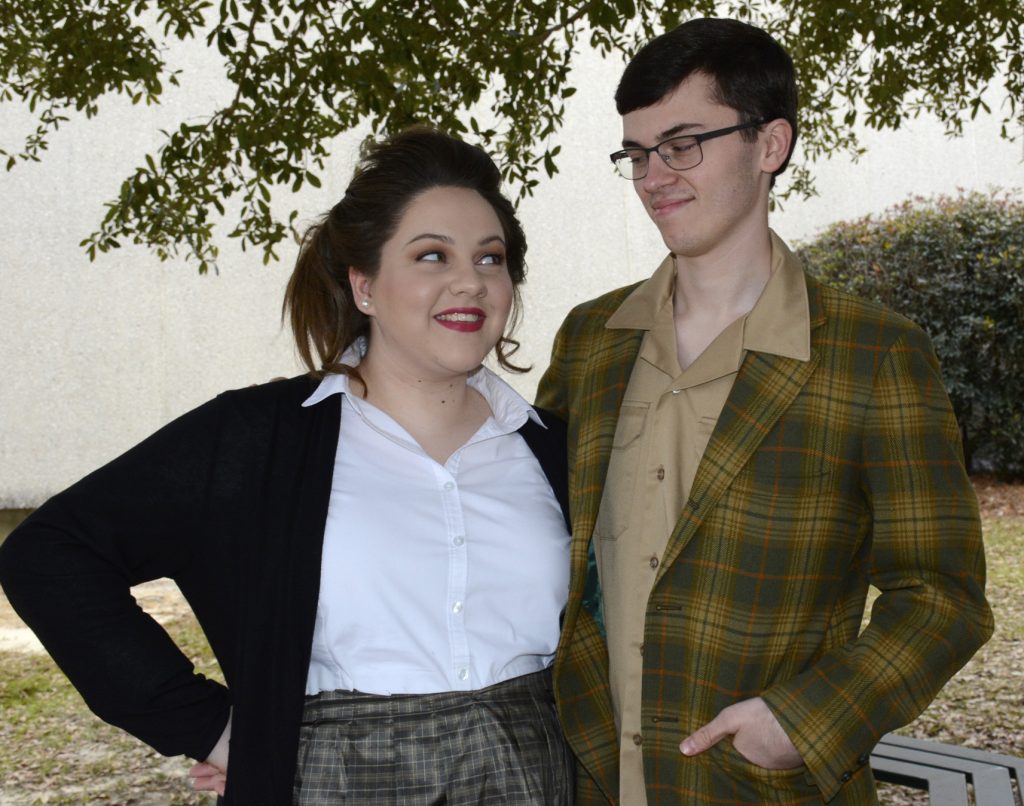 Also new to the Jones stage is Columbia's, Lane Smith. The freshman has performed in several musicals at Columbia High School and couldn't pass up the chance to play Tracy's dad, Wilbur Turnblad.
"I haven't had many challenges figuring out Wilber Turnblad. He is a very loving father and husband to Tracy and Edna and wants nothing more than to provide for his family. I am so honored to get to portray this loyal, lovable character who I can really relate to," said Smith.
A couple of regulars on the Jones College stage, Davonzell Moncrief of Montrose and Kendra Stevison of Lucedale, have important roles in the musical. Moncrief plays Seaweed Stubbs, the African American boy who teaches Tracy some dance moves to help her reach her dream.  He also begins dating Tracy's friend, Penny Pingleton played by Stevison, which sparks a little conflict.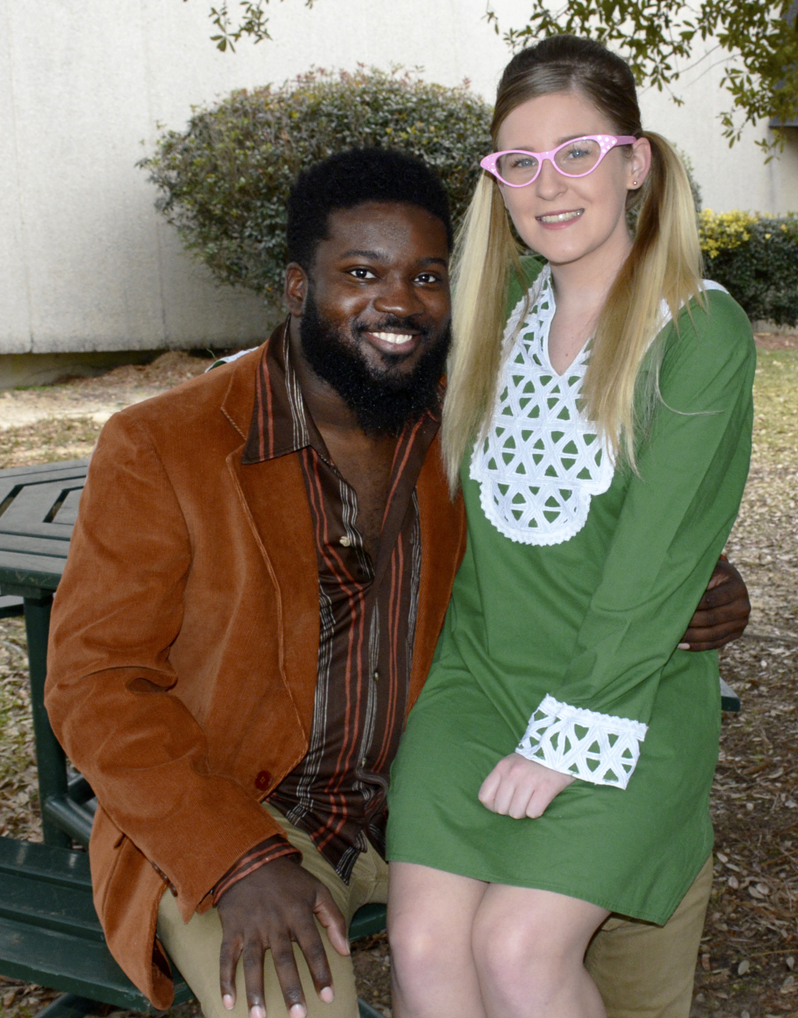 "Seaweed, who is probably the most controversial character in this production because of his race and his relationship with the young ingénue Penny Pingleton, is very similar to me. We share many characteristics except he is a dancer and I am not! The dancing is probably the most difficult part for me but I do get to do a few splits on stage and after much practice, I am discovering I do have a few moves!" said Moncrief.
Another pivotal character, Velma Von Tussle, portrayed by freshman, Lauren Hankins of Laurel, is the villainess of the musical.  She is the racist producer of The Corny Collins Show and attempts to keep Tracy from integrating and dancing on the show.
"To portray Velma, I had to keep in mind that she is a character that everyone hates.  She is very intimidating and she's not a redeemable character, but usually, the 'villain' roles are the most fun to play!" said Hankins, who has been performing at the Laurel Little Theater and Encore Performing Arts Theater since she was five-years-old. "Velma is racist and that's definitely something I don't believe in. I have to remember that it was a different time and that it's all acting."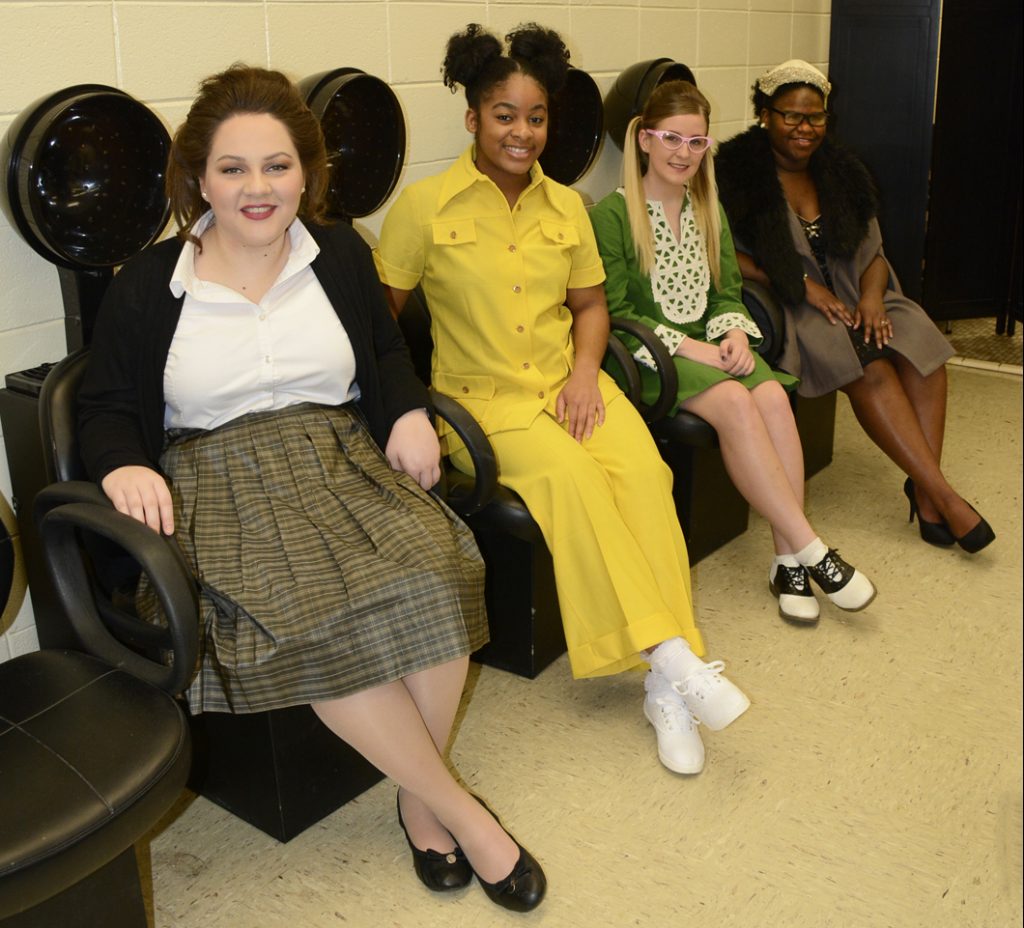 In addition to the many singers, dancers and musicians performing live, Bruton said many audience members often don't realize that none of it can happen without an incredible amount of work behind the scenes.
"We want our students to know that the entertainment industry is a great career path for Jones College graduates. Theatres need welders, electricians, sound engineers, costume designers, and a host of other talented people; not just actors and singers," Bruton explained.
For a look at rehearsal pictures, find the Facebook page, Jones College Musical Theatre, and the hashtag, #YouCantStoptheBobcats.
Cast of Hairspray 1-19
Tracy Turnblad – Kassidy Chandler, Laurel
Edna Turnblad- Special Guest-Harlan Mapp
Wilbur Turnblad – Lane Smith, Columbia
Penny Pingleton – Kendra Stevison, Lucedale
Purdy Pingleton/mom – Kalyn Bales, Stringer
Link Larkin – James Bilbo, Ellisville
Corny Collins-Special Guest- Bruce Smith
Seaweed J Stubbs – Davonzell Moncrief, Montrose
Little Inez – Avyana Russell, Houston, TX
Motormouth Maybelle – Denise McAdoo, Bay Springs
Motormouth Ensemble – Lacoby Keys, Moselle
Motormouth Ensemble – Zyion Pittman, Soso
Motormouth Ensemble – James "Mikey" Smith, Hattiesburg
Motormouth Ensemble – Derrick Williams, Laurel
Motormouth Ensemble – Nathaniel Gamblin, Waynesboro
Dynamite, Shayna – Keara Altman, Quitman
Dynamite, Kamilah – Auddsey Dantzler, Hattiesburg
Dynamite, Judine – Reagan Dukes, Laurel
Mr. Pinky/IQ – Jorge Castillo, Ellisville
Velma Von Tussle – Lauren Hankins, Laurel
Amber von Tussle – Addison Nelms, Brandon
Stooie & Seaweed Understudy – Khalil Herron, Laurel
Cindy & Little Inez Understudy – Jada Abraham, Brandon
Brenda – Coco Caldwell, Laurel
Duane – Krimel Chandler, Liberty
Gilbert – DeMoyndre Morgan, Houston, TX
Lorraine – KaLisha Carter, Waynesboro
Louann – Kamryn McGee, Hattiesburg
Shelley – Shaylee Thames, Petal
Spritzer – Caleb Pearce, Ellisville
Tammy – Sydney James, Waynesboro
Council/extra – Ella Barker, Hattiesburg
Council/extra – Jordan Butler, Ellisville
Beatnik/extra Pinkie – Layne Boykin, Waynesboro
Guard/flasher/Hotdog Vendor – Joshua Anderson, Leakesville
Pinkie/extra/matron – Lexie Floyd, Quitman
Principal/Bum – Matthew Haight, Mobile, AL
Gym teacher/Old lady – Emily Howard, Hattiesburg