ELLISVILLE – The bond between a father and son is special. However, Jones College's Director of Bands, Dr. Ben Burge not only gets to bond with his son Max who is a freshman at Jones, but he also gets to "band" with him.  When the younger Burge contemplated playing in the band in middle school, his proud father, who was the High School Director of Bands at Northwest Rankin School District was hopeful.
"He actually tested high on all of the instruments. He could have chosen any one of them. I thought it was cool for him to pick the saxophone," said Dr. Burge, who also plays the saxophone.
While Max said he will not follow in his dad's footsteps in the role of drum major for Mississippi State University or Pearl River Community College, his younger sister Emma has come the closest as the drum major at Oak Grove High School this season. A career around music is also not likely in Max's future because he is pursuing a career in graphic design with aspirations of becoming a storyboard artist. Regardless of his career decision, the father and son duo are uniquely bonding for the first time in the Jones College band.
"I have never been my son's band director, even though I may have been teaching at the same school.  I have conducted maybe a piece his band was performing, but I've never been his teacher.  This is really unique and I love it!" said Dr. Burge.
After playing throughout his high school career at Oak Grove High School, Max realized high school and college marching bands are very different; but not because his dad is his director.
"I prefer concert season over marching season because it's hot and agonizing. However, at Jones, it's more relaxed here. I like playing for the audience and not judges. If high school band was like this I may have stuck it out because preparing for high school band competitions was very stressful!" said Max. "My dad pushes us but it's more enjoyable at Jones."
Dr. Burge noted his son doesn't get special treatment in his band. In fact, he said he expects more out of his son.
"He takes criticism well and makes adjustments as needed. He is a very good student and we're very proud of who he is. He knows I expect a lot out of him."
Some of Max's bandmates said he's just part of the family. They don't look at him as the director's son.
"We treat him like everyone else.  In fact, the older students watch out for him. He's cool," said super-sophomore, Cheyenne Fraun of Moselle.
On the first day of band camp, the father-son duo shared an awkward moment. They did not discuss how to address each other in this new situation they were sharing for the first time. While Max said he wanted to be respectful of his father, his new name for his dad was perfect and set the tone for the year.
"I called him 'Doctor-father.'  I didn't know what else to call him!" said Max, while his dad snickered at his explanation. "My dad will tell you I'm the 'grammar Nazi' too.  I text him his mistakes so he doesn't embarrass himself, especially in front of the band," added Max.
Max admitted there were some things he didn't really like about growing up as a band director's son, like the long rehearsals. However, both said they are glad they are able to share this priceless experience bonding in the band.
"It is a very special thing for me to have Max in my band at Jones! I get to see him every day!" said Dr. Burge. "We may not speak to each other but I'm able to tell my wife he looks good marching around with his bandmates. Band has taken so much time away from my family over the years. Having him here with me during his college years is very special!"
While music may always be a part of Max's life in his future endeavors, his true passion is art. Dr. Burge explained, when Max was very young, he would kneel at his bed and draw. He was always drawing, even when cooking. Max is talented at making "pancake art." Without hesitation, Max said he is not interested in being a traditional artist. His plans include creating a very specific type of art.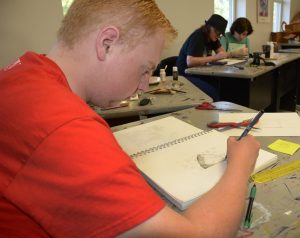 "Giving life to the art or creation through animation is really what I love. As a storyboard artist, I visualize the story," said Max. "The movie, 'Nightmare Before Christmas' made me see things differently. I became more interested in seeing how they created the movie in the bonus features and the behind the scenes clips than the actual movie. I especially have huge respect for the stop-action movie directors," said Max.
Growing up, the Burge family followed dad to the school on weekends for concerts or games. They often traveled on the road for football and basketball games too. Even though mom is a speech pathologist for the Lamar County School District, Cindy Burge has supported her husband coaching color guard students and dance teams, or just being a fan. Traveling most likely will continue for the ladies in the Burge household as the father-son duo cherish doing "band" together at Jones College for the next two years.