ELLISVILLE – The Culinary Arts department at Jones College is welcoming the President and Publisher of the magazine, Louisiana Kitchen & Culture, Susan Ford to campus to share her new holiday recipes on Tuesday, October 30. The event, "A Louisiana Holiday Lunch & Learn" will feature the New Orleans resident's recipes in the upcoming holiday edition of her magazine in the Culinary Arts Dining Room located in the Information Technology Building at Jones College. The 1986 Jones alumna and Laurel native will discuss how the recipes are developed as the meal, prepared by 21 students in the culinary arts program supervised by Chef Micah Gatlin, will be served to a limited number of guests.
The menu includes smoked duck and andouille sausage gumbo, a holiday salad, Steen's cane syrup glazed pork chop with apple demi-glace, potato and parsnip puree, roasted asparagus, Boston cream pie, ginger crackle cookies and more.
"This is a wonderful opportunity for my students to network with Susan Ford before and after the Lunch & Learn," said Chef Micah Gatlin.  "It's all about introducing them to a variety of career options such as working for various magazines that employ chefs in test kitchens.  It also helps students learn more about the contributions from chefs in our region."
The cost of this special Lunch & Learn, which begins at 11:45 a.m., is $30. To make reservations for, "A Louisiana Holiday Lunch & Learn," call 601-477-4206 and for more information about the menu or event, call Chef Micah at 601-477-4209.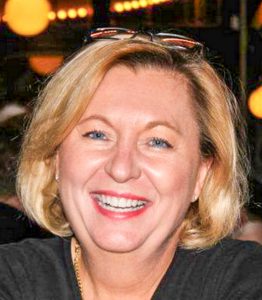 Susan Ford was born in Laurel and then moved to Pascagoula when her father took a job at Ingalls Shipyard in 1969. The East Central High School graduate came to Jones in 1984.  She graduated with an associate's degree in business and transferred to USM on a full academic scholarship. While at USM, she changed her major to journalism with a public relations emphasis, earning a Bachelor of Arts degree in journalism and a minor in business.
She started her publishing career in 1990 when she went to work for a commercial real estate magazine in Novato, California.  While there, she was on the "launch team" for numerous magazines, websites and email newsletters, in both the high-tech and lifestyle categories.
After Hurricane Katrina, she left the San Francisco Bay Area and moved to New Orleans to bring her publishing expertise to Louisiana in 2007, as a consultant with Louisiana Cookin' magazine. Becoming immersed in the Louisiana seafood, travel, tourism, hospitality, and culinary industries inspired her to form the business, Our Kitchen & Culture, LLC. In 2011, Ford launched "Louisiana Recipes," a free, weekly email newsletter with more than 37,000 subscribers, and companion website, louisiana.kitchenandculture.com before her own magazine debuted in April 2012.  The magazine is published six times a year and has paid subscribers in 50 states and several foreign countries.  It is available nationally through North America's largest newsstand distributor.
She has served on the membership committee of the Louisiana Travel Promotion Association since 2008, and she served a year as the first Associate Board Member of that association. Ford served two years as the chairman of the Louisiana Travel Political Action Committee and currently remains a board member. Ford has close ties to Louisiana's most influential chefs, restaurateurs, and tourism professionals.
"I have a tremendous amount of respect for their talents, and the perfectionist attention to detail they devote to their craft. I've made some great friends, I've learned a lot, and I look forward to continuing to create a magazine that celebrates the unique culinary culture, heritage, and cuisine of Louisiana," said Ford.