ELLISVILLE- Sign Manufacturing Day at Munn Enterprises in Hattiesburg offered a look into future careers for Jones College students from the drafting and design or CAD Engineering Technology, and the Precision Manufacturing and Machining Technology programs. The group of about twenty students had an up-close look at how the skills they're learning in class are applied in the sign manufacturing industry.  Jones College drafting and design instructor, Karen Kirk also had the opportunity to reunite with 2016 drafting and design graduate and current draftsman, Nicholas Underwood.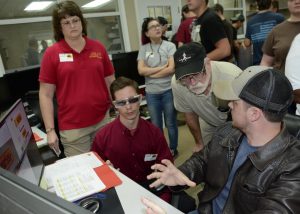 "It's true. What you learn in school you can apply to the industry," said Underwood as he explained his technical drawings to Jones students touring Munn Enterprises.
Another graduate from Kirk's program, Tonya Bynum Davis took a chance by building upon her drafting experience. The 2002 Jones graduate is currently a project manager at Munn Enterprises. Kirk said she hopes her students are inspired by these Jones graduates' examples of work-related success.
"After the tour at Munn Enterprises, my students said they had not even considered a future career in the sign business. Meeting Nick, seeing his drawings and touring the company inspired them to explore the possibility of employment in the sign industry. It was very interesting to us all!" said Kirk.
 In the fabrication department, Jones machining students were challenged by one of the company's welders, Clyde Ward to interpret the drawings to build a sign structure. A couple of students with welding knowledge had some success but would need Munn's experienced welders to interpret the drawings used to create the metal structures. Jones students and faculty were also intrigued by the metal bending process in the lettering department. Munn's Shannon Calder demonstrated how the Accu-Bend channel letter bending machine uses hydraulic power to quickly bend aluminum into font styles and various shapes.
"All of my students and I enjoyed the tour. I am actually going to try and see if they will hire one of my guys part-time," said Jones Precision Manufacturing and Machining instructor, Chase Elmore. "They do not really have the equipment and processes that are used in our field but I respect the company for what they have accomplished. Riding through Hattiesburg's Midtown is even more interesting now that I have an idea of how these signs are constructed."
Jones College students were part of more than 100 students from the area participating in the first Sign Manufacturing Day at Munn Enterprises. Company representatives said the goal of the event was to show students the career possibilities in the sign industry range from fabrication to drafting and beyond. They also emphasized nearly 3.5 million manufacturing jobs will likely be needed over the next decade and believe the Sign Manufacturing Day event was an opportunity to encourage students to consider a career in a manufacturing related field.