ELLISVILLE – Jones College's 2021-22 Maroon Typhoon Marching Band is ready to blow fans away with a "Styleish" show this fall. Being fortunate to finish a week of band camp after having it canceled last year, the approximately 160 members endured the Mississippi heat fine-tuning their technical and marching skills. Director of Bands, Dr. Ben Burge is thrilled with the group's accomplishments after an intense week of drills.
"This group of resilient, young people has been a joy to work with during Band Camp," said Burge. "COVID-19 has impacted them in so many ways. I am glad we were able to get through this very important week of training with almost everyone! I am hopeful we will be able to continue to provide a wonderful college experience for them at Jones. They have already proven to be very flexible and very hardworking. I am looking forward to showing the Jones family what they can do!"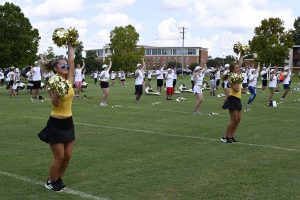 Sophomore Morgan Breland of Ellisville is especially happy to be able to participate in Band Camp this year. The South Jones High School graduate enjoyed her time on the Bravette dance team and was looking forward to coming to Jones College her freshman year before everything was canceled. This year, she almost missed out again because the COVID-19 virus kept her isolated just before Band Camp.
"Although COVID-19 guidelines have strongly impacted our normal activities, we have made the best of the situation. I recently battled COVID-19 myself and have worked hard to get my body prepared for our recent Band Camp. Although the days were hot and tiring, we were all proud to be back at Jones College. It takes all of us giving 100%," said Breland.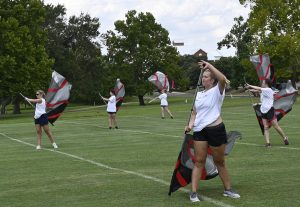 Realizing many students did not get to complete their high school band experience and have missed out on so many normal and traditional experiences because of COVID-19, Burge said band members are grateful for the opportunity to perform again.
"They have missed out on so many normal and traditional experiences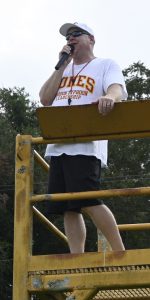 because of COVID-19. With the protocols in place at Jones College, I am hopeful COVID-19 won't interrupt our performances this fall," said Burge.
This year's "Styleish" half-time show features the music of entertainment icons Harry Styles and Billie Eilish. The show begins with, "No Time to Die" from the 007 blockbuster movie by the same name. The nine-member Touch of Gold dance team will be featured in "Golden" by Harry Styles and again in the pregame show to the 1968 chart-topper, "Bend Me Shape Me" by the American Breed. The Percussion section and the weapon line are highlighted in, "You Should See Me in a Crown." The show ends with the One Direction hit, "Steal my Girl" and "Bad Guy."
JC Sophomore, Emma Burge of Oak Grove will lead the band as Drum Major, joined by sophomore Genna Ramey of Leroy, Alabama and freshman, Cambry Holiefield of Laurel-Northeast Jones. Also guiding the Maroon Typhoon in her eighth season is Assistant Director of Bands and flute instructor, Dr. Lindsey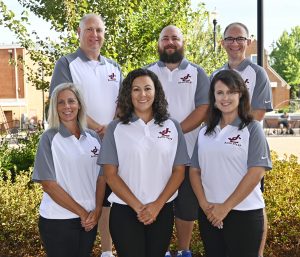 Keay, with percussion instructor, Dr. Josh Frans in his third year, and woodwinds instructor, Michelle Graham beginning her fourth season at Jones. Joining the staff as brass instructor, is former Marine Band member, Caleb Owenby. Lora Davis, the Touch of Gold choreographer/advisor, and 1989 Jones alumna, returns for her 30th season.
"I appreciate the opportunity to continue to be able to do what I love and offer scholarship opportunities for dance students," said Davis. "Reflecting on all the band camps over the years, the big trips to perform in parades in Chicago, Dallas, New York City and Washington D.C., I have fond memories of the students, their families and the chaperones who have helped over the years. I particularly remember, Willie and Joyce Rigdon, who recently passed. They were a precious couple who poured into students for decades, including me."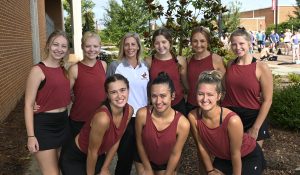 Breland said she began her love for dancing at Lora Davis's dance studio in Ellisville, 14 years ago. The sophomore said she is especially excited to continue dancing for the former Saintsation and South Jones High School Bravette choreographer for one more year.
"Over the years, Lora has been a role model for me, as well as thousands of others. It has been a joy to continue to have her in my life at Jones College. She sets high standards for Touch of Gold and spends a lot of time working with the team. I am looking forward to making memories and performing with the best band with the best directors around, JC Maroon Typhoon!" said Breland.
Upcoming performances of the Maroon Typhoon include the "Meet the Bobcats" pep rally on Thursday, August 26, at 6 p.m. in Bobcat Stadium/Sim Cooley Field. The Bobcats will go up against Northeast CC in the first home football game on Thursday, September 2, at 7 p.m. A week later, on September 9, Jones will face Northwest CC and on September 30, Jones will square off against Hinds CC. Appearances in October include Homecoming on Saturday, October 9, at 2 p.m. when the Bobcats meet the Southwest CC Bears. The last home football game is between Gulf Coast CC on Thursday, October 21, at 7 p.m. For more information about the Jones College Fine Arts Department, contact 601-477-4203. For more information about the Maroon Typhoon, contact Dr. Ben Burge at 601-477-4095 or by email at ben.burge@jcjc.edu or the Jones College website: http://www.jcjc.edu
MAROON TYPHOON MARCHING BAND 2021 by County
Name                        High School                             County           Instrument
Madilyn Pitts      Enterprise High School     Clarke             Clarinet
Summer Satcher      Enterprise High School  Clarke        Trumpet
Shakeeb Anderson  Quitman High School    Clarke           Snare
Anthony Evans    Quitman High School           Clarke   Alto sax
Dixie Pinkerton     Quitman High School          Clarke    Flute
Jeremy Corley      Enterprise High School      Clarke         Tenors
Kaitlin Davis          Enterprise High School       Clarke      Colorguard
Savannah Satcher    Enterprise High School   Clarke     Percussion
Jarrett Darden   Seminary Attendance Center  Covington    Euphonium
Sophia Gordon         Seminary High School      Covington        Flute
Eileen Ortega         Seminary High School       Covington           Flute
Kristlyn Parker  Seminary Attendance Center    Covington       Flute
Trinity Williams        Forrest County AHS                  Forrest     Trumpet
Tiera Hough               Hattiesburg High School         Forrest             Clarinet
DJ (Daniel) Jackson    Hattiesburg High School      Forrest              Horn
Emily Bingham            Petal High School   Forrest   Colorguard
Samuel Burcaw           Petal High School   Forrest               Horn
Abbey Dodd                  Petal High School   Forrest              Dancer
Analee Dumas           Petal High School         Forrest          Dancer
Emma Hampton         Petal High School    Forrest             Manager
Chris Hartfield            Petal High School       Forrest            Front ensemble
Victor Heath               Petal High School    Forrest             Clarinet
Zachary Gregore       Petal High School   Forrest             Tenors
Sydnee Mabe             Petal High School        Forrest             Manager
Tyler Nunn                    Petal High School    Forrest             Tenors
Lena Ruble                     Petal High School     Forrest             Clarinet
Angel (Luis) Salas        Petal High School   Forrest            Trumpet
Jordan Stianche          Petal High School   Forrest      Front Ensemble
Andrew Suttle                Petal High School    Forrest          Snare
Mackenzie Drinkard   George County High School  George     Dancer
Rebekah Brondum  Greene County High School    Greene   Colorguard
Jordan Evans    Greene County High School  Greene    Manager
Makaila Valentine     Greene County High School  Greene Manager
Jacob Moore    Hancock High School      Hancock    Bass Drum 2
Emily Ford     Clinton High School        Hinds     Trumpet
Tanner Hubbard    Gautier High School  Jackson   Tuba
Jaiquan Lyons   Moss Point High School    Jackson   Tuba
Sandra Massey   Stringer Attendance Center   Jasper Clarinet
Xavier Porter   Laurel High School      Jones   Tuba
Tyler Broadway   Northeast Jones High School    Jones   Trumpet
Logan Evans Northeast Jones High School  Jones    Snare
Gabrielle Hankins Northeast Jones High School    Jones   Colorguard
Luis Hernandez    Northeast Jones High School  Jones   Trumpet
Cambry Holifield   Northeast Jones High School  Jones  Drum Major
Alisha Hudson  Northeast Jones High School   Jones   Colorguard
Ema Hudson  Northeast Jones High School    Jones   Percussion
Raveon Pruitt-Lane  Northeast Jones High School   Jones  Clarinet
Brandon Murray  Northeast Jones High School   Jones   Alto sax
Katlyn Myrick    Northeast Jones High School    Jones   Clarinet
Jade Peacock   Northeast Jones High School    Jones    Colorguard
Cameron Pippen   Northeast Jones High School   Jones   Tuba
Kambri Pippin  Northeast Jones High School  Jones   Flute
Hailey Reaves  Northeast Jones High School  Jones   Manager
Kyyora Sidney   Northeast Jones High School  Jones   Trumpet
Reagan Thornton  Northeast Jones High School  Jones  Trumpet
Sarah Adams     South Jones High School  Jones  Colorguard
Laniyah Barnes South Jones High School    Jones   Euphonium
Morgan Breland    South Jones High School    Jones  Dancer
Joshua Brown     South Jones High School  Jones   Clarinet
Tyler Cash       South Jones High School    Jones   Percussion
Elda Cook   South Jones High School         Jones Clarinet
Nataley Evans      South Jones High School          Jones   Colorguard
Alex Lee      South Jones High School          Jones   Manager
Cambrie McRee    South Jones High School      Jones  Trumpet
Erica Kitchens     South Jones High School         Jones  Flute
Sydney Tisdale    South Jones High School   Jones  Saxophone
Bonner Welch        South Jones High School      Jones   Bass Drum 5
Kaylea Yates      South Jones High School   Jones    Flute
Heighlie Frias   West Jones High School       Jones   Clarinet
Karlee  Green     West Jones High School         Jones   Dancer
Kelbi Herring        West Jones High School      Jones     Flute
Mackenzie Herrington    West Jones High School    Jones   Flute
Corbin Hollifield     West Jones High School     Jones     Trombone
Ronald (R.J.) Hughes      West Jones High School       Jones   Tuba
Abigail Garick      West Jones High School         Jones   Percussion
Eboni McDonald   West Jones High School        Jones    Saxophone
Lorin Musgrove     West Jones High School         Jones    Clarinet
Marcus Nixon  West Jones High School        Jones   Manager
Hunter Overstreet      West Jones High School   Jones  Trumpet
Ines Rivera   West Jones High School         Jones  Flute
Aidan Slater West Jones High School    Jones   Flute
Isabelle (Belle) Walters   West Jones High School    Jones    Colorguard
Rhiannon Williams   West Jones High School    Jones     Clarinet
Emma Burge Oak Grove High School     Lamar     Drum Major
Will Eaton   Oak Grove High School     Lamar  Trombone
Kaitlyn Little     Oak Grove High School    Lamar   Colorguard
John Scott    Oak Grove High School  Lamar Trombone
William Purser Oak Grove High School   Lamar Tuba
Nicolas Barnes   Purvis High School     Lamar   Melodic Percussion
Jamie Anderson  Sumrall High School  Lamar  Tenor Sax
Brandon Broome    Sumrall High School     Lamar    Trombone
Erin Buckley       Copiah Academy      Lincoln    Dancer
Kenaz (Adonijah) Gaddis  West Marion High School    Marion Colorguard
Madison Foxworth        West Marion High School      Marion   Clarinet
Vada Koepp        West Marion High School      Marion  Saxophone
Ethan Robertson   West Marion High School     Marion Alto sax
Kaia Taylor      West Marion High School       Marion    Majorette
Mikel (Dalton) Whitehead     West Marion High School     Marion     Colorguard
Rachel Turner    Perry Central High School   Perry    Colorguard
Lexi Millwood    Brandon High School      Rankin    Colorguard
Gabriella Lopez  Northwest Rankin High School   Rankin  Colorguard
Taylor  Channell     Pearl High School  Rankin    Colorguard
Amy Thornton   Pearl High School       Rankin  Flute
Rachel Hawkins     Pearl High School       Rankin    Trumpet
Miyalexis Douglas  Pearl High School     Rankin   Euphonium
Cameron Dewberry     Pearl High School       Rankin   Bass Drum 3
Colin Ingram      Pearl High School            Rankin    Drum 4
Michael Arevalo    Pearl High School          Rankin   Snare
Hanna Broadwater    Pearl High School         Rankin   Colorguard
Jessica Moudy   Richland High School   Rankin  Colorguard
Callie Tisdale   Richland High School     Rankin   Trumpet
Rebekah Sudduth Pearl High School        Rankin Colorguard
Lily Taylor   Pearl High School            Rankin Colorguard
Madison Temple    Pearl High School        Rankin   Dancer
Garrett Griffin  Morton High School       Scott Manager
Anahi Chercoles  Forest High School       Scott  Colorguard
Jasmine Decker Mendenhall High School     Simpson Flute
TJ May     Mendenhall High School      Simpson  Euphonium
Jacob Dickerson    Mize Attendance Center     Smith Tenors
Abby Doiron  Mize Attendance Center      Smith   Flute
Summer Hughes     Mize Attendance Center      Smith  Trumpet
Daylen Hux     Mize Attendance Center   Smith   Tuba
Anna Leigh Ragsdale  Mize Attendance High School      Smith  Colorguard
Conner Smith  Mize Attendance Center   Smith   Bass Drum 1
Taikya Ducksworth   Taylorsville High School   Smith    Front Ensemble – Rack
Tony Ducksworth  Taylorsville High School    Smith    Tenor Saxophone
Meg Matthews  Raleigh High School    Smith    Dancer
Laurel (Tootie) Hunt   Stone High School    Stone       Trombone
Sara-Beth McKellar   Warren Central High School     Warren  Bari Saxophone
Ivana Bishop  Wayne Academy      Wayne   Dancer
Kaitlyn Beasley    Wayne County High School   Wayne  Clarinet
Rachel Carlino   Wayne County High School    Wayne     Manager
Tyler Dunn  Wayne County High School     Wayne Manager
Marquez Hundley     Wayne County High School     Wayne   Trombone
Isabella Kittrell  Wayne County High School     Wayne       Clarinet
Jessica Long  Wayne County High School    Wayne      Flute
Travis Kogutkiewicz   Wayne County High School      Wayne    Tuba
Stevonta (Stevo) Mayfield   Wayne County High School    Wayne   Snare
James (Noah) Schumann Wayne County High School  Wayne  Trumpet
Christian (Doll) Swindle Wayne County High School  Wayne   Colorguard
Logan Walker  Wayne County High School   Wayne   Euphonium
Out of State  
Dallas  Trehern  Mary G Montgomery High School     Mobile, AL Clarinet
Mary Elizabeth Kebodeaux Fruitdale HS-Washington County, AL  Trumpet
Virginia Ramey    Leroy High School Washington County, AL     Drum Major
Christian Branch   Leroy High School   Washington County, AL     Snare
Michael DeCou Covenant Christian Academy-Gray, LA      Front Ensemble