ELLISVILLE –Jones College English instructor, Tim Morris has been selected as the Jones College 2022-2023 Mississippi Humanities Teacher of the Year. He will be honored by the Mississippi Humanities Council and the college on Thursday, February 2, at 10 a.m. in the Home & Health Services Auditorium. The public is invited to see his free presentation, "Consciousness and Contentment in The Epic of Gilgamesh."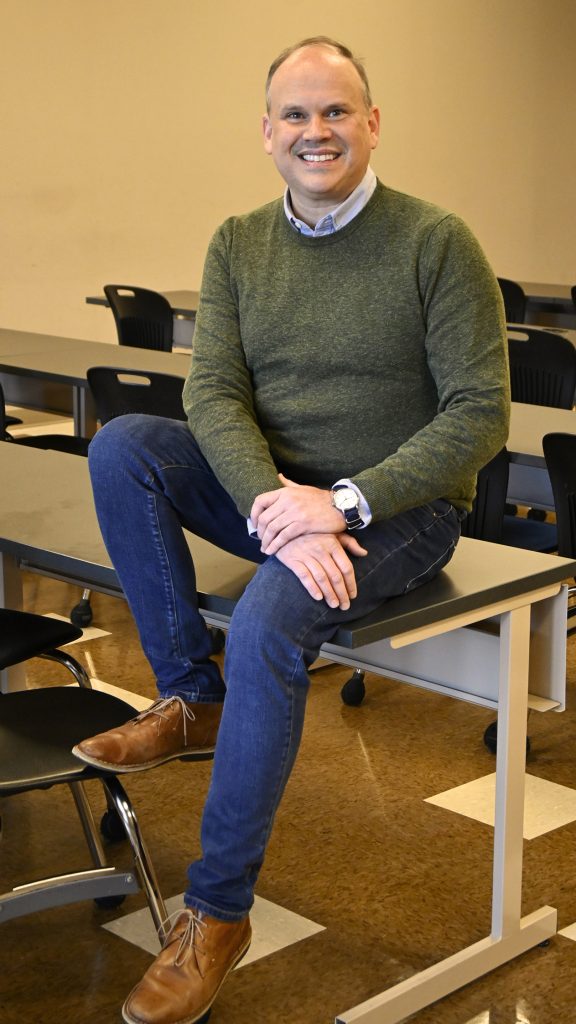 "I am very honored to be selected as Humanities Teacher of the Year for Jones, and I look forward to sharing my passion for The Epic of Gilgamesh, an incredible, timeless story," said Morris, a JC English and World Literature instructor.
Additionally, Morris teaches courses in composition, creative writing, American literature and traditional grammar. When he began teaching World Literature courses, Gilgamesh's story became more captivating to him.
"The plot intrigues me because as the term 'epic' suggests, it is a huge story filled with exciting adventures, but at its core is a man who learns to appreciate his own humanity. Living in a society that encourages escapism and idealistic self-promotion, I am drawn more and more to literary characters who learn to appreciate their world and become content with themselves," said Morris.
The Jones County native earned his Associate of Applied Science degree in computer information systems technology for Jones College in 1999. Ironically, Morris wasn't content in his I.T. world and returned to his studies, earning a Bachelor of Arts and a Master of Arts degree in English from William Carey University in 2009 and 2011. He began teaching as an adjunct instructor at William Carey while also working as the University's Annual Fund Director and Special Gifts Officer. He began his teaching career at Jones College ten years ago.
"As a student, I loved Jones. After completing my studies here, I always knew that I wanted to return," said Morris. "My favorite aspect of Jones is the sense of community that is shared among the employees and the students. I regularly hear from past students who update me on their educational and career journeys, and I feel so honored to play a part in helping students achieve their goals and dreams."
As a JC student, Morris was inducted into the international honor society, Phi Theta Kappa, at William Carey, he was inducted into the Alpha Chi honor society and the English honor society, Sigma Tau Delta. Much of Morris' graduate work focused on the Mississippi writer, Eudora Welty. He has presented two papers on Welty's writing at the Mississippi Philological Association conferences. In addition, his poetry has been published in William Carey University's creative writing journal, The Indigo.
Morris' teaching and writing abilities earned him the Barbara and Gary Sauls Award for Excellence in Teaching Humanities at Jones College in 2018 and he was honored with the William Winters Scholar Recognition at the Natchez Literary and Film Festival in 2016. Additionally, Morris has served as the president of the Mississippi Community College Creative Writing Association, and he is a member of the Mississippi Professional Educators and the Two-Year College Association of Mississippi Teachers of English. He is currently the JC advisor for Sigma Kappa Delta English Honor Society and is a member of the Homecoming, Faculty Development and Student Affairs committees for the college. He serves his church, The First Assembly of God in Ellisville, as the Children's Ministry Leader and teaches the College and Career Sunday School Class. He is also involved in music and mission ministries. Morris enjoys gardening, playing the piano and spending time with his family and friends in his spare time.