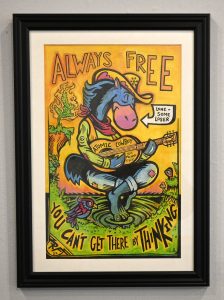 ELLISVILLE – The artwork of Russ Farris will be on display at the Eula Bass Lewis Art Gallery on the campus of Jones College from January 23, through February 17. The public is invited to view, free of charge, the unique cartoon and pop culture display of paintings, sketches, illustrations and prints called, "Saturday Morning Salvation." The University of Southern Mississippi graduate and former newspaper industry cartoonist will also be sharing his process of creating artwork with an "Art Talk" on Monday, February 13, at 10 a.m. in the art gallery.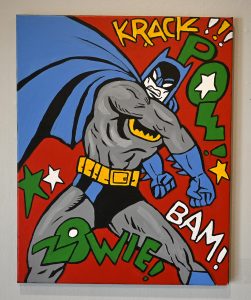 "Ever since I was a kid, I've loved cartoons. I taught myself to draw by copying comic strips and coloring book pages," explained Farris. "I draw what makes me happy and that's something I've always done since I was a child."
The Petal native and current Ellisville resident's artwork has always been heavily influenced by comic books, cartoons and pop culture. Since his last exhibit at Jones College in 2009, he has focused more on his style. As a college student, Farris believed his word had to be "fine art" until he saw the work of Daniel Johnston. He also used cartoon characters to express himself which gave Farris the confidence to "cartoon" as a way to work through his own personal views and beliefs.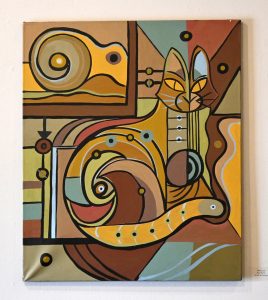 "I use cartoon characters to connect and express various ideas that range from philosophical to absurd. I use these characters to represent ideas and link pop culture to other pop culture. I like to take well known pop culture characters and draw them a little bit wonky, giving them extra eyes or wings. I started doing that several years ago in my sketchbooks and over the years, those extra elements have become symbols in my work," shared Farris.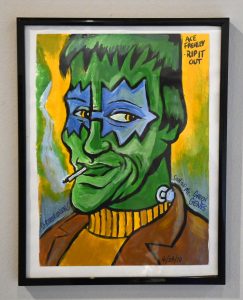 Currently, Farris is teaching public school art. While working in the news industry, Farris won a first-place award from the Mississippi Press Association for an editorial cartoon. His work has also been on exhibit at the University of South Alabama, several group exhibits and most recently, at Lupercalia Art Society in Mobile, Alabama, before almost completely selling out.
For more information about the JC art show or to arrange a visit to the gallery call 601-477-8401. The Eula Bass Lewis Art Gallery is open Monday, Tuesday, Thursday, and Friday from 8 a.m. until 3 p.m., and by appointment only on Wednesdays. The gallery is closed during the holidays. If you want to know more about the Jones College Art Department, go to the JC Art Department's Facebook page, https://www.facebook.com/JCJCFineArts/ and on Instagram @artatjonescollege.