Jones College Practical Nursing graduates enter profession at critical time
ELLISVILLE – Thirty new, Practical Nursing graduates from Jones College are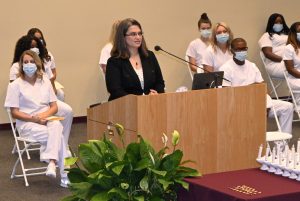 entering the profession at the most critical time. They were challenged during their education and will most likely continue to be challenged in their careers. Director of the Practical Nursing Program at Jones, Amy Myers said she is proud of their accomplishments, and she is confident they are prepared to make a positive impact in the medical profession.
"These graduates have completed nursing school during a time of uncertainty. The pandemic forced our graduates to complete much of their classwork online. Learning difficult, nursing content in an online format is no easy feat! Many students also faced financial and personal challenges, persevering despite it all. I am excited for the opportunities our graduates will have to better their own lives and those of their future patients," said Myers.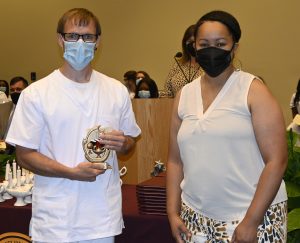 Three students were honored for their accomplishments during the three-semester program. Jimmy Brazell of Waynesboro earned the Academic Excellence Award for having the highest academic average. The Rising Star Award was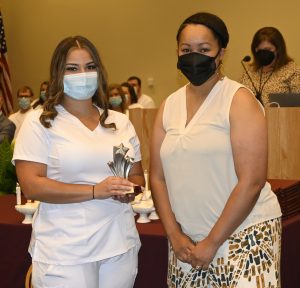 presented to Amaya Tavarez of Silver Creek for her continuous dedication and growth in the classroom and clinical setting, and her positive attitude and perseverance which enriched her professionalism and nursing knowledge. Dustin Lambert of Raleigh was honored to receive the Florence Nightingale Award amongst the full-time practical nursing program graduates by Jones College faculty who believe he exhibits the qualities of the founder of nursing, with his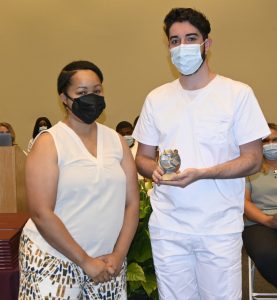 professionalism, integrity and selfless attitude.
The Pinning and Graduation Ceremony ended with the traditional "Lamp Lighting" inspired by the founder of nursing, Florence Nightengale who carried a lamp to help wounded soldiers during the Crimean War in 1854. For more information about the Practical Nursing Program, check out the website: https://www.jcjc.edu/programs/practicalnursing/
 PRACTICAL NURSING GRADUATES AUGUST 2021
Hannah Boone, Laurel
Jimmy Brazell, Waynesboro
Courtney Brumfield, Sumrall
Kala Causey, Leakesville
Rachel Chauvin, Hattiesburg
Malik Dade, Laurel
De Carlos Garrett, Waynesboro
Rebecca Green, Laurel
Katherine Guerra, Moselle
Tekeyla Hartzog, Waynesboro
Nicole Hickson-Wigington, Sandersville
Ashley Hollman, Mize
Caitlin Hughes, Columbia
Marlee Hunnell, Ellisville
Jebony Jones, Port Gibson
Breanna King, Laurel
Dustin Lambert, Raleigh
Cassidy Lofton, Soso
Sherika McInnis, Collins
Ariel Mills, Waynesboro
Akira Jael Myers, Lumberton
Amber Newsom, Monticello
Bryce Odom, Richton
Cody Pitts, Ellisville
Jana Pitts, Laurel
Chezne Porter, Hattiesburg
Amaya Tavarez, Silver Creek
Hannah Grace Taylor, Richland
Savannah Thompson, Seminary
Takella Washington, Laurel