ELLISVILLE – Jones College pharmacy technology sophomore, Kayleigh Byrd of Neely is one of only 25 recipients to earn a new scholarship offered by Phi Theta Kappa International Honor Society, an international honor society for two-year colleges. The PTK and Walgreens Pharmacy Technician Scholarship is worth $250 to cover the cost of the Pharmacy Technician Certification exam fee for the 2020 Richton High School graduate.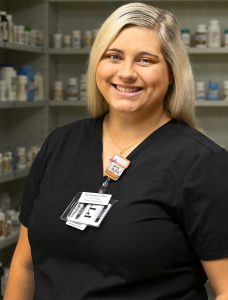 "This is exciting and very humbling to receive this new scholarship and to be Jones College's first recipient. Every little bit helps as I plan to earn my doctorate in pharmacy," said Byrd.
Jones College Pharmacy Technology instructors, Tracy Parker and Stephanie Jones said Byrd is very deserving of this honor and scholarship.
"This speaks volumes of her work and study ethics. She takes the initiative and because of it, she is our top student," said Parker.
Additionally, Stephanie Jones said, "Kayleigh works well under pressure and she grasps the skills easily. She will make an excellent pharmacy technician and pharmacist."
The Walgreens Pharmacy Technician Certification Scholarship recognizes Phi Theta Kappa members who are enrolled in allied Health or Pharmacy Technician programs. The scholarship is open year-round with recipients being selected twice a year. Up to 50 scholarships are issued each year.
"We are excited about the opportunity to partner with Walgreens to offer career opportunities and scholarships to our members," said Dr. Monica Marlowe, Executive Director of the Phi Theta Kappa Foundation. "Certification exam costs often create a financial barrier for students that hinders their ability to enter the workforce. We are grateful to Walgreens for addressing these challenges and providing a pathway to great career opportunities."
Byrd is a member of the PTK Honor Society and is on course to graduate from Jones in May 2022. For more information about the Pharmacy Technician program at Jones College browse the website: https://www.jcjc.edu/programs/pharmacy/