ELLISVILLE – The Magnolia Brass Band from the 41st Army Band based in Jackson, is touring the state on a mission to recruit more musicians, especially community college students. Two of the six members in the band, Spc. Brandon Broome of Sumrall and Sgt. Patrick Hand, currently a Gulfport resident, has ties to Jones College and are already enjoying the benefits of being a military band musician. Even though the Magnolia Brass Band, which is part of the Army National Guard, performs throughout the state, the nation and abroad, everyone adheres to the military's physical and training requirements. The Brass Band only rehearses one weekend a month and spends two weeks a year in active training, like "regular" National guardsmen.
"Last summer we spent two weeks in Hawaii filling in for the active members of the band there," shared Sgt. Joe Raymond, who is also the Wayne County School District's Director of Bands. "We're soldiers first and musicians full-time, but we're not likely to be deployed."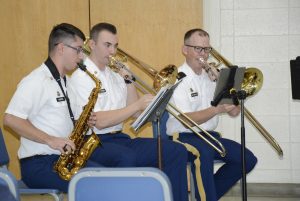 Among the benefits most appealing to Sgt. Raymond is the college education and student loan payoff program. This allowed him to work on his master's degree without incurring any debt. Also interested in the college education program is Spc. Broome, who is currently a sophomore at Jones College and plays trombone for the Maroon Typhoon at JC. He and trumpeter, Sgt. Hand, who graduated from JC in 2011, proudly enjoys serving their country by performing.
"Five years ago, I was teaching music at the high school level and heard this band (the National Guard's Magnolia Brass Band) play at a band directors' clinic. I didn't know the Army National Guard had bands and this could be an option for me," said Sgt. Hand. "My wife is happy because as a member of the band I am least likely to be deployed and I like the fact I get to serve in the military and perform."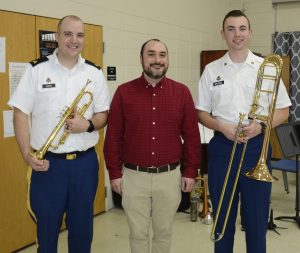 After graduating from Jones College, Sgt. Hand continued his music education degree at USM where he studied under Dr. Patrick Richards, who is currently an assistant director of bands at Jones College. Sgt. Hand did his student teaching at South Jones High School in Ellisville, before becoming a band director at Oak Grove in 2013 and at West Harrison schools in 2014. Now, in addition to his military career, Sgt. Hand said he also has the privilege in his civilian career to build warships at Ingalls Shipbuilding in Pascagoula, as an electrician. However, returning to the Jones campus to perform with the Brass Band was a nostalgic experience; reminding him of where his musical career thrived.
"So many things have changed over nine years, and yet many things are the same," said Sgt. Hand. "I feel like I'm home every time I return to Jones."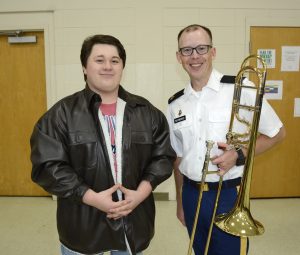 The Army National Guard has several bands aspiring musicians can audition to join, including a full concert band, jazz band, rock band and marching band. Currently, the Wayne County School District's Assistant Director of Bands, Spc. Sarah Nichols plays trumpet for the Magnolia Brass Band. However, she was a member of a couple of rock bands in the Hattiesburg area before learning she could return to performing classical and traditional music with the Army's health benefits. After discovering the benefits of being a musician in the Army National Guard, Jones College freshman from Wayne County, Noah Schuman, said he is considering joining the Army's Brass Band, like his High School band director, Sgt. Raymond.