ELLISVILLE –A musical feast featuring musicians from the region and music from around the world and centuries ago will be heard on Fridays in March and April at Jones College. The annual Spring Recital Series features a variety of musicians and vocalists entertaining the audience around the lunch hour.  This musical event begins on Friday, March 27, at 12 p.m. until 12:55 p.m. in the M.P. Bush Fine Arts Auditorium and will continue on each Friday through April 24, in the Foote Chapel at JC, at 1 p.m.  All concerts are free and open to the public.  For more information call the JC Fine Arts Department at 601-477-4203 or online at https://www.facebook.com/JCJCFineArts/
On Friday, March 27, at 12 p.m. in the M.P. Bush Fine Arts Auditorium, the Series opens with, "The Impromptu Piano Trio," featuring Stephen Redfield on violin; Alexander Russakovsky on cello and Theresa Sanchez on piano, with musical selections from Schubert's Trio in B-flat and Joaquin Turina's Piano Trio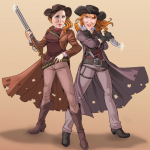 No. 2.
The Friday, April 3, performance of the "Dueling Divas," will begin at 1 p.m. in the Foote Chapel. Mezzo-soprano, Jeanette Fontaine and soprano, Roza Tulyaganova will perform a delightful program of operatic and Broadway arias and duets, accompanied on piano by Dr. Victoria Johnson.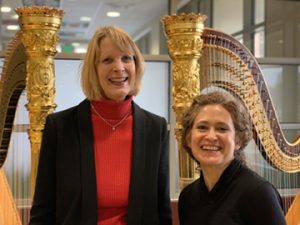 Heavenly harpists, Catherine Anderson of New Orleans and Rebecca Todaro of Baton Rouge of, "Quintessential Harp," will be performing original and transcribed repertoire on Friday, April 17, at 1 p.m., in the Foote Chapel on the campus of JC in Ellisville. The duo's program showcases both harpists in a conversation through repertoire from the ages.
The final recital on Friday, April 24, at 1 p.m., in the Foote Chapel, features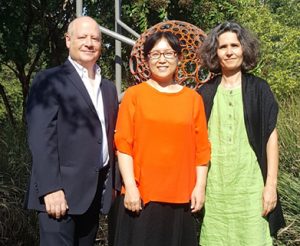 the unusual chamber ensemble, "Keys, Bow and a Slide – Music for Violin, Trombone and Piano."  With Anne-Gaëlle Ravetto on violin, Douglas Mark on trombone, and Jung-Won Shin accompanying the duo on piano, this trio will play original compositions for their unique timbres including works by Anthony O'Toole, Robert Patterson and Rodrigo Camargo. The latter two pieces were expressly written for this ensemble.