Photos and story by Kelly Atwood, JC Publications Advisor
JACKSON – Several supporters of state community and junior colleges spoke at Capitol Day March 4, at the state capitol in Jackson to share why the two-year colleges should be funded fairly.
Mississippi Faculty Association for Community and Junior Colleges President Marilyn Ford said that for more than 10 years now, she's been participating in Capitol Day to ask for additional funding for community colleges.
"While many personnel and teaching paradigms have changed too many unfortunate aspects such as funding have not changed," Ford said. "Many of us teach overloads, despite the fact that we've already spent hours in the classroom teaching, advising, guiding over 100 students in addition to the committee obligations, sponsorships with clubs and organizations, not because we have so much time on our hands, but because we love what we do, despite quite frankly, we haven't had state-supported raises in a number of years."
The 15 state community colleges share seven cents of every educational dollar spent by the state of Mississippi, with the other 93 percent of that dollar being shared between universities and K-12. That means the seven cents of every educational dollar is divided among the 15 community colleges.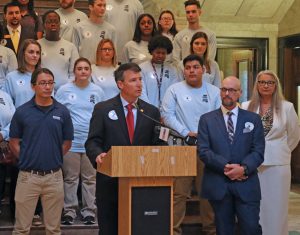 Mississippi Association of Community and Junior Colleges representative and Holmes Community College President Dr. Jim Haffey explained that there's been an emphasis this session and last session on a teacher pay raise for community colleges, but that there hasn't been a significant one for the past 11 years. He pointed out that community college instructors are required to have the same master's degrees and credentials as university professors.
"Based on this, most reasonable people would make the argument that community college instructors should make at least the average between a K-12 teacher and a university professor," said Haffey. "However, Mississippi has not made that a priority. I urge our legislators to make it a priority and begin addressing the $9000 gap per instructor that exists between our community college instructors' salaries and the mid-point salary in education."
Community college alumnus, Dr. Anna Hailey-Sharpe and Michael Evans spoke about their experiences with attending a community college.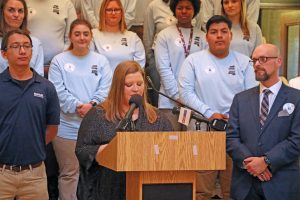 Sharpe, who grew up in a small farming community in rural Kemper County, attended a high school with a graduating class of 30 people. She chose to attend East Mississippi Community College to help provide a smooth transition between high school and university. Now a physician, Sharpe said attending EMCC was instrumental in developing skills she needed later in life, such as working with people from diverse backgrounds. She also created friendships with her instructors which continue to today.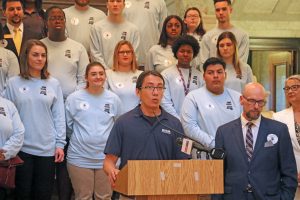 Evans was given an internship opportunity while a student at PRCC that turned into his current job. Working for Kohler, he has zero college debt. He said his college instructors took him out of his comfort zone and empowered him with the tools and knowledge he needed to succeed. He said he believes that "community college is the number one way for young men and women to climb out of poverty in the state of Mississippi."
The group shared statistics which reveal the importance of community colleges to the state and economy. Haffey said college graduates with an associate degree will earn $537,000 more over a 40-year career than those without associate degrees. In addition to the nearly 100,000 community college students in the state, an additional 100,000 attend workforce college classes.
"In recent years, community colleges were cut 11 percent," said Haffey. "We were forced to close programs that were not cost-effective to operate with limited state funding. When we close these programs, Mississippians lose an opportunity to better their lives. Those cuts still have not been restored as of today."
Pearl River Community College instructor and MFACJC VP/Pres elect David Collum pointed out the expectations the state has for community colleges.
"We're asked to take students who are unsuccessful in K-12and bring them back in the educational fold," said Collum. "We're asked to take students and prepare them to transfer to prestigious universities. We're asked to train students to enter the workforce and be the backbone of Mississippi's economy."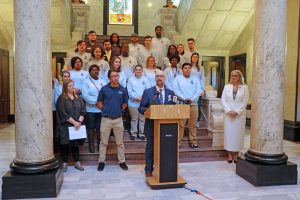 Collum said he knows students who came to PRCC to obtain their GED, then completed PRCC and went on to Harvard or Columbia University. He said for some students, the community college is their only option for higher education.
"There is no greater conduit out of poverty, out of generational poverty, than education and there is no one who gives greater access to education than community colleges with their open-door policy," Collum said.
Collum said he believes there are still opportunities to help additional potential students by providing more options at the community college level.
"If we are going to expand options for the people of Mississippi, we must be properly funded," said Collum. "Mississippi receives a $4 return on every dollar spent on Mississippi community colleges, and these colleges only receive 7 percent of the state's educational budget. I believe it's not only fiscally responsible to invest in community colleges, I believe it's fiscally irresponsible not to."