ELLISVILLE – After studying and working in the Cosmetology clinical lab for the past year, 18 Jones College students have graduated from the Cosmetology Technology Program. During a special graduation ceremony, Grace Bower, Sophie Coxwell, Abby Daughtry, Molly Dyess, Catherine Hunter, Hannah Husband, Elizabeth Jones, Rachael Jones, Breunna McCann, Jeremiah McFarland, Dajah Miller, Janie Parish, Katelyn Reid, Allison Richardson, Evelyn Sullins, Calin Taylor, Bryanna Weems, and Tiffany White earned their Career Certificate of Completion.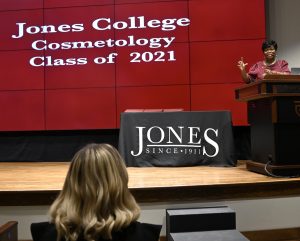 Cosmetology instructor, Sylvina Buckley said she is especially proud of this class of graduates for many reasons.
"They have worked hard, overcome challenges related to learning during a pandemic, and have done so well! I am especially proud that almost all of them have already secured a job. I know the last two students will have something shortly!" said Buckley.
Several students were honored with special recognition at the ceremony. Janie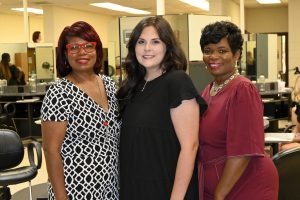 Parish earned the "Top of Class" honor with the highest GPA. Allison Jo Richardson earned the Salutatorian honors with the second-highest GPA. Catherine Hunter earned the "Perfect Attendance" award and Bryanna Weems was recognized as the "Most Improved Character." The "Most Determined" award was given to Breunna McCann, and Hannah Husband was recognized with the "Most Humble" award.
For more information about the Cosmetology Technology Program visit the website, https://www.jcjc.edu/programs/cosmetology/