ELLISVILLE – Four Jones College graduates are currently participating in the undergraduate portion of the Mississippi Rural Physicians Scholarship Program (MRPSP). The four students eligible to receive $30,000 per year in scholarships are Jones College May 2020 graduates, Layne Boykin of Waynesboro, and Jada and Jazmin King of Bay Springs and 2018 Jones graduate, Tyus Wilson of Bay Springs.
"It is no surprise at all that these outstanding Jones students were selected for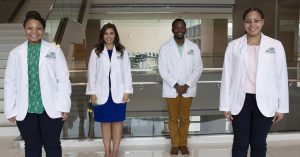 the MS Rural Physicians Scholarship Program. I am downright elated that we will have them as professional health care providers because they will represent the best of what the Jones College student body and the state of Mississippi have to offer in service to our community," said Jones College Science Division Chair, Eric Shows.
Created in 2007, MRPSP identifies college sophomores and juniors who demonstrate the necessary commitment and academic achievement to become competent, well-trained rural primary care physicians in our state. The program offers undergraduate academic enrichment and a clinical experience in a rural setting. Upon completion of all medical school admissions requirements, these students can use the scholarship at the University of Mississippi School of Medicine or William Carey University College of Osteopathic Medicine.
Jazmin King said she is excited to start her medical journey at the University of Mississippi and then begin working in rural Mississippi. Pursuing a specialty in pediatrics or obstetrics/gynecology, King said she wants to give back to the community by offering free, health fairs to help students learn how to take care of themselves.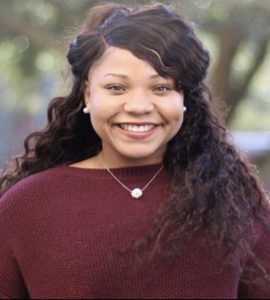 "I want to be part of the solution in fixing the healthcare issues we have in Mississippi. What better way to help fix the problems than by actually becoming a doctor and working in those underserved areas?" said Jazmin King.
The three recent Jones graduates have all been involved in multiple organizations and events serving their communities, while also maintaining excellent academic records, according to Shows.
"This scholarship selection is truly an extension and recognition of their initiative and work ethic," said Shows.
MRPSP officials commend the consistent legislative support of the scholarship program which provides 61 medical students a total of $1,830,000 to support the education of MRPSP students this fall. In addition to the legislative support, three privately funded scholarships are also awarded from the Madison Charitable Foundation, the Selby and Richard McRae Foundation, and the Medical Assurance Company of Mississippi. Additional benefits include personalized mentoring from practicing rural physicians and academic support.
"These three young ladies made their decisions to pursue a rural medicine career before COVID-19 upended our daily lives, but I am incredibly thankful that they will be part of the next generation of professionals that we will have on the front lines of public health. The fact that they are products of a Jones College education should make us proud and remind everyone of the importance of supporting our community college system," said Shows.
Upon completion of medical school, MRPSP scholars must enter a residency program in one of five primary care specialties: family medicine, general internal medicine, pediatrics, medicine-pediatrics, or obstetrics/gynecology. The MRPSP Scholar must provide four years of service in a clinic-based practice in an approved Mississippi community of 15,000 or fewer population located more than 20 miles from a medically served area. Boykin, who is currently at Mississippi State University said she is looking forward to returning to her hometown of Waynesboro, which has been designated as an underserved medical community.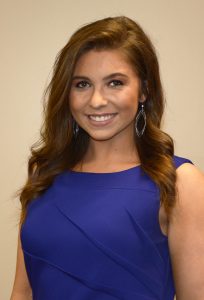 "Growing up in Waynesboro, I am more than familiar with the love, care, trust, and hospitality that rural communities have to offer. Throughout my life, my community has encouraged, supported, and inspired me every step of the way. I would like to return to this community as a physician to give back as well as combat the need for rural physicians in Mississippi," said Boykin. "I am also very appreciative of the guidance and assistance from Mr. Shows at Jones, who played a major role in this achievement and was very influential in my career choice."
The MRPSP provides a means for rural Mississippi students to earn a seat in medical school, receive mentoring during the medical school application process, earn a $120,000 medical school scholarship in return for four years of service and learn the art of healing from practicing rural physicians.
Moselle native, and 2018 graduate of Jones College and 2020 graduate of the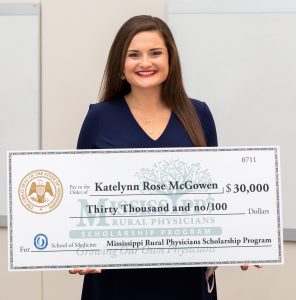 University of Mississippi, Katelynn McGowen, was recently awarded the Mississippi Rural Physicians Scholarship valued at $30,000 per year for her medical training at the University of Mississippi School of Medicine in Jackson at the annual scholarship ceremony. She was initially accepted into the MRPSP in 2018.
For more information, contact MRPSP Associate Director Steven Carter at 601-815-9022, jscarter@umc.edu or http://mrpsp.umc.edu.
###
The Mississippi Rural Physicians Scholarship Program and the Mississippi Rural Dentists Scholarship Program were formed in an effort to increase the number of physicians and dentists serving the health-care needs of Mississippians in rural areas. Housed at the University of Mississippi Medical Center in Jackson, and collaborating with its schools of medicine and dentistry and the College of Osteopathic Medicine at William Carey University in Hattiesburg, the programs use various outreach, mentoring and training methods to identify, support, educate and deploy new generations of health-care workers for Mississippi's underserved populations. To learn more about either program, MRPSP.