ELLISVILLE – Five Jones College sophomores were selected as Tullos Scholars which is the highest honor bestowed upon students. Rylee Brabham of Waynesboro; McKay Lee Bray of Leakesville; Faith Houston of Laurel; Lauran Page of Bay Springs and Katherine Wallace of Brookhaven. As members of the international honor society, Phi Theta Kappa and current students in the Charles Pickering Honors Institute, all five students were nominated by faculty to apply for the Tullos Scholarship at the end of their freshmen year. Each of the sophomores has distinguished themselves and impressed selection committee member and Jones College instructor, Dr. Ronald Bishop.
"Recipients of the Tullos scholarship are among the brightest, most generous and the most involved students on our campus," said Bishop, who is also Jones College's Dean of the Charles Pickering Honors Institute and Social Science Division Chairman. "These students study hard, play hard and work hard to make the world a better place. This is a deserving group of students and I am happy that they were selected as Tullos Scholars."
Requirements for the scholarship include being a full-time sophomore, submitting a résumé with two-faculty recommendation letters, having outstanding academic achievements, being engaged in college activities, leadership positions and participating in community service. Each student received medallions and $1,000 scholarships in recognition of being named after the scholarship donors, Gene and Nada Tullos.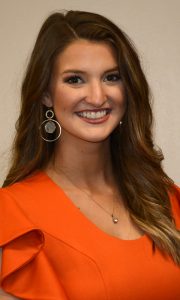 "It is an absolute honor and privilege to be a recipient of such a prestigious award. I would like to express my appreciation to the Tullos family for making this all possible. Because of his donation and dedication to this college, it inspires and encourages me to continue to work hard and make a difference in the lives of others," said Bray who is currently serving as Mississippi's Miss Hospitality 2020 and Distinguished Young Woman of Greene County 2019. The JC Presidential Honor recipient was also selected as Freshman Class Favorite and Bray was elected to the Senate for the Student Government Association and serves as Vice President of Leadership for PTK. Additionally, the biology/pre-med major is also a member of the Concert Choir, Bobcat Brigade, FCA, Jones OnStage, Diamond Girl and volunteers for numerous organizations in her hometown and at Jones.
Through the years, Faith Houston has volunteered in her hometown of Laurel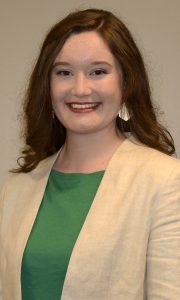 at the Glory House. She has also served as a page in the state capitol for two years and Houston has also assisted her sister and JC alumna, Anna campaign for state political candidates. She is currently serving as Jones College's Student Government Association secretary and historian for PTK. However, Houston has decided she can best help people as a pharmacist.
"Being a hospital pharmacist will enable me to help support my future family financially while also providing me time to spend with my family. Also, as a hospital pharmacist, I will be able to care for patients who really need it."
Tullos Scholar, Lauran Page is also planning on a career as a pharmacist. The 2019 Jasper County Miss Hospitality said she enjoys volunteering with the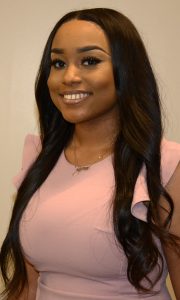 Laurel organization, Tomorrow's Promise because she is passionate about helping people.
"The decision to major in pharmacy was influenced by my passion for helping people and a desire for a career in healthcare.  Each opportunity to volunteer for several different organizations has taught me a new lesson. I've learned to evaluate my skills, assess my goals in life and set goals to maximize my abilities as an individual. Being a pharmacist is a perfect combination of my love for mathematics, chemistry and biology, and helping others," said Page.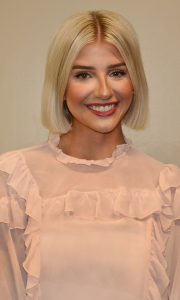 Rylee Brabham is often found volunteering her time in her hometown of Waynesboro at Samaritan's Closet and Pantry or picking up litter as part of her church's First Serve Sunday project. The Bobcat Brigade member and SGA Senator aspires to be an architect and interior designer as a unique way to help others.
"I think a lot of people don't realize how interior designers have the ability to improve the quality of life for those existing within the spaces they create. This career will allow me the opportunity to use my artistic and intellectual abilities in my career helping people," said Brabham.
Juggling a softball schedule and volunteering for numerous organizations in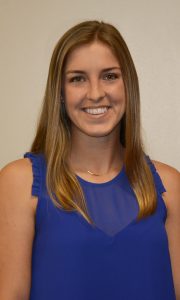 Brookhaven, Jones County and internationally through her church missions' program, Katherine Wallace is also majoring in math. Inspired by her grandmother, a high school math teacher, Wallace is pursuing a career in accounting. However, she also pursues a daily "calling" to make a difference.
"While at Jones, I aspire to make a difference in the people I encounter daily. From the cafeteria servers to my softball teammates, I hope what I do and how I treat others makes a difference in their lives.  Starting at Jones College, we can make the world a better place and that begins with serving others," said Wallace.
Gene Tullos came to Jones in 1960 on a basketball scholarship which he said, gave him a jumpstart and a great foundation to begin Law School.  Endowing scholarships, like the Tullos Scholarship Program was his way of returning the "favor" to the college that provided an excellent foundation for a successful career as an attorney in Smith County.
"As he made the single, largest donation ever at Jones, Gene Tullos said he wanted to recognize outstanding students from various majors who are shining stars, to recognize them and encourage them to feel special," said Jones College President, Dr. Jesse Smith.  "When Gene established this Scholarship, he explained, because of the encouragement he received at Jones he felt like he could make it and be successful. In fact, Gene was a successful attorney for 50 years, only missing three days of work related to his cancer treatment before he passed away in 2016."
For more information about Jones College, visit the webpage, https://www.jcjc.edu/