ELLISVILLE – Forty-six Jones College faculty and staff members were recently honored for their years of service to the college. Administrators and the JC Foundation held a virtual celebration honoring employees for their service in five-year increments.
Honored for having the most service years in 2019, was Dr. Ronald Bishop for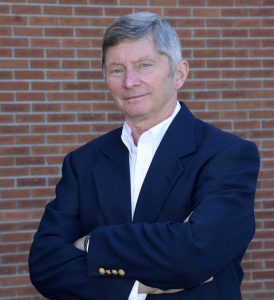 completing 30 years of teaching at Jones College. The JCJC and William Carey College alumnus earned a Master of Divinity and a Ph.D. from the New Orleans Baptist Theological Seminary, as well as an M.A. in philosophy from USM. After working in a couple of churches, Bishop pursued his life's dream of teaching by starting his career at the Louisiana Correctional Institution in Angie, Louisiana before teaching at William Carey and USM. For more than three decades, Bishop has been teaching philosophy and religion at Jones and has served as the Social Science Division Chair for 10 years and the Dean of the Charles Pickering Honors College for three years.
"I have had the pleasure of not only teaching nearly 20,000 students in my career, but I have also had the opportunity to work closely with students as an advisor for Phi Theta Kappa and the Honors College. Also, Stephanie Green and I started the Philosophy Club at Jones and have enjoyed giving students opportunities for travel and community service," said Bishop.
"I am happy to have had the chance to help young people learn to think more critically and discover the practical wisdom in the pages of the Bible for three decades.  Ecclesiastes says, 'It is God's gift to man, that everyone should eat and drink and take pleasure in all his work.' I have been fortunate for almost 32 years to be able to eat, pay my bills, and have a job that brings me much pleasure and satisfaction. I have not enjoyed every job I have had, but teaching has been an integral part of who I am, and I do not recall ever waking up even one day during those years dreading to go to work.  Even in high school, I considered being a teacher."
The Rainey Community native has been honored with the Lamplighter Award in 2009, the Mississippi Humanities Council's Teacher of the Year in 2010, and the 2014 Faculty Recognition Award. In May, Bishop said he will retire from Jones College, but he will continue teaching.
"I would not retire at all, but the time comes when you have to make some prudent decisions about the future as well as make way for younger teachers to have jobs. I look forward to traveling with my wife, Debbie, and spending some extended time in different places around the country, something I cannot do if I have a real job. I plan to continue teaching people to fly at my flight school, Big Dawg Aviation, at the Hattiesburg-Laurel Regional Airport and do all I can to make some happy times for my three grandchildren. It is hard to believe my career has come and gone, but it gives me great satisfaction to think that I invested my life in the lives of my students and in the life of this great institution," said Bishop.
Also honored were six employees for serving the college for 25 years:

Arlena Sullivan-Business instructor;  Bob Stevens-Math instructor; Jeff Keeton-Forestry instructor; Melanie Eubanks-Art instructor;  Dr. Jesse Smith-President of the College and Melinda English-Environmental Safety.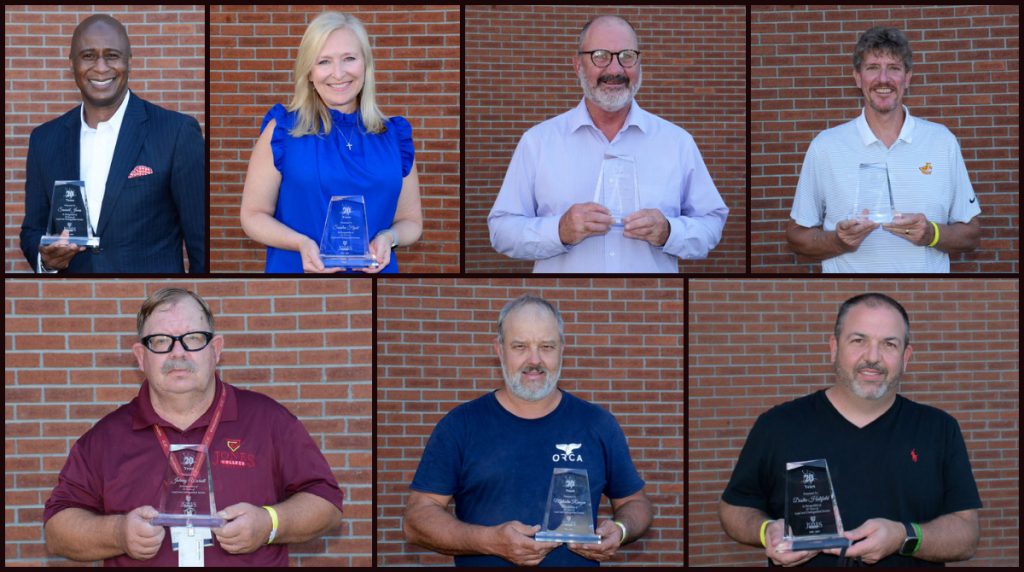 Eight JC employees were recognized for their 20 years of service: Dr. Samuel Jones-Assistant to the President;  Sandi Flynt-Business instructor; Greg Butler-Advanced Technology Center Dean; Mark Easley-Student Affairs; Johnny Worrell-Environmental Safety; Malcolm Rowzee-Transportation and Special Projects; Dusty Holifield-Business instructor and  Deborah Cooley-Practical Nursing instructor.

Celebrating 15 years of employment at JC were Julie Atwood-Instructional Affairs; LeAnne Nixon-Workforce College; Jessica Martin-Business Office Accounting; Dr. Susan Smith-Fine Arts instructor and  Benji Sessums-EMT/Paramedic instructor.

Five JC employees were recognized for their 10 years of service including Ravel Anderson-Environmental Safety; Shelby Hanna-Industrial Services; Eric Shows-Science Division Chair/instructor; Michelle Gaddy-Student Accounts; and Chris Kirtland-Baseball Coach.
After five years of employment at Jones, these 21 employees were honored for their service: Randa Carr-Grounds; Chantra Parker-Health and Human Services; Teresa McDonald-Practical Nursing; Shan Cargile-Maintenance; Steven Zugg-Welding instructor; Dr. Jennifer Bruton-Fine Arts Division Chair; Clint McMullan-Web Administrator; Dr. Lindsey Keay-Assistant Director of Bands; Tamara Parrish-Admissions Counselor; Misty Dickens-Admissions Counselor; Dr. Joel Dunlap-Choral Director; Aaron Huff-Info Technology; Luke Hammonds-Human Resources; Tracey Parker-Pharmacy Technology instructor; Deidre Maddox-Admissions Counselor; Johnathan McEwen-EMT instructor; Eric Williams-EMT instructor; Margaret Pearson-Radiology instructor; Ethan Wimberly-Welding instructor and Doug Messemore-Campus Operations.
Each honored employee was given a special item designed for each level of achievement: 5 years-small plaque; 10 years-large plaque; 15 years-clock; 20 years-small acrylic trophy; 25 years-medium acrylic trophy and 30 years-large acrylic trophy.