ELLISVILLE –Jones College sophomores, Harrison Hartzog of Tylertown and Brandon Waldrup of Ellisville were each awarded a $1,500 tuition scholarship from the Southeast Area Chapter of the Mississippi Engineering Society as part of National Engineering Week.  They were selected from a pool of applicants from a nine-county area with the MES scholarship committee making the final selections according to Steven Parker, MES President. Scholarship recipients are chosen based on several parameters including, character, integrity, an essay, and the application.
"All of the applicants were very deserving making it difficult to choose this year's recipients," said Parker. "I look forward to working with them in the future and after they become engineers."
Since 1995, the Southeast Chapter of MES has distributed more than $40,000 in financial assistance to students pursuing their engineering degrees at a Mississippi IHL Accredited College of Engineering. Hartzog, a Columbia Academy graduate is thinking about being a mechanical engineer and possibly working for Chevron in the future. West Jones High School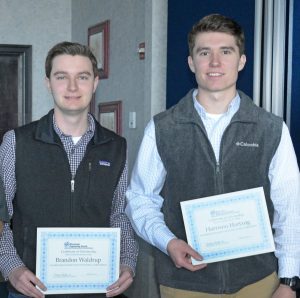 graduate, Waldrup has chosen to specialize as an electrical engineer with aspirations of working with a power company.
"Receiving this scholarship inspires me to work even harder," said Waldrup.  "I appreciate the MPES for recognizing students who work hard to accomplish their goals."
Hartzog said receiving the scholarship has also motivated him to continue working hard. Both scholarship recipients plan on attending Mississippi State University after graduating from Jones.
"My parents have always supported me and I'm glad this scholarship will help us pay for tuition. The MES Scholarship will definitely help me when I transfer," said Hartzog.
Students receiving a scholarship from the MES are required to be members of the Jones College's Engineering Society and have a GPA ranging from 3.5 to 4.0.  JC Engineering Society sponsor and physics instructor, Mary Boleware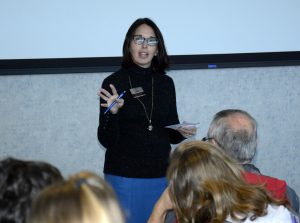 said the partnership with the MES plays an important role in better preparing our engineering majors.
"We appreciate area professionals mentoring our students and providing opportunities to continue their education through these scholarships," said Boleware.
The annual meeting, which was hosted at Howard Industries with MES included about 50 college and high school students from the Pine Belt exposing them to job opportunities and academic advice. JC's Engineering Society co-hosted the event which included presentations from the University of Mississippi and Mississippi State University's colleges of engineering.