ELLISVILLE – Sixteen Jones College faculty and staff members were recently honored for their accomplishments in the workplace over the previous year.  The Employee Appreciation Awards began in 2004 with funds contributed by retired JCJC president, Dr. Ronald Whitehead, and the college's Foundation, Inc.  Finalists were selected and interviewed by the Faculty and Staff Recognition Program's Selection Committee. In compliance with the CDC guidelines regarding COVID-19, honored faculty and staff gathered on the patio of the President's house, while all other employees watched the announcement via live stream.
"We wanted to honor and appreciate all of our employees who have worked especially hard this last year as we managed numerous changes, instead of canceling the Employee Appreciation Event," said Joel Cain, VP of Advancement and Athletics, and Dean of Students. "There are so many employees who deserve recognition, but we had to narrow it down to a smaller group to give big rewards. Hopefully, we will be able to return to our normal celebration with an afternoon of food, fellowship and thanking employees for their service to the college, soon."
Three individual awards were bestowed upon vital members of the Jones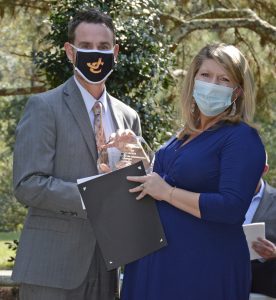 family. The Leadership Award for Administrative Excellence was established five years ago to honor a mid-level administrator whose commitment to the profession stands out amongst their peers. Amanda McLeod was selected as the recipient of the 2019, Leadership Award for Administrative Excellence. The 2005 JC graduate is currently serving as the Assistant Vice President for Enrollment Management. The Ellisville native earned her bachelor's degree in Sociology from Mississippi College and her Master of Social Work from the University of Southern Mississippi. She has been employed at Jones for six years and works with the academic counselors, admissions and recruiting personnel.
"Amanda has demonstrated daily, her commitment to her profession and the college. She really stands out and does a fantastic job in managing people," said Jones College President, Dr. Jesse Smith as he awarded McLeod a $500 check and plaque.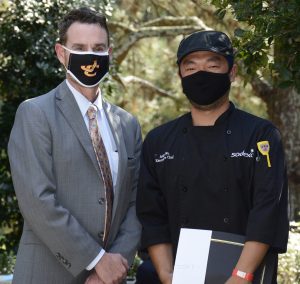 JC and its cafeteria management company, SODEXO honored Andy (Chia) Wu with the SODEXO Employee Award of Excellence. Wu has been with Sodexo for eight years as the Executive Chef. He has owned his own restaurant and has been the Chef at Canebrake Country Club in Hattiesburg. He received a $500 cash prize as the SODEXHO Employee of the Year.
English instructor, Rochelle Dahmer was selected to receive the Barbara and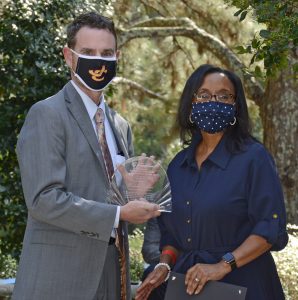 Gary Sauls Award for Excellence in Teaching Humanities. The Humanities Division faculty member exemplifies intellectual integrity in the classroom, and has encouraged independent analytical thinking skills, loves humanitarian pursuits and fosters a positive rapport with students. This award was initiated by JCJC alumni, Mr. & Mrs. Gary W. "Buddy" and Barbara Sauls. Their daughter, Tracy was a 1990 JCJC graduate. Mr. Sauls was a former JCJC Board of Trustees member and Barbara Sauls is currently on the JCJC Foundation's Advisory Board.  Dahmer was awarded a $500 cash prize and an acrylic plaque.
Additionally, twelve individuals from three categories of employees, faculty members, office staff and administrative support, and employees working in, maintenance, housekeeping, campus grounds and campus police were each awarded certificates of achievement. Faculty finalists each received a cash prize of $250 and the overall winner received an additional $750 and an acrylic plaque. Each staff employee finalist was awarded a cash prize of $125 and the overall winner received an extra $500 and an acrylic plaque.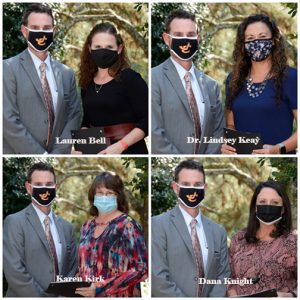 The finalists for the faculty awards were associate degree nursing instructor, Lauren Bell; health, physical education and recreation instructor, Katie Herrington; fine arts instructor and assistant director of bands, Dr. Lindsey Keay, engineering and design technology-CAD instructor, Karen Kirk and foreign language instructor, Dana Knight. Herrington was chosen for the overall JC Faculty of the Year Award. She has been coaching and teaching for a total of 32 years at Jones.
"It is an honor to have been chosen as the 'Faculty of the Year.' Jones has so many talented, intelligent faculty who work tirelessly to help our students be successful. Therefore, I am humbled to have been considered," said Herrington. "It's been a blessing to have worked at Jones for 32 years. One of the most rewarding things for me has been to see our students grow and mature while accomplishing goals. I have also worked with so many incredible people who we call the Jones Family."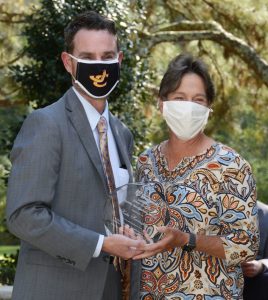 The Ellisville resident began coaching at William Carey in 1980, as an assistant women's basketball coach. One year later, she became head coach.  After earning her Master of Education degree at WCC in 1988, Herrington's successful, 51-31 record and a Gulf Coast Athletic Conference Championship in 1987-88 helped to launch her career at JC. She served as the women's basketball coach before coaching the men's and women's tennis teams in 1989. After coaching at Jones for 11 years, Herrington returned to the classroom as a full-time health and P.E. teacher. However, she couldn't stay away from athletics and in 2006, the Smith County native became the first female athletic director at Jones College.
"I hope somehow over those many years, I have made a difference in our students' lives. I have enjoyed being a small part of our championship athletic programs, in addition to seeing our Fellowship of Christian Athletes grow across our campus. One of the most special events I have enjoyed is the FCA Christmas Party which has grown to bless more than 100 children with Christmas presents," said Herrington.
During her career at Jones, she also served as Director for Region 23 for 15 years, and as Assistant Director for five years. She received the National Junior College Athletic Association Loyalty Award in 2016, and the Dave "Boo" Ferris Influence Award in 2015 by the FCA. Additionally, Herrington was named the 2008 Faculty of the Year and was named a "Lamplighter" in 2003 and 2006.
Nominated for the Office Staff and Administrative Support Employee of t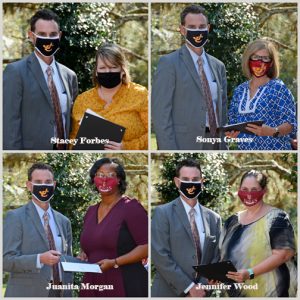 he Year award included Stacey Forbes who works in the bookstore and mailroom, Sonya Graves from payroll, Juanita Morgan from human resources, Hope Taylor from student affairs and Jennifer Wood from financial aid. Admissions counselor, Hope Taylor was selected as the Employee of the Year for the Office Staff and Administrative Support division. The Seminary native moved to Ellisville when she began her education at Jones College. She earned her Bachelor of Science degree in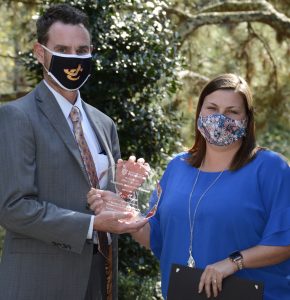 Applied Technology from USM in 2019 while also working at Jones. Taylor began her career at JC almost five years ago as the One Card Assistant before becoming the Student Success Center's administrative assistant and manager of Tutoring Services. As an admissions counselor, Taylor said she enjoys helping students find their pathway to success.
"I love my job because I get to help students. Sometimes it's tricky financial aid situations that could alter their education and other times it's something simple. My goal is to help students realize they do not have to be 'stuck in the box' they are in and they can break the mold and change their own future," said Taylor.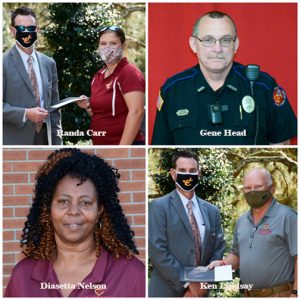 In the maintenance, housekeeping, campus grounds and campus police departments division, policeman, Gene Head earned a spot as a finalist along with Ken Lindsay in maintenance. Also nominated were Diasetta Nelson in housekeeping and Randa Carr who works for the campus grounds department. Taking the top spot as Employee of the Year was Doug Messemore from the grounds department.
Also, during the Jones College Faculty Appreciation virtual program, The JCJC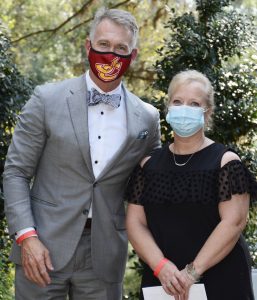 Faculty/Staff Association awarded Lucy Flowers with the Officer of the Year Award. Jones College President, Dr. Jesse Smith honored Flowers with an acrylic plaque and cash award at the Employee Appreciation program for her service as Vice President of the organization.