ELLISVILLE – Just before graduating from Jones College in May, Matt Burke of Brandon earned a spot in the Mississippi Rural Physicians Scholarship Program at the University of Mississippi Medical Center. As a member of the back-to-back State Championship Bobcat soccer team, Burke played in the first game of the college's first appearance in the National Junior College Athletic Association II National Tournament in Wichita, Kansas. However, he left Kansas before playing in the second game because he was eager to begin his journey in the medical field.
"I'm from rural Mississippi and have seen the need for medical care first-hand. This program is a great fit for me and I am ecstatic to be accepted," said Burke. "I am really looking forward to all the information and experience that I will obtain as a Mississippi Rural Physician Scholar and the opportunity to practice in a rural area in the future."
Burke said while he loves soccer and even served as the captain of his high school team, he has always enjoyed and excelled in science and human anatomy. His personal experience witnessing the hardships that many endure getting good medical care prompted him to be part of the solution. Furthermore, the death of his childhood friend, 17-year-old friend, Ian Cochran, who was diagnosed with a rare form of brain cancer exposed Burke to the reality and hardships of the health care industry and inspired him to be a doctor.
"My aspiration is to serve as a medical professional and try my best to never let any family go through what Ian and his family went through," said Burke. "Another friend's mother who is a nurse shared her struggles during the pandemic. Hearing about how the Covid-19 Pandemic affected the medical staff who had to be separated from family and the feeling of hopelessness, has only confirmed my love for medicine and justified my pursuit."
Burke gained some medical experience job shadowing at the Madison Ridgeland Medical Clinic with Dr. Indira Veerisetty, which also exposed him to the realities of medical care in Mississippi. Additionally, he personally realized the difficulty of getting care when he needed a doctor.
"My mom's main job was downsized, and we lost medical insurance. We didn't have any way to pay for the clinic visit which really upset my mom. I began thinking about those who can't pay for medicine but are in actual danger. My minor cold and sore throat would be better soon but thinking about those who may not recover, made me want to pursue a career in medicine to help change this," said Burke.
To help pay for college expenses at Jones, Burke worked in the Science Department while also keeping a 3.9 GPA. In his spare time, he volunteered at the Jones County Heart Walk and through the Honor Society, Phi Theta Kappa, he helped at the annual Blood Drive and Bobcat Pantry Drive. Science Division Chair, instructor and PTK co-advisor, Eric Shows said Matt's quiet, thoughtful and hardworking traits have served him well in pursuing his goals.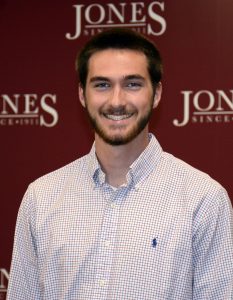 "Matt has a laser-like focus on academic excellence and extracurricular preparation in service of his goals of becoming a doctor. I am elated that his commitment and his efforts are being rewarded. I'm proud as a Jones College faculty member and as a Mississippian to have Matt representing our school and our state as a future medical professional," said Shows.
Burke's experiences may have inspired him to pursue being an internal medicine doctor, but he was not sure if he and his family could afford medical school. Receiving the scholarship is very important to Burke because it will relieve the financial burden, but it will also provide a unique training opportunity and mentorship with other physicians in rural Mississippi.
"My mom works two jobs to give my sister and me what we need. Doing well in school and in college has helped me get this far. Medical school would most likely not be an option because the tuition and expenses are high. This scholarship allows me to go to medical school without the crippling debt and saves my family the financial setback," said Burke.
During medical school, each MRPSP scholar receives $30,000 per year based on available funding. Consistent legislative support of the MRPSP translates to 61 medical students receiving a total of $1,830,000 to support their education this fall. In addition to the legislative support, three privately funded scholarships are also awarded this year from the Madison Charitable Foundation, the Selby and Richard McRae Foundation, and the Medical Assurance Company of Mississippi. Other benefits include personalized mentoring from practicing rural physicians and academic support.
Upon completion of medical school, MRPSP scholars must enter a residency program in one of five primary care specialties: family medicine, general internal medicine, pediatrics, medicine-pediatrics, or obstetrics/gynecology. The MRPSP Scholar must provide four years of service in a clinic-based practice in an approved Mississippi community of 15,000 or fewer population located more than 20 miles from a medically served area.
MRSP provides a means for rural Mississippi students to earn a seat in medical school and to earn a $120,000 medical school scholarship in return for four years of service while learning the art of healing from practicing rural physicians.
For more information, contact MRPSP Associate Director Steven Carter at 601-815-9022, jscarter@umc.edu or http://mrpsp.umc.edu.