ELLISVILLE- Two Jones College students earned individual honors through the International Honor Society for two-year colleges, Phi Theta Kappa. Sophomore pharmacy major from Laurel, Faith Houston was selected to Phi Theta Kappa Honor Society's All-Mississippi Academic First Team. Biological Sciences major from Leakesville, McKay Lee Bray was chosen for the All-Mississippi Academic Second Team.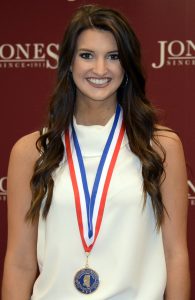 "It was an absolute honor to make the All-State Academic Team. I am thankful for this scholarship and all of the opportunities it will give me to continue my education at the University of Mississippi. I am also thankful for Jones College and the way it has impacted my life. Jones has given me so many opportunities and life experiences that have prepared me to continue my education at Ole Miss," said Bray.
Besides representing the state as Miss Hospitality 2020, Bray served as a PTK officer, and she is a member of the Charles Pickering Honors Institute, Student Government Association, Jones OnStage and Concert Choir. She is a Hall of Fame recipient and was selected as one of five Tullos Scholars at Jones College. She will continue her higher education as a Lyceum Scholar at the University of Mississippi with plans to practice internal medicine in rural Mississippi.
"McKay was a no-nonsense, hardworking powerhouse of a PTK officer. This academic honor is a great recognition of her accomplishments. She was a leader that aptly used a combination of humor, organization, creativity and focus on her local community in her endeavors and ideas, and we benefitted greatly by having her as a part of our PTK leadership team," said Eric Shows, Science Division Chair and PTK Co-Advisor.
Houston came to Jones on an ACT scholarship and was invited to be a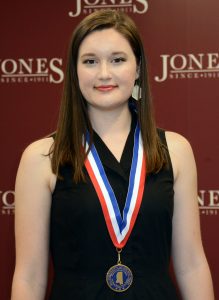 member of the Charles Pickering Honors Institute for both years at Jones. She served as a Senator for the Student Government Association her freshman year and as Secretary of the organization her sophomore year. In the International Honor Society, Phi Theta Kappa, Houston performed the duties of Historian despite the challenges of the pandemic. She has been named a Gold Key Merit and Leadership recipient, received the Letter "J" Academic honor and she has been on the President's List Honor Roll each semester. In her spare time, Houston volunteers at the Glory House in Laurel.
"I am so thankful for being selected as one of the fifteen people chosen for the All-Mississippi Academic First Team. This award will help me earn more scholarship money for pharmacy school," said Houston.
Shows noted Houston went above and beyond her duties when pandemic restrictions made simple tasks more difficult.
"She completed tasks with aplomb and was the consummate example of servant leadership. This honor is well deserved," said Shows.
History instructor and PTK Co-Advisor, Sarah Ishee, said she is also very proud of both ladies, who proved to be essential to the Rho Sigma chapter at Jones College.
"They overcame challenges faced during the pandemic and were still able to promote the Hallmarks of Phi Theta Kappa. McKay kept us on track with due dates and other important tasks with her Miss Hospitality flair. Faith reminded us that kindness and a smile are just as powerful as any fancy media promotion in encouraging membership participation. I look forward to seeing where life will take these ladies because I'm sure it will be exceptional!" said Ishee.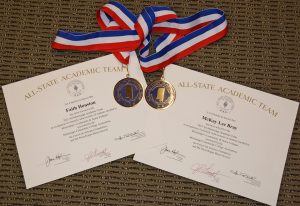 Both students were chosen as Jones College's nominees from a larger pool of Jones applicants that also boasted impressive resumés. The nominees were then evaluated by PTK officials on effective writing skills, the academic rigor of their majors and their leadership impact at their colleges.
"Our nominees distinguished themselves scholastically with excellent grades, and they all had notable records of service and campus and community involvement. Their particular accomplishments and successes are truly highlighted by being named as the college's nominees for this prestigious academic competition," said Shows.
The JC students competed with more than 1,800 nominations from each of the 15-community colleges. As part of the Phi Theta Kappa International Honor Society's annual academic and workforce competition, each student submitted an essay, answered discussion questions, and described their leadership roles and activities while in college
The highest scoring nominees from each of the 15 two-year colleges earned First Team All-Mississippi honors and $500 scholarships provided by the Mississippi Association of Community and Junior Colleges. All team members received special medallions, certificates, and printed resolutions from the Mississippi Legislature.