ELLISVILLE – Jones College's 93rd Commencement Ceremony was held outdoors at 8 p.m. for the first time in the college's history. The COVID-19 virus led to modifying a lot of events and activities over the last year. Jones College President, Dr. Jesse Smith shared with the crowd, including the approximate 720 graduates participating in the ceremony, that this graduation ceremony marked the first time some people have been back on campus since March 2020. Smith also "confessed" in his Presidential Message in the Commencement Program, that he didn't understand the meaning of the words unprecedented, incomparable and unpredictable until he witnessed this season of hardship the college community experienced together.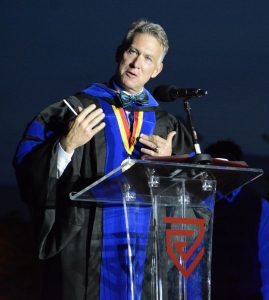 "'During my time of leadership, I have never seen the challenges, trials and circumstances that you graduates have faced in these past twelve months…. I have full confidence that the Jones College graduates of 2020 and 2021 have been rewarded with the spirit of perseverance, an invaluable garland that will forevermore be placed around your neck…."'said Smith.
Commencement speaker, retired U.S. Army Major General, Byron Bagby who is the managing partner of BMB Solutions, LLC, an independent consulting firm offering executive leadership development, coaching, and strategy development also commended the graduates. As a first-generation college graduate, Bagby said he understands the challenges that the 35 percent of Jones College students faced being the first in their families to go to college. He also challenged the audience to continue to make their family and friends proud by fulfilling three basic elements of life.
"Be a mentor. Be yourself and make a difference in the world. At this stage in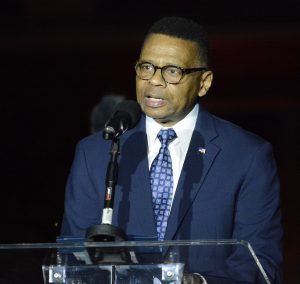 your life, each one of you has a collection of experiences that are and will be beneficial to other people who have the same profession as you…. Look for opportunities to connect with other people. Reach out to them frequently. Share your lessons learned and life experiences," said Bagby. "Thank you for what you will do for our world, our nation and for what you will do for your communities."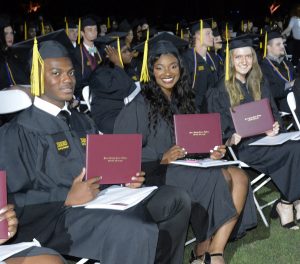 About 70 of the Jones College graduates from the class of 2020 decided to participate in this year's ceremony after last year's graduation was canceled because of the Pandemic. Bay Springs 2020 graduates and twins, Jada and Jazmin King said they were eager to return to campus.
"My sister and I were very involved at Jones and we were very successful during our two years here," said Jazmin,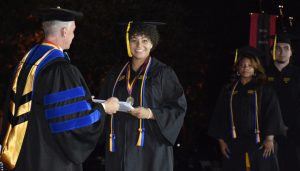 the 2019 Homecoming Queen and Mississippi Rural Physician Scholarship Program recipient. "We wanted to return to Jones for some closure and to say our goodbyes to our friends, faculty members and administrators who were so helpful to us over our two years here," Jada added, who was voted Miss Jones College 2020 and a Mississippi Rural Physician Scholarship Program recipient.
Likewise, 2021 graduate and Student Government Association President, Dariyel Johnson said she was glad the Class of 2020 was invited to partake in graduation ceremonies.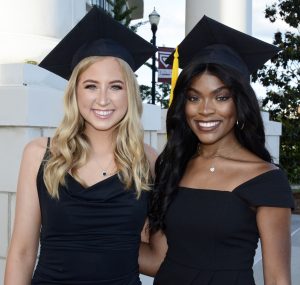 "It hit me this week how many friends I've made here at Jones College and everything I've been able to accomplish as Freshman Class President and SGA President. Having the 2020 grads here, also gives me the chance to say goodbye to them too, as we leave this special place, together," said Johnson, who also earned the title of Jones College Most Beautiful 2020. Johnson plans to continue her broadcast communication degree at the University of Mississippi and vie for the title of Miss Mississippi next month.
Oak Grove's Slade Smith and Slade Hicks of Laurel, have Jones College to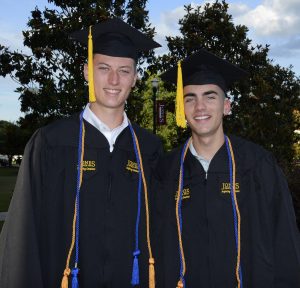 thank for their friendship. The two met early in their freshman year while playing intramural frisbee, because they share the same name.
"Ironically, our dads went to Laurel High School together," said Slade Smith. "Jones gave me the room to grow because I didn't know where I wanted to go to college to start my bio-chemistry degree. It's going to be hard to leave this place."
Slade Hicks who is majoring in electrical engineering added, "I'm glad we'll get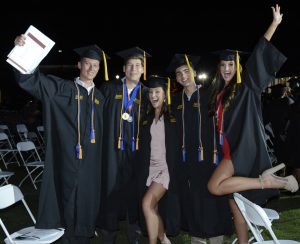 to still hang out at Mississippi State. We both are adventurous and enjoy playing intramural sports. We were on a lot of winning teams at Jones."
The evening commencement ceremony on the lawn of Jones Hall provided a dynamic atmosphere to showcase the Jones Onstage and Concert Choir students and a firework show finale. Jones graduates received either, an Associate in Arts degree, Associate in Applied Science degree, a Technical Certificate, or a Career Certificate.