ELLISVILLE – When Wilicia McClendon's parents, Wilbur and Alicia learned about the changes to Jones College's Commencement Ceremony, they were disappointed their daughter would miss graduation once again. The ceremony was held two weeks later than usual and outdoors for the first time on, Saturday, May 22, at 8 p.m. Wilicia missed her 2020 graduation because the COVID-19 pandemic forced the college to cancel the commencement ceremony. This year, Wilicia could not attend because of her disabilities and the family would be out of the country.
"We learned when Wilicia was one year old, she was profoundly deaf. She now has cochlear implants that help her hear some, but she reads lips very well. When she was 10 years old, we discovered she also had problems with her eyesight. She has night blindness and peripheral vision problems because of a condition called 'R P' or Retinitis pigmentosa. There was no way we could attend an outdoor evening ceremony because she is completely blind at night," said Alicia McClendon.
The McClendon family has dealt with many challenges and disappointments over the years. The family relocated to Laurel from New Orleans, following Hurricane Katrina. The Laurel School District's support of Wilicia turned out to be a blessing and the reason why the family stayed in Laurel. Wilicia graduated from Laurel High School in 2018. Meanwhile, her father earned an associate of arts degree in Criminal Justice from Jones College in 2013, and her brother Joshua attended Jones College in 2015 and 2016, before transferring to USM. Wilicia was excited to follow in their path.
"Wilicia has made the President's List Honor Roll at Jones just about every semester," said her mother. "When the college switched to online classes because of the pandemic, Wilicia adapted. She pushes herself to be independent and to not let her disabilities define her."
Upon hearing about Wilicia and her story, Jones College President, Dr. Jesse Smith decided to hold a special graduation ceremony on Tuesday, May 25, to honor the "girl with grit."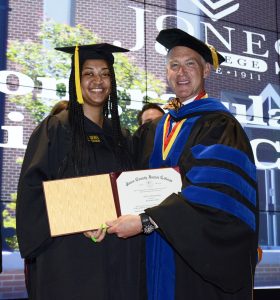 "She's very persistent in her studies and she is very passionate about helping children. Wilicia has more grit in her pinky than most people do collectively in their lives and that's a testament of her will and focus, and her drive to succeed," said Smith said to an auditorium of administrators, staff and faculty who came back to campus on their off week.
Wilicia McClendon received diplomas for the Associate in Applied Science degree in Early Childhood Education Technology she earned in 2020, and the Associate of Arts degree she completed this year during a special graduation ceremony at Jones College.
"I am so thankful to everyone who did this for me. It feels so good to graduate," said Wilicia. "I am famous now!" she chuckled.
Her parents said they were so grateful to Dr. Smith and everyone at Jones for holding the special graduation ceremony that they didn't get really emotional until they returned home.

"For Jones College and Dr. Smith to do this is overwhelming. Jones really does live out its motto, 'Inspiring Greatness.' To see how far Jones was willing to go to make sure students like my daughter are successful has been amazing," said Wilbur McClendon. "It was a big step for Wilicia to come to Jones College, but she has become more independent and determined to live out her dream."
Wilicia's dream includes continuing her education at the University of Southern Mississippi and to open a daycare to help children with hearing and sight impairments like her.