ELLISVILLE – Jones College is hosting a community-wide blood drive on Tuesday, June 15, in the Student Union, behind the A.B. Howard Gymnasium. Vitalant strongly encourages blood donors to make and keep appointments to give blood between 9 a.m. and 3 p.m. Scheduling appointments can be made through this link https://www.signupgenius.com/go/10c0c44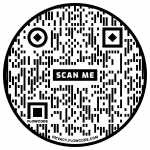 a8af28a0fac61-blood or through the QR code.
"It is very important that we have as many donors as possible at the upcoming blood drive at Jones College because donations are currently running short. The summer months mean more people are out of town on vacation and not available to donate," said Jons College Blood Drive Coordinator and EMT instructor, Benji Sessums.
Donors that have been fully vaccinated arriving at Jones College are not required to wear masks, but masks are required of staff. There will be no temperature checks at sign in. Vital signs will be checked as part of the normal screening protocol.
To view Vitalant's current, up-to-date guidelines to support the health and safety of donors and staff, visit the Vitalant website, https://www.vitalant.org/COVID-FAQs or call Vitalant Donor Recruitment Representative, Sara Dyess at 601-602-5969.