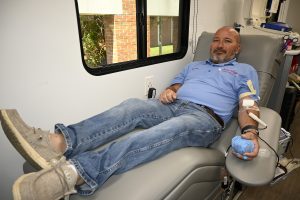 ELLISVILLE – Jones College's annual Fall Blood Drive was off to a great start on Monday, with Vitalant's Mobile unit parked outside the Industrial Services Center on the Ellisville campus. Almost 20 donors stopped by, like Commercial Truck Driving instructor, Billy Miller to donate on the first of the three day blood drive.
"I usually give blood plasma, but I didn't have time today to do that, so I decided to give whole blood today," said Miller, who has donated for the last nine years he has worked at Jones College. "My A-B positive blood is usually ideal for plasma donations, but I didn't have the hour or more it requires to make that kind of donation. I really like to give plasma at the children's hospital because of the need there."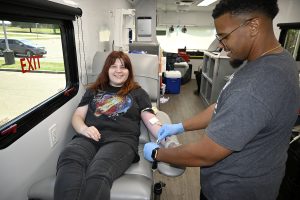 Ironically, freshman JC student, Krista Adamick from Oak Grove has given plasma before, but her mother encouraged her to donate today for the first time.
"There's a blood shortage so my mom said it's very important to give today. I also earned volunteer hours today!" said the radiology major.  
Even 74-year-old Laurel resident, Lesley Johnson made his way to Ellisville to participate in the annual Fall Blood Drive. Regularly giving for the last 15 or more years, Johnson decided to donate today instead of waiting for his usual donation site at the Cameron Center in Laurel.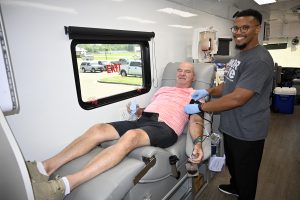 Vitalant will continue its blood donation drive Tuesday and Wednesday at the D.O. Thoms Physical Education Building Gymnasium from 9 a.m. until 2 p.m. in an effort to reach the overall goal for the three-days of 105 units of blood. To encourage donations, T-shirts will be given to all donors and Door Prizes will be available all three days for donors during random drawings. The public, as well as the JC community is invited to participate by making an appointment on the Vitalant website, https://donors.vitalant.org/