ELLISVILLE – Jones College's faculty and student representatives for Higher Education Appreciation Day, Working for Academic Excellence are being honored for their self-determination and drive to push the "technological" envelope. Electro-mechanical instructor, Cody Robertson of Ellisville and his best student, Donavan Hinton of Petal were selected to represent the college in Jackson for a special day of recognition. They will join 70 outstanding students and faculty members from 34 Mississippi public and private universities and community colleges in Jackson to receive special recognition from the Mississippi Legislature on March 2, at the 33rd annual HEADWAE event as a reward for their excellence in education.
"I'm incredibly honored. The administration and my peers here at Jones have been so generous to give me room to help bring Jones to new levels and to be recognized for that is unbelievable. I'm extremely appreciative. I'm incredibly grateful and I don't take it for granted," said Robertson.
Through pancreatic cancer and a surgical attempt to literally save his life and reverse its devastating effects, Robertson rose like a Phoenix with a new purpose. He dismissed a career in education until he returned to Jones to major in industrial electronics technology.  His experience in computer networking combined with his love of wiring things opened new doors of opportunity for him with a new career.
"I told my mom (Sharla Mann) I would never be a teacher because I saw some things she had to deal with. But I knew I loved electronics and I wanted to be like my mom, so I taught the computer classes for workforce college at Jones," said Robertson. "There's a moment when you're teaching someone and that light bulb kicks on; It's addictive."
His drive to succeed was insatiable. Realizing he needed to beef up his robotics and programming skills to apply for his retiring college electronics instructor's job, Robertson taught himself by finding an old Mitsubishi robot and fixing it. Much to his amazement, the now 25-year-old landed his dream job teaching electro-mechanical technology.
"Through his own initiative, Cody has become the Jones expert in Virtual Reality, a tool being used more to enhance the educational experience. Higher education is transforming, requiring forward-thinking faculty like Cody Robertson for institutions to remain relevant in the future," said Rick Youngblood, JC Executive Vice President, Chief Financial Officer & Chief Academic Officer.
Robertson explained, "Being able to incorporate Virtual Reality in Career & Technical Education, along with workforce training and academia is unique. We are one of the few colleges to do this in the U.S. There are few colleges offering VR for video gaming development and even fewer educational institutions attempt to use VR within the sphere of industrial training."
Robertson's most "challenging" student is the Jones student representative for HEADWAE, Donavan Hinton.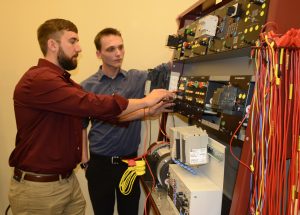 "Donavan is one of the best students I've ever met. I haven't been here long, but Donavan is one of the reasons why I have to be on the ball. He's going to ask questions. He's going to ask every aspect of what we're discussing that day. If there's any chance I might be blind-sided, it will be by Donavan. That's OK because that's what keeps teachers good, people like Donavan. He is an absolute pleasure to work with," said Robertson.
While working a full-time job at Green Bay Converting in Hattiesburg, Hinton is also a full-time student, majoring in electro-mechanical technology. The 27-year old's immediate goal is to be an industrial electrician, pursue a management position and eventually earn a bachelor's degree in business management. He shared, being selected for the HEADWAE honor seems unreal.
"I never thought anything like this would happen to me. I'm just a regular working guy. I try to stay humble," said Hinton. "This (honor) is inspiring to me and it could be for others who, like me, might have made some bad decisions as a teenager, but with hard work and dedication, turned their life around. My family never gave up on me; that's why I really take this to heart," said Hinton.
After earning his GED and a welding certificate at Jones in 2011, Hinton worked for two local companies. Layoffs at those Hattiesburg companies and working for the railroad throughout the country, inspired him to pursue another line of work and return to Petal. While working as a machine operator at Green Bay Converting, an opportunity in electrical and mechanical maintenance came open.
"Anything that breaks down, I am the only guy there to fix it. I was getting a little bit of knowledge on the job, but I didn't have a good grasp on the electrical side, which inspired me to come to Jones. I work the swing shift but my maintenance manager, Don Graham, and the company work with me where I can get off early if needed. They pushed me and encouraged me to come back to school," said Hinton.
Initially, Hinton signed up for the one-year career certificate program, but he decided to push for the three-year, A.A.S. degree and maintained a 3.9 GPA. Now, the honoree is making plans for graduation in May and a future with his fiancé, Taylor McKenzie.
"I strive to be the best I can be. On my job, I would have to ask the electrician questions all the time to try to learn from him, which I still do, but I wanted to know if for myself," Hinton explained.
After making the President's List on the Honor Roll and the Letter "J" academic honor, Robertson's most "challenging" student said he is confident the next step in his career is becoming the maintenance manager or general manager.
"The faculty at Jones are willing to bend over backward to help you succeed," said Hinton. "They may not be able to teach everything in two or three years, especially in my field because it's always changing. However, they teach us how to find the information when we need it."