ELLISVILLE – Jones College's 2021 Alumni Association Honor Alumni of the Year, Wayne Folkes is a JCJC 1981 graduate, a native of Seminary and a current resident of Oak Grove. He will be recognized during Homecoming, on Saturday, October 9, at the Alumni Luncheon at 11:30 in the A.B. Howard Gymnasium and during halftime of the JC Football Game against Southwest Mississippi Community College. For more information and to reserve tickets for the Alumni Luncheon, contact the JC Alumni and Foundation Office at 601-477-4145 by October 6.
"I am extremely proud to be selected as an Honor Alumnus. There are so many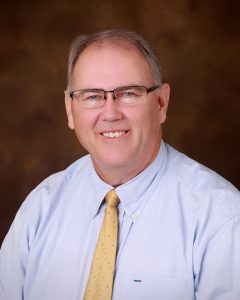 former Bobcats that are deserving of this recognition. As I look back at the legacy of this great institution and the people who were impacted by JCJC, I am proud of how Jones gives opportunities for students to excel, succeed, learn, develop lifelong friendships and become successful in all walks of life," said Folkes.
The Chief Operations Officer and Assistant Superintendent for the Lamar County School District has been an educator for 39 years. He began his career in education in 1983 coaching everything at Oak Grove High School. He was also teaching Life and Physical Sciences classes at Oak Grove High School before becoming an administrator. For more than 16 years, Folkes has served his alma mater as a JCJC Foundation Board Member, and as an Alumni Association Vice President and President. Currently, he is serving as the Foundation Nomination Committee Chairperson.
"Not only has Wayne Folkes devoted his life to educating others, but he has also served his community and Jones College with unmatched dedication. He has helped the college in various volunteer, leadership capacities over five decades beginning when he was a student here. Additionally, Wayne Folkes is a true representative of the Homecoming Theme, 'Jones Family 2021.' His family's loyalty to the college and their outstanding dedication to the education profession are qualities we wanted to honor with Wayne Folkes as the best representative to be the 2021 Honor Alumni," said Joel Cain, Vice President for Advancement and Athletics.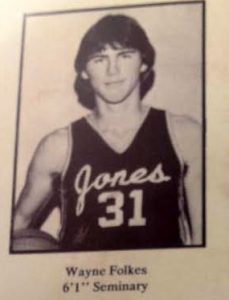 The 1979 Seminary High School graduate excelled academically and on the basketball court. He was voted Most Intellectual in 1979 and played baseball and basketball, earning All-Conference honors in both sports. Continuing to play basketball for the JCJC Bobcats, Folkes earned the JCJC Bobcat Basketball Award in 1981.
"Jones afforded me the opportunity to continue my education as I received a scholarship to play basketball at JC and my family had a long-standing tradition of attending Jones County Junior College.  The path was paved for my career in coaching, education and administration. JCJC is family to me. The friends and the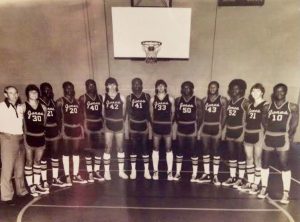 relationships that were built here at JC continue to this day. I am thankful for the impact Jones made in my life," said Folkes.
After graduating from Jones County Junior College in 1981, he continued his education at the University of Southern Mississippi, earning his bachelor's degree in science education in 1983, and his master's degree in school administration in 1991. During his career as an educator and administrator for the Lamar County School District, Folkes also served in various capacities with the Mississippi High School Activities Association.
In 2010, as the principal for Oak Grove High School, Folkes began serving on the National Interscholastic Advisory Committee for the National Center for Spectator Sports Safety and Security or NCS4. Oak Grove High School became the first High School Pilot Test Site for the NCS4. Folkes assists the agency still today, in exploring the best practices for spectator sports while serving on the committee with other international and national professional and college sports representatives
He was honored for his work in education and athletics with the NCS4 and received the NCS4's "Friends of NCS4" Award. Additionally, he earned the Mississippi Association of Secondary School's Principal of the Year Award in 2006 and the Mississippi Association of Secondary School's Assistant Principal of the Year Award in 2000. The Lamar County School District recognized his work by naming Folkes as the Lamar County Educator of the Year in 2007. Moreover, Folkes earned the "Salute to Leadership" Award through the United States Department of Education in 2004, and the Martin Luther King Leadership Award from the Lamar County Concerned Citizens Organization.
Despite his many professional-related affiliations and work with numerous organizations, Folkes found time to devote to his community and church as a member of the Concerned Citizens of Lamar County. He used his leadership abilities to serve as the Forrest/Lamar County Heart Walk Chairperson for the Lamar County School District. Plus, Folkes serves as a deacon and on the Widows Ministry and Greeting Ministry at Temple Baptist Church.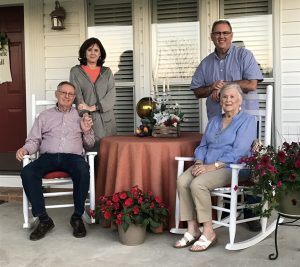 Most important to Wayne Folkes is his family's long legacy at Jones County Junior College. His parents, Billy Folkes and Sarah King Folkes met at Jones while riding the bus from Covington County to Ellisville. His father graduated from JC in 1958 and his mother attended JC in 1956-1957. His sister, Madelyn Folkes Lofton came to Jones for two years, 1978-1980 and was on the Lady Bobcat Basketball team.
Wayne's wife Karen Aultman Folkes was in the band's colorguard and she also graduated from JCJC in 1981. Karen continued her education at USM. She is currently working at Forrest General Hospital as a Nutrition Support RN, BSN, MSN. Their children, Katie and William continued the legacy and were JC campus leaders. Katie was a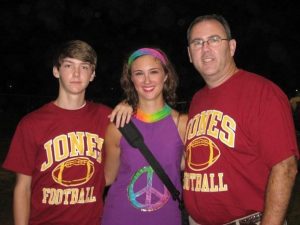 member of the colorguard in the band and she served in the Student Government Association as President in 2011-12. She is currently teaching History at Oak Grove High School. William Folkes came to Jones in 2013 and was elected as the SGA Vice President in 2014-15. He is currently working for WFTV news as a multi-media platform producer in Orlando, Florida.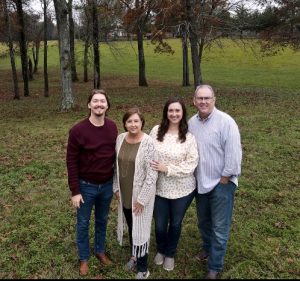 "The good Lord has had His hand in my life and has blessed me with numerous good people who have poured into me, like Carolyn Lott Adams. She mentored me as a new Oak Grove High School administrator. JCJC instructor and Dean of the College, Dr. Randolph Strickland and his wife, Anne also helped me along the way. Being the 2001 Jones College Honor Alumni is really an honor that reflects the blessings of so many people in my life. They poured into me and that's why I pour into others. I've been very blessed," said Folkes.