ELLISVILLE –Jones College students who want to meet in person for classes will be able to do so come Tuesday, September 8. The hybrid format allows students to meet in small groups that rotate based on an instructor assigned meeting pattern. Students enrolled in fall 2020 classes should check their Canvas course shell for face-to-face small group meeting assignments. All Career and Technical Education (CTE) programs will continue in small group meeting patterns after the Labor Day holiday.
"It will be great to have students back on campus. However, we want to remind everyone, our efforts to stop the spread of the Covid-19 virus will continue. Face coverings are required on campus along with physical distancing protocols and daily health checks," said Jones College President, Dr. Jesse Smith.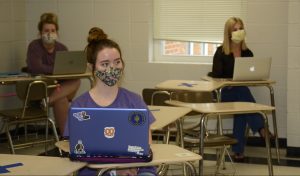 All Jones College students and employees are required to download "Power Apps" to complete their daily health checks. In addition to stopping at one of the 21-Health Stations across campus daily, including everyone meeting at the Jones College County Centers, temperature checks will be required for anyone accessing the campus in Fall 2020.
"It is encouraging to see our students are not giving up on their educational goals and are committed to completing their degrees. Our enrollment has remained level, with 4,893 students enrolled. That is down by only four-one-hundredths of a percentage point from last fall. Students are also taking about the same number of credit hours to stay on track for completing their degrees with 65,136 credit hours being taken by our students," said Executive Vice President, Finee' Ruffin.
When the fall semester began on August 10, all University-Parallel (academic)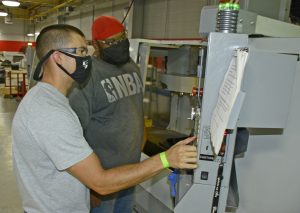 courses at Jones College were taught completely online because of the high rates of the Covid-19 virus in the Pine Belt reported by the state health officer, Dr. Thomas Dobbs. Smith said because the rate of infection has gone down because of everyone's diligent efforts, more students will now be able to come to campus for face-to-face classes.
Jones College is also offering 8-week classes beginning October 19, in addition to 4-week classes beginning November 16. Apply online at www.jcjc.edu/apply.
For a list of campus health screening stations or how to download the required app, visit https://www.jcjc.edu/fallreturn/.