ELLISVILLE – The University of West Alabama is giving Jones College students extra incentives to become UWA Tigers upon completion of their associate degree at Jones. UWA's new partnership with JC guarantees admission for Jones students who have a 2.0 GPA and 45 transferable credit hours or an associate degree from Jones College. Other perks include scholarships and one-on-one advisement for Jones students.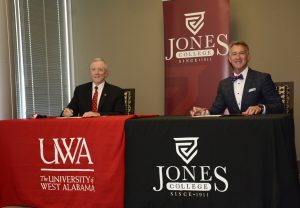 "We are offering very personalized advising before Jones students move to the University of West Alabama. They will know what courses to take, when and with whom. We want to make their transfer seamless, by taking a lot of pressure off students when they're moving to a new location. In fact, we are incentivizing the transition by beefing up our academic scholarship for this kind of a partnership," said UWA President, Dr. Ken Tucker.
Jones College students with a 3.0 GPA are now eligible for a renewable, $3,000 to 4,000 scholarship for up to four semesters. Additionally, these students qualify for a unique $2,000 Housing Scholarship for the first year. Tucker hopes the Housing Scholarship will encourage students to live on campus.
"We're urging students to continue their education with financial support. Research shows the more education you get the more successful you will be and the more money you will make. It all leads to increased success throughout life," said Tucker.
After the presidents signed the new Memorandum of Understanding, Jones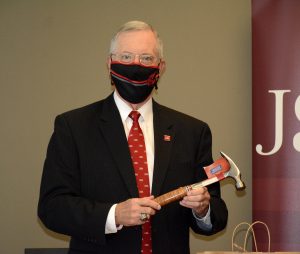 College President, Dr. Jesse Smith gifted Dr. Tucker with a unique Scotsman Heirloom hammer made by Jones alumnus, Ben Napier, who stars with his wife and Jones alumna, Erin in the HGTV Hometown TV series. Smith said the hammer is symbolic of building relationships, which he looks forward to building a great relationship with the University of West Alabama.
"Offering pathways beyond Jones is very important for our students," said Smith. "What UWA is willing to invest in our students, and what they're doing is, opening their doors. It is a perfect, natural fit because they focus on a student-centered approach to education just like Jones. Our students will feel like they're a part of something special at UWA and they're being taken care of like they are at Jones."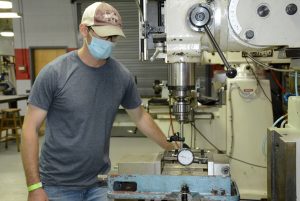 Career and Technical graduates of Jones College also have opportunities to segue into four-year technical degrees, like industrial maintenance and engineering technology. President Tucker said these programs are hands-on, application-oriented as opposed to just pure theory. He also noted UWA's Nursing program will be expanding to include a Bachelor of Science in Nursing degree beginning in January.
"Jones students who qualify for these scholarships will be exempt from out of state tuition, for another financial incentive for them to afford college. Jones has such an excellent reputation and we want to encourage more Jones College students to come to UWA," said Tucker.
For more information about the incentives for Jones College students contact Brenda K. Jones, the University of West Alabama Transfer Admissions Counselor-On Campus by calling her office at 205-652-5431 or cell phone at 205-651-2322 or by email at BJones@uwa.edu.