ELLISVILLE- Two Jones College students earned individual honors through the International Honor Society for two-year colleges, Phi Theta Kappa. Sophomore law and political science major from Waynesboro, Mya McLain was selected to Phi Theta Kappa Honor Society's All-Mississippi Academic First Team. Social work major from Petal, Shayna Clark was chosen for the All-Mississippi Academic Second Team.
"I have never felt more honored because I put my heart and soul into the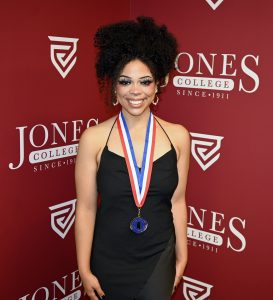 application," said McLain. "Being the first black valedictorian at a predominantly white school, and now winning this honor is validating to me. I proved I did every step of it and I won on my own merit."
Besides serving PTK as the Rho Sigma Chapter President, McLain was a member of the Charles Pickering Honors Institute, Student Government Association, and she played the character, Taylor McKessie in Jones College's recent musical theater production, High School Musical. McLain has also earned the Letter "J" Award and Hall of Fame honor. She can be found volunteering at the Waynesboro Animal Clinic and at Laurel's Glory House in addition to numerous campus events.
"Coming to Jones has enabled me to do this because my first two years of college were paid for with academic scholarships, allowing me to save up and get other scholarships. All that weight and pressure of being in debt is coming off my shoulders piece by piece. I'm really elated!" said McLain.
The self-described "change agent" has lofty goals for her future endeavors. She hopes to use her degrees in law and political science from Mississippi State University to change the world.
"Hopefully my degrees will set the stage for me entering the political field. I'd like to be in Congress and hopefully run for President one day. This PTK scholarship is setting me up for all these big dreams I have. I'm really excited!"
Shayna Clark also has dreams of changing the world and working within the legal system. The 34-year-old Jones College graduate explained she missed her opportunity for college when she graduated from Lamar Christian High School in 2005. Her mother passed away her senior year of high school after a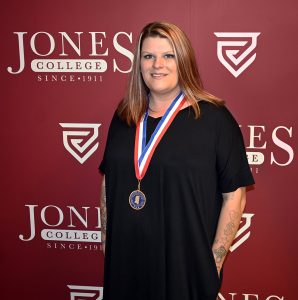 long battle with cancer. The Petal resident said she couldn't cope and "went off the deep end."  Over the next 10 years, until she was 29, she was homeless and landed in jail on drug charges.
"I completely hit rock bottom and I ended up getting arrested. I was put in drug court and it made a massive change in my life," said Clark. "It was the first time anyone in the court system looked me in the eyes and said, 'You can do better than this and we're going to help you' and they did."
She went through treatment at Clearview Recovery for the first time and learned a lot. After three years in drug court and staying sober, Clark earned a job in mental health at Clearview Recovery Center for a year. In 2020, she decided she was ready for college. Joining PTK, Clark said has allowed her to discover new goals and dream again.
"It really means the world to me to win this academic award!" said Clark. "I had so much doubt about my ability to go back to school after 14 years since high school. I also have a husband, a 3-year-old and a 17-year-old stepson, a job and I'm active in A.A. Knowing I graduated and did really well feels amazing! JC has given me a whole new confidence in myself and in my recovery."
Clark graduated with a 4.0 GPA and is now working as a Case Manager/Peer Support for the Forrest/Perry County Drug Court. With three-and-a-half years of experience working in mental health, Clark proudly explained that personnel at Drug Court contacted her for this job in February. She is celebrating six years of being sober and free from addiction. Now, the Social Work major's goal is to open her own non-profit that helps counsel people through alcohol and drug recovery.
"Only two percent of the IV drug users get better. A lot of the reason is there are so many negative voices out there telling you can't get better in that situation. I want to be a loud voice, so loud that they can't hear all those negative voices, on every platform I can find," Clark explained.
Both students were chosen as Jones College's nominees from a larger pool of Jones applicants that also boasted impressive resumés. The nominees were then evaluated by PTK officials on effective writing skills, the academic rigor of their majors and their leadership impact at their colleges.
"Our nominees distinguished themselves scholastically with excellent grades, and they each have notable records of community and campus service. Their accomplishments and successes are truly highlighted by being named as the college's nominees for this prestigious academic competition," said Eric Shows, Assistant Dean of Science and Engineering and PTK Co-Advisor.
The JC students competed with more than 1,800 nominations from each of the 15-community colleges. As part of the Phi Theta Kappa International Honor Society's annual academic and workforce competition, each student submitted an essay, answered discussion questions, and described their leadership roles and activities while in college
The highest scoring nominees from each of the 15 two-year colleges earned First Team All-Mississippi honors and $500 scholarships provided by the Mississippi Association of Community and Junior Colleges. All team members received special medallions, certificates, and printed resolutions from the Mississippi Legislature.