ELLISVILLE – Observing CDC protocols, 41 Jones College Associate Degree Nursing graduates celebrated their successful completion of the five-semester program with the traditional, Nurses Pinning Ceremony in the Bobcat Stadium/Sim Cooley Football Field. Jones College President, Dr. Jesse Smith noted to
day's celebration in the football stadium was an odd place for these nursing graduates, but it is also very appropriate considering their adaptable attitudes have allowed them to be successful.
"If it were easy, we'd all be nurses. You have chosen the most noble profession we can teach at Jones. We are honored you have made it through and are celebrating today. It makes me very proud that the most important thing we do at the college, you have done very well, and we thank you. We know you are going to impact so many lives," said Smith.
Completing the rigorous but rewarding nursing program was a dream come true after two years of sacrifice, dedication and perseverance for Keira James of Jackson. One of the biggest challenges for James was juggling her responsibilities at home and school.
"Switching to online learning while balancing a life at home with my husband and young toddler was difficult. However, my instructors were so helpful by providing different time slots where we could join lecture conferences at our convenience because so many of us had busy home lives," said James. "As for working amidst the pandemic, I feel a little more at ease going into a hospital setting with prior education and experience with pandemic protocols and seeing it first-hand. COVID-19 is still concerning, especially as the numbers are back on the rise, but I feel more prepared to help in this pandemic."
The COVID-19 virus changed these graduates' normal course of study, and everything else, midway through the A. D. N. program. While it threw a few off-track, for Hannah Lott of Petal, it forced her to find a new way of learning.
"Although online testing didn't numerically affect my grades, it raised my stress level knowing that I was not able to physically write on a test anymore. We also transitioned into online lectures instead of class lectures, which took a toll on me as well as some of my classmates. However, I believe I adapted very well given the circumstances, and I think the pandemic prepared me for the future and being comfortable with the 'unknown' and just learning how to quickly adjust and adapt. In the end, Jones' nursing instructors and South Central Regional Medical Center provided me with the necessary tools and guidelines needed to help protect myself and others from this virus,"
Being flexible is something graduate, Laura Ellerman of Hattiesburg said she learned as she navigated through the changes the COVID-19 protocols mandated. As both faculty and students worked toward accomplishing mutual goals to attain clinical experience, creative problem solving became more necessary.
"Having evening clinicals is just one example of how we had to be flexible to meet the educational and clinical requirements for this challenging program," said Ellerman. "The JC A.D. Nursing program not only taught us these abilities, but they also put them in action with us, in real-time.  I will be eternally grateful to the JC COVID-19 Task Force and faculty and SCRMC for diligently and successfully creating, monitoring and maintaining environments that allowed our program to continue to thrive during these trying times.  It was not an easy feat to accomplish!"
Associate Degree Nursing Program Director, Erin Knight, MSN, RN,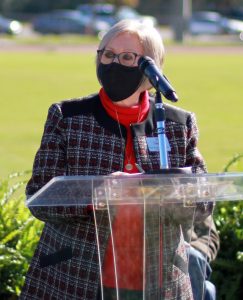 acknowledged there have been many changes but these graduates have embraced the changes and thrived.  Nurses are well-equipped to best embrace an ever-changing environment.
"The year 2020 has been such a challenge for all of us in so many ways.  We are proud that these students have embraced those challenges and are now able to move out into the workforce.  We know they are ready to take NCLEX-RN and be at the bedside taking care of patients where they will make a difference every day and to every patient they encounter," said Knight.
At the Pinning Ceremony, five graduates were recognized by Knight for their perfect attendance and dedication. Jasmine Hamilton of McComb, Breanna Helms of Hattiesburg, Harleigh Howell of Ellisville, Madison Odom of Ellisville, and Sarah Sherman of New Hebron.
JC nurse graduates, Brianna Helms, Lori Jones of Hattiesburg, Hannah Lott of Petal, Hannah Smith of Heidelberg, Dalton Sumrall of Moselle and Kaelin Vegas of Columbia were also recognized as the newest members of the Gamma Nu chapter of the Alpha Delta Nu Nursing Honor Society.