ELLISVILLE – This year, the varied music from the Spring Recital Series will fill the air for four weeks in March and April on the Jones College campus. The musical "feast" featuring musicians from the region and music from around the world, composed centuries ago will be heard on Fridays in the Foote Chapel. The annual Spring Recital Series begins on Friday, March 24, at 12:30 p.m. until 1 p.m., and will continue each Friday through April 21, except for Good Friday/Easter weekend. All concerts are free and open to the public.  For more information call the JC Fine Arts Department at 601-477-4203 or online at https://www.facebook.com/JCJCFineArts/
On Friday, March 24, at 12:30 p.m. in the Foote Chapel, the Series opens with the Kontra Duo, featuring Daniel Espinoza on saxophone and Kristina Finch on harp for "These Limbs Tell Stories."  The program features a diverse range of styles and influences, including avant-garde, minimalist, and postmodern contemporary classical music for harp and saxophone, featuring works by living composers from around the world! This dynamic duo has been captivating audiences with their energetic and colorful performances for years. Their unique combination of instruments creates a sound that is both vibrant and innovative.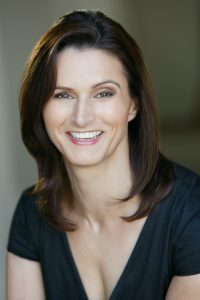 The Friday, March 31, at 12:30 p.m. in the Foote Chapel, features, "Seasons of Love" with soprano, Claire Vangelisti and pianist, Richard Seiler. This program includes songs/arias about all types of love in musical styles from Baroque to Contemporary. 
With a voice that has been described as "pure, lovely, vibrant, truthful, and lustrous," Vangelisti has found success on both national and international stages. Vangelisti's body of work ranges from performing major soprano roles in the oratorio repertoire, both in the U.S. and in Europe, to leading operatic roles.
Richard Seiler of Brevard, North Carolina, is Professor/Keyboard Area Coordinator at the University of Louisiana at Monroe. A Fazioli artist, Seiler has taught masterclasses and performed as solo/collaborative pianist in Canada, China, Europe, Japan, and throughout the United States, has soloed with orchestras, and has recorded for Centaur Records and MSR Classics. Seiler is a co-recipient of the NELAC's 2006 Artist-of-the-Year Award.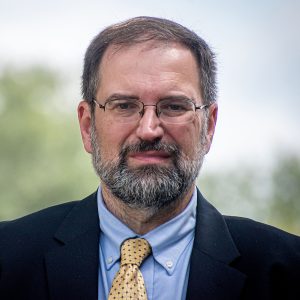 A unique program, "Myths & Legends" will feature Richard Perry on tuba, accompanied by Ellen Elder on piano on Friday, April 14, at 12:30 p.m. in Foote Chapel. This program features 21st century works by composers David Gillingham and John Stevens, based on mythical and literary characters.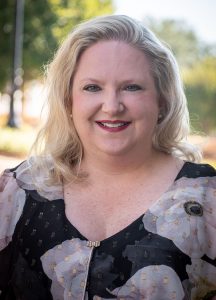 Richard H. Perry is Associate Professor of Tuba and Euphonium at the University of Southern Mississippi, where he directs the tuba-euphonium ensemble. He has been active as a clinician, performer, and adjudicator throughout the United States, and has appeared as a soloist and featured performer at numerous regional, national, and international conferences.
Dr. Ellen Price Elder is Associate Professor of Piano at USM, where she teaches applied piano to graduate and undergraduate piano majors, serves as coordinator of the class piano program, and teaches piano pedagogy. She is an active collaborator with USM faculty, and has performed throughout the United States and South America as soloist, collaborator, and masterclass clinician.
The final musical feast will be served up by a Series regular, The Impromptu Piano Trio with, "The Joy of Tradition" on Friday, April 21, at 12:30 p.m., in the Foote Chapel. The Trio, Borislava Iltcheva on violin, Alexander Russakovsky on cello with Dr. Theresa Sanchez on piano, will perform works from two of the "three B's" of classical music composers, Beethoven and Brahms.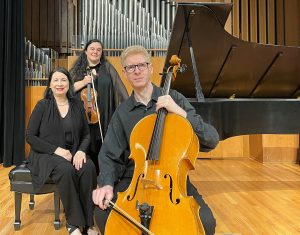 Borislava Iltcheva started playing the violin at age of five, earning her Bachelor's degree from the Bulgarian National Academy and Master's and Doctoral degrees in violin performance from Louisiana State University. Borislava holds prizes from several national and international competitions and has been featured as a soloist with many symphony orchestras. She has performed recitals throughout Europe, Asia and the United States. Ms. Iltcheva is the Concertmaster of the Baton Rouge Symphony Orchestra and currently teaches at The University of Southern Mississippi.
Alexander Russakovsky has appeared in numerous solo and chamber music performances in Russia, Israel, Europe and the United States. In the fall of 200,1 Dr. Russakovsky joined the music faculty of the University of Southern Mississippi in Hattiesburg. Recently, Dr. Russakovsky has given master classes and recitals in Taiwan, Israel, and Latin America.
Pianist Theresa Sanchez pursues a varied performing career as a soloist and collaborative musician. She has performed as soloist with numerous symphony orchestras, and recorded two concerto discs. She has been a faculty member at Jones College since 1995, and is a past president of the Mississippi Music Teachers Association. She currently serves as Music Coordinator for the Hattiesburg Concert Association and FestivalSouth, and is listed on the Mississippi Arts Commission's Touring Artist Roster.