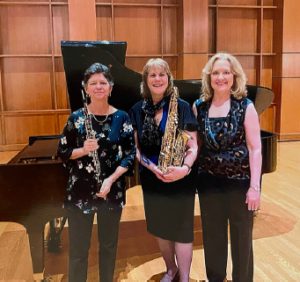 ELLISVILLE – The Jones College music department is hosting a concert featuring, "The Topaz Trio" on Wednesday, March 29, at 12:30 p.m. in the Foote Chapel on the Ellisville campus. The Topaz Trio, consists of Dr. Lorraine Duso Kitts on oboe, with Dr. Gail B. Levinsky playing saxophone, and pianist, Dr. Jackie Edwards Henry. Founded in 2019, the trio explores the tonal sounds created by the unique combination of the oboe and saxophone families. To date, The Topaz Trio has performed at international and national conferences, including the International Double Reed Society (IDRS), North Association of College Wind and Percussion Instructors (NACWPI), and International Alliance for Women in Music (IAWS). As avid supporters of new music, the ensemble has commissions of new works by Michele Schelle, Stephanie Berg, Paul Dickinson, Karen Griebling, Adam Har-Zvi and Douglas McConnell. The three will also be hosting a Masterclass for students following the free concert.
Edwards and Levinsky are former Mississippi State University professors of music. Dr. Duso-Kitts is currently a professor of double reeds at the University of Central Arkansas. Dr. Duso-Kitts also plays oboe with the Arkansas and Conway Symphony Orchestras. Additionally, she has performed with the Orquesta Philharmonica de Santa Cruz in Bolivia, Orquesta Sinfonica de Estado de Mexico and Orquesta Sinfonia de Jalapa in Mexico. She received her Bachelor of Music from Indiana University, her Master of Music from Manhattan School of Music and her DMA from the University of Michigan.
Dr. Levinsky currently serves on the faculty as Professor of Music at Susquehanna University in Pennsylvania. Her performance credits, commissions and premieres include presentations both nationally and internationally. Dr. Levinsky earned her Master, Artist Certificate and Doctorate degrees from Northwestern University. She has published varied saxophone chapters about teaching saxophone and recently completed a solo CD featuring music of women composers.
Dr. Jackie Edwards Henry is a collaborative pianist, harpsichordist, church musician, group piano specialist and teacher of adults. She has performed nationally and internationally, with her duo partner, Dr. Levinsky since 1994 and with the Topaz Trio since 2019. She was the Professor of Piano and Coordinator of Group Piano at MSU from 1991-2022.
For more information call the JC Fine Arts Department at 601-477-4203 or the website online at https://www.jcjc.edu/programs/finearts/ or https://www.facebook.com/JCJCFineArts/