ELLISVILLE – A pinning and graduation ceremony for 21 students who recently finished Jones College's Practical Nursing program was held to celebrate their accomplishments while overcoming many obstacles.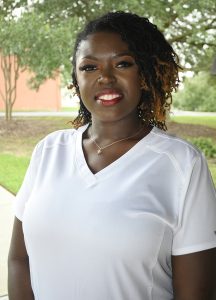 Completing the one-year program, was a challenge for some like 31-year-old Le'Chasity Taylor of Hattiesburg. The single mother of a 10-year-old girl previously earned an associate of arts degree in veterinary medicine. After working in the animal world for one and half years, she decided to find a new career working at Forrest General Hospital which lasted nine years working for different departments including the pathology lab, clinic lab and as an acute care tech on the medical surgical floor. Still wanting more, Taylor pursued a career in nursing.
"Without the support and encouragement of my family it would have been even harder without their push. With a few prayers and my family, I am here about to graduate," said Taylor.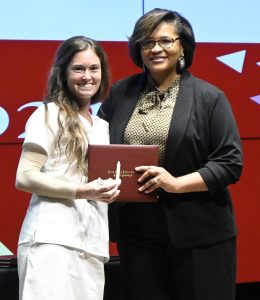 Christi Smith of Bay Springs also overcame the challenges of raising a 2-year-old, and a 6-year-old with her husband Devan while enrolled in the three-semester program. She left her job at Magnolia State Bank after six years, to fulfill the dream she's had since high school.
"Nursing school was probably the hardest thing I've ever done, on top of having kids and a husband but I really enjoyed it," Smith shared. "I couldn't have done this without my supporters and the amazing instructors. I'm really excited Jones College is expanding the Practical Nursing program to Jasper County to make it more convenient for more people to earn their degree closer to home."
Smith plans to return to Jones College after working for a year to earn her Associates Degree in Nursing. After earning the Florence Nightingale Award at the pinning and graduation ceremony at Jones College, Smith said it just confirms that nursing is what she needs to do.
"I just about cried when they called my name. I am honored and I hope I can live up to the expectations that the founder of nursing embodied," said Smith.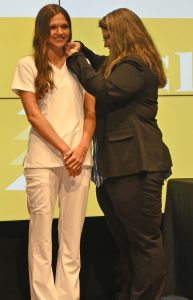 For Maggie Mason, being a Jones College graduate of nursing is the continuation of a legacy established by Mason's great grandmother, Martha Clanton and Maggie's mother, Wanda Mason. The Wayne County family has worked in home health care for 20 and 25 years respectively before continuing their nursing careers at the Wayne County Nursing Home. Maggie hopes to follow a similar path as she celebrates joining the ranks of the nursing profession.
"I've always looked up to them as role models since I was in kindergarten, as being really awesome. It is so awesome to be here today, since I waited for this day, forever it seems! There were times I felt like it wasn't going to happen, but I tried really hard, and I'm really excited about being here," said Maggie.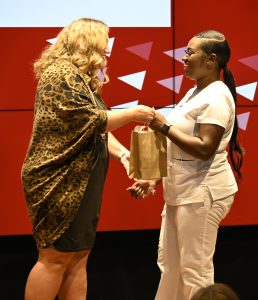 During the ceremony, the faculty recognized three students for different accomplishments. The Academic Excellence Award was given to the student who demonstrated the ability to not only achieve, but who also excelled in scholastic activities. Keyera Waters of Laurel had the highest average and demonstrated superior academic performance.
Arseunna Hardin from New Augusta was selected for the Rising Star Award. Faculty felt like she had shown continuous dedication and exceptional growth in the classroom and clinical studies. Her positive attitude and perseverance enriched her professionalism and nursing knowledge. The Florence Nightingale Award was given to Smith because like the founder of nursing, Smith embodies the spirit of nursing by exhibiting professionalism, integrity, and selflessness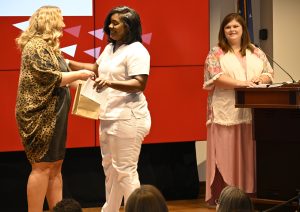 towards humanity. These are the qualities Nightingale implemented into the nursing profession, along with compassion and dedication for all patients.
The pinning and graduation ceremony culminated with the traditional lighting of the nursing lamp, like Nightingale used to see for the injured soldiers of the Crimean War in 1853. Faculty members lit their lamps and passed the flame to each student as a symbolic measure of passing on their knowledge.
"Graduates, as you leave here and begin your careers, you too will bring light to the sick, the anxious and the suffering…. Let your light shine before men so they may see your good works. Never forget how important you are. You have accomplished a great thing. We are very proud of you so go out there and let your light shine!" said Practical Nursing instructor, Jill Burge.
For more information about Jones College's Practical Nursing Program at the Jasper County Center, call the Jasper County Center at (601) 477-5473 or check out the website at https://www.jcjc.edu/workforce/locations/jasper-campus/ and to learn more about Jones College's Practical Nursing program click on the website at https://www.jcjc.edu/programs/practicalnursing/.