ELLISVILLE– D'Iberville's baton twirling sisters, Alyssa and Kayla Webb have been members of the elite, "Dixie Doll Twirlers" team based in Biloxi, for more than 10-years together. As Jones College students, and the feature twirlers for the Maroon Typhoon Marching Band, the Webb sisters are performing together for the first time ever, in the "dreamy" half-time performance called, "What Dreams May Come."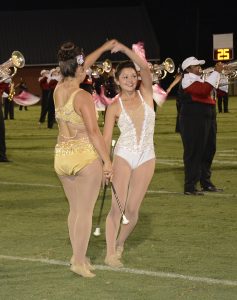 "We never had a routine together, so this is our debut!" said Alyssa Webb. "You don't see sister twirlers in college performances. It's very unique and it's good because we understand each other. We know what we're both capable of doing and we 'read' each other well."
During their competition days with the Dixie Dolls, the Webb's traveled throughout the southeastern region collecting trophies from numerous regional, state and local competitions. The team captured 1st place in Nationals and Kayla earned individual 1st place honors in a national competition while they were both at D'Iberville High School. Using their award-winning experience, the Webb sisters incorporated a few of their favorite moves into their Jones College performances on the football field this fall.
"We have a move that looks like a double cartwheel while tossing the baton. We're also exchanging batons, and twirling fire batons and blades," said Kayla. "During the pre-game and half-time shows, we perform during the Eurythmics song, 'Sweet Dreams' and Van Halen's, 'Dream On.'"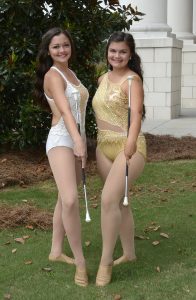 Alyssa journeyed to the Ellisville campus first and then convinced Kayla to join her at Jones. "Alyssa had fun here and really liked it at Jones so I thought I would join her," said Kayla. "A lot of the Dixie Dolls have performed at Jones. I don't expect that will end."
Several members of the "Dixie Doll Twirlers" have dazzled Jones audiences over the last 15 years, including Carly Carpenter 2017-19, Autumn Dunnaway 2017-18, Sabrina Sagers 2015-17, Megan Crager 2009-10, Ashleigh Richardson Fulton 2008-10, Ashton Rushing 2008-10, Olivia Purvis Hall 2007-09 and Lauren Byrd 2003-04.
For Alyssa, her last performance may be at the last Jones home football game on October 24.  She plans to graduate in May and work on her bachelor's degree in accounting at USM. Kayla will spend another year as a Jones Bobcat before heading to the University of South Alabama to pursue a degree in physical therapy. The D'Iberville High School graduates said they plan on enjoying the spotlight for as long as they can twirl the baton, or their careers prevent them from performing.