ELLISVILLE – When artist, Sean "Star Wars" Stewart first visited with Jones College students eight years ago, before being featured in HGTV's Season 2 of "Home Town," he had just moved to Laurel from New Orleans, before Hurricane Katrina. Since his TV appearance, some things have changed. During his "Art Talk" with Jones College art students, he was being documented by Mississippi Public Broadcasting for a "Mississippi Roads" segment. Also, his family has grown from him and his wife and one child to five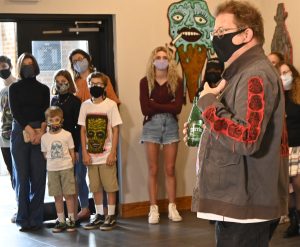 kids with one son beating Leukemia. During the three-year battle with cancer, Stewart emphasized to students, his art didn't change because life got serious.
"I didn't want to think about important things like cancer research. If you are concerned with serious things OK. But I wasn't making artwork about leukemia. Not everyone can have this much fun and that's OK too," said Stewart. "The cure for cancer is not going to come out of printmaking. I want to make people smile. I do what makes me happy and I'm glad people also like what makes me happy," said Stewart.
While discussing his art, Stewart explained downtown Laurel's popularity has grown to the point he couldn't grow. The only option left for him was moving his studio to New Orleans to expand his art business and include offering art residencies.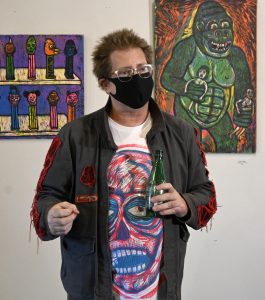 "I was glad to be able to be on the (Home Town) show and share what I think printmaking is to a totally different audience. Working with Erin Napier was super great too!" said Stewart. "I also know when the show airs because I always sell a Robert Johnson print at some weird hour of the night."
Stewarts' nuggets of wisdom to Jones students were not all specifically art-related. Besides "making art" he encouraged students to also connect with their audience, other artists and supporters of their work in order to get their work in galleries. Early in Stewart's career, after an art festival, he told students he didn't sell much, and he was disappointed. However, exchanging artwork with the guy in the next tent turned out to be beneficial, beyond his dreams.
"This artist at the art festival 12 years ago, was a teacher at MSU. I still have his piece hanging and he has mine. I got an email from him, explaining he's now the art director for an ad agency in Dallas and he thinks my work would be perfect for a restaurant company with 20 franchises. After meeting the CEO, they are going to use my imagery for advertising in different regions of the country. None of this would have happened if I hadn't made that connection at an art festival that day. Something to remember me by for the last 12 years, turned into something super big for me. Always reach out," said Stewart.
Social media allows artwork to be shared with a global audience faster than ever before and students should be taking advantage of these platforms Stewart also offered. Probably the most impactful for freshman, graphic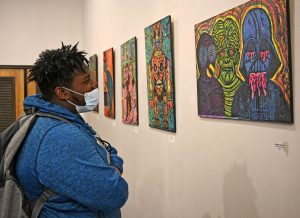 design major, Jashawn Huddleston of Bay Springs was Stewarts' advice, "Just have fun!"
"I like his style and the freedom he has in creating. I overthink, but I am beginning to realize I can be an artist and have fun too," said Huddleston.
Sophomore, Aryn Cox of Laurel also said she can get overwhelmed with art
ideas and what to create. Stewart's free, fun-loving art has inspired her to step out of her comfort zone.
"I also think too much while trying to create art. I'm going to try to go with the flow more and be more creative," said Cox.
The whimsical Sean "Star Wars" Stewart exhibit that was on display at Jones College's Eula Bass Lewis art gallery recently, showed off his uniqueness. The use of bright colors, quirky pop culture characters and items, displayed on thick, large pieces of wood is purposeful. Stewart's goal is to enjoy what he's creating and to stand out. From "Tangy"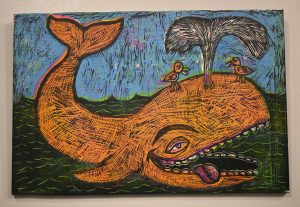 orange whales to color-themed robots and alligators taking a bath, Stewart's artwork is a collection of quirky, colorful images of pure, childlike fun. However, Stewart told students the most important thing every artist should do is to spend time in front of their work.
"I'm not great at drawing but I enjoy carving, so I draw what's easy. I like the shapes of guns, robots, and animals. The wood carving adds texture to my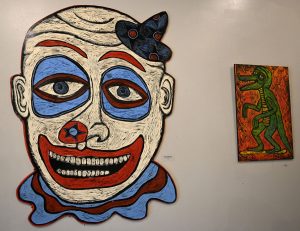 work, giving it dimension, almost inviting the viewer to touch my art. I want people to engage in my work and enjoy it as much as I do," said the former Virginia Beach native. "I didn't want the fact that I couldn't draw that well to keep me from having fun. What you draw is the fun part. That's what I talk about. I don't share the process of printmaking with audiences. They want to know why I have an ice cream cone smoking, with a drink in hand, wearing heels and carrying a purse. I laugh at my work because it's funny! At this point in my life, I make whatever I want to make. I love it when people give me ideas too."
Different artists are featured monthly at the Eula Bass Lewis Art Gallery which is open to the public and can be viewed from Monday through Thursday, 8 a.m. through 3 p.m., and Fridays, 8 a.m. until 2:30 p.m. For more information call 601-477-4148.