ELLISVILLE-Jones College's Concert Choir will begin the fall performance season with the first concert on Sunday, October 17, at 6 p.m. at West Ellisville Baptist Church. The public is invited to attend this free event which is also the first public performance with Dr. Imgyu Kang as the new Director of Choral Activities. Jones College music and piano instructor, Dr. Victoria Johnson will accompany the group on piano.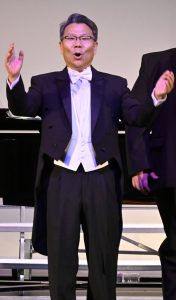 The 30-year veteran vocalist, conductor and instructor earned his Doctoral Degree in Choral Conducting from the University of Alabama. He earned his master's degree in Choral Conducting from Georgia State University, and his bachelor's degree in Vocal Performance from the University of Seoul. Dr. Kang previously served as the Director of Choral Activities at Oral Roberts University and Western Nebraska Community College. Dr. Kang also taught Advanced Conducting at the University of Alabama from 2009-2012 and was the assistant conductor of the University of Alabama University Singers. His love of music and talent won him the Korean American Scholars Award in 2003 and 2010 and the Korean American Embassy Award in 2010.
Dr. Kang opens the fall concert choir season with the 71-member Jones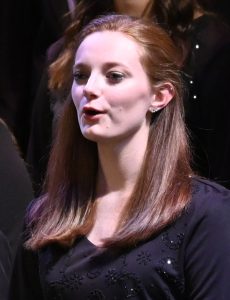 College Concert Choir's, "New Season, New Songs" themed concert. The group will perform a variety of music including, "Come to the Water" arranged by Lynda Hasseler with soloist, Darcy Beech of Ellisville. Bonner Welch of Moselle will be the featured soloist for "Prayer of St. Francis" by Allen Pote. The song, "Order My Steps (In Your Word)" arranged by Jack Schrader will feature soloists, Lazarius Shelby of Laurel and Jaylon Sims of Laurel. Other musical selections include "Total Praise" by Richard Smallwood and "William Tell Overture," arranged by Julie Eschliman.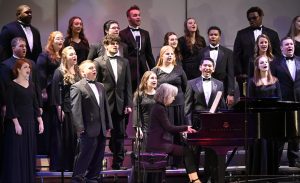 The next JC Concert Choir performance will be Sunday, November 7, at 6 p.m. at First Baptist Church of Laurel. The final concert of the semester will be a Christmas Concert with the JC Fine Arts Department on Thursday, December 2, at 7 p.m. in the M.P. Bush Fine Arts Auditorium. For more information contact the JC Fine Arts Department at 601-477-4203 or email joneschoir@jcjc.edu
JC Concert Choir
Soprano
Natalie Dewitt, Laurel *
Bayleigh Hill, Laurel
Charity Miller, Brooklyn
Bralynn Newell, Newton
Anna Pickering, Laurel
Abigail Thrash, Laurel
Madison Windham, Mize
Ashley Allee, Oak Grove
Victoria Ball, Laurel
Sabrina Turner, Vinegar Bend, AL
Rachel Carlino, Waynesboro
Mackenzie Golemon, Moselle
Gracee Green, Laurel
Amberlyn Holifield, Leakesville
Destiny Lewis, Laurel
Abby Nix, Ellisville
Laiklynn Roberts, Waynesboro
Darcy Beech, Ellisville
Savannah Greene, Sumrall
Abigail Smith, Richton
Trinity Williams, Brooklyn
Kamaya Hutton, Hattiesburg
Alto
Sarah Ables, Laurel **
Virginia Fortenberry, Lawrence County
Lily Hendrix, Sumrall
Samantha Bishop, Florence
Hannah Manning, Quitman
Mackenzie Lacy, Pass Christian
Kathryn Hyatt, Laurel
Hannah Johnson, Laurel
Madison Lanier, Laurel
Bailey Rowell, Wayne
Molly Waldrop, Laurel
Natalie Walker, Laurel
Hanna Wood, Laurel
Annaleigh Ragsdale, Magee
Jennalyn Purvis, Petal
Payton Voge, Laurel *
Morgan White, Laurel
Jaelynn Peak, Foxworth
La'Lexia Murrell, Laurel
Kristen Jordan, Laurel
Tenor
Jaylon Sims, Raleigh
Michael Decou, Chatham, LA
Petara Jo'i Jones, Hattiesburg **
Jalen Poindexter, Jackson *
Josiah Raine, Picayune
Elijah Gray, Heidelberg
Jacob Strickland, Ellisville
Lazarius Shelby, Laurel
Bonner Welch, Moselle
Tellas Smith, Laurel
Wesley Carmical, Ellisville
Bass
Judah Capers, Laurel
Vincent Brown, Moss Point
David Ishee, Laurel
Alejandro Jarillo, Laurel
Donovan Williams, Laurel
Cameron Beech, Laurel
Cameron Glenn, Ellisville
Colby Marsh, Petal
Samuel Rodgers, Petal
Jarrett Darden, Seminary
Xavier Porter, Laurel
Marcus Sims, Laurel
Isaiah Spradley, Laurel
Damarie Windham, Laurel
Rayshawn Gamblin, Waynesboro
Jonah Holland, Ellisville*
Conner Smith, Ellisville
Dylan Waters, Laurel
*Section Leader
**Director's Assistant