ELLISVILLE – Before a handful of the remaining Jones County Junior College football team members that made history on December 10, 1955, a historical marker honoring the special occasion was unveiled during Homecoming festivities. The bold act by college officials allowing the first all-white athletic team from Mississippi to cross racial barriers and play an integrated team is now officially recognized by the Mississippi Department of Archives and History with a historical marker located on the Jones campus in a rose garden. Accepting the invitation to the Jr. Rose Bowl in Pasadena, California to play Compton (California) Community College was an exciting honor for the Bobcat football team that got mixed up in politics.
"This group of men faced the spotlight they had no intention of being a part of; they just wanted to play football," said Jones College President, Dr. Jesse Smith, as the historical marker was unveiled. "It is an honor to share this signature moment in the history of the college that goes back to 1955, and the impact it has had on our state and college is remarkable. I will look back at that time as a defining moment in our college's history."
Members of the team have gathered regularly on campus and have been honored as their story has been shared for more than 60 years. Seeing the state officially recognize this monumental occasion with a historical marker has taken on a new meaning for the former players.
"It means an awful lot to us," said Sidney "Buck" Anderson who came to Jones on a football scholarship as a Petal High School graduate. "We were aware of the tensions, but Coach Jim Clark told us, 'Boys, you understand we have a chance to play at the Jr. Rose Bowl. How many of you want to go?' We all wanted to go! It was unanimous! We were undefeated and they thought we were good enough to play at this prestigious event," said Anderson.
Teammate, John Bishop, formerly of Ellisville, added he's always been proud to be a Bobcat and this recognition of history makes him even prouder.
"Our governor tried to tell us we weren't going. However, the college president, J.B. Young made me proud to be a Bobcat because he kept his promise despite the pressure to keep us from participating," said Bishop.
The historical marker reads, "JCJC president, J.B. Young stood firm against statewide opposition to the school's participation, saying that he gave his word the Bobcats would play." As the sign explained, JCJC also faced threats of losing state and local funding.  However, Young was more concerned about keeping a promise than the threats. JC President Dr. Smith sums up the importance of Young's actions.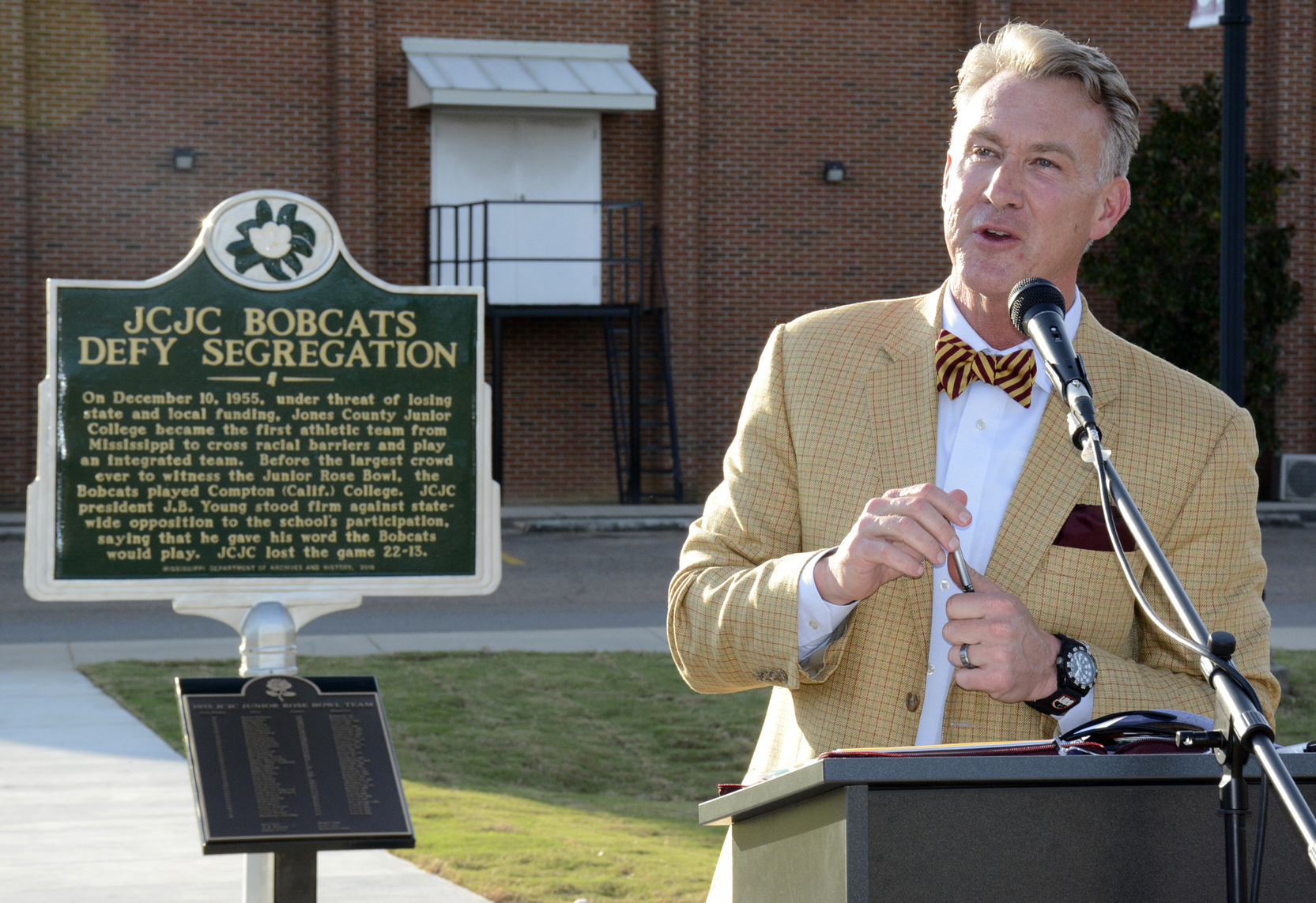 "It's a telling thing when you play a ballgame and lose, and still come out to be one of the best winners in Mississippi's history.  I'm thankful for that," said Smith.