ELLISVILLE – Soccer is just as much a part of 19-year-old Acacia Rodriguez's life as breathing. The Clinton resident can't remember a time when she wasn't playing the game or kicking a ball. Soccer is also the key to opening the door for her to play for Lady Bobcat Soccer Head Coach, Dolores Deasley, which was not on her radar.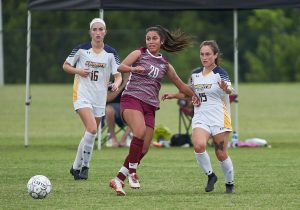 "My goal was to go to the University of West Florida where my high school coach played soccer. Coach Dolores reached out to me my senior year of high school and told me why she thought a JUCO would be right for me," said Rodriguez. "I knew Coach Dolores was an international player and played for her country of Ireland. She has participated in top-level soccer and I want to do just that. Coach Dolores has the experience and knowledge to get me to the next level."
The sophomore is well on her way to the "next level." Rodriguez not only helped the Lady Bobcat Soccer team to a 14-3 record during the 2021 spring season, but she also helped the Bobcats qualify for its first-ever appearance in the NJCAA Division II National Tournament in Evans, Georgia. Her work paid off by being named to the NJCAA Division II All-Tournament Team and the All-MACCC First Team for the season. Rodriguez soon realized Jones College could equally prepare her to be just as successful transferring to the university and discovering other opportunities.
"I came to this campus with an open mind and a willingness to succeed and Jones has provided nothing but opportunities for me to do so," said Rodriguez, who is majoring in Sports Management with a goal of playing soccer in Hawaii.
Rodriguez's success on the soccer field should give Jones College students an idea of her ability to multi-task and use her time wisely. When she decided to run for the office of President of the Student Government Association, she knew it would be challenging to juggle her roles as a student-athlete and keep her 4.0 GPA. Rodriguez said she did not originally plan on leading the largest student organization on campus, but she knew she would be capable of organizing and accomplishing different projects for Jones and the community.
"I was a bit shocked that I won the election as Student Government Association President," Rodriguez confessed. "I signed up for the ballot because I thought it would give me the opportunity to put myself out there. I am very excited, however for the chance to represent the student body and bring some exciting new projects and ideas to the college."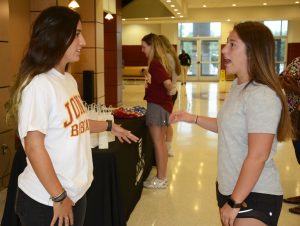 A few projects the new SGA President wants to incorporate include more healthy living activities like bike races, walk-a-thons, and marathons around the city of Ellisville.
"I also want to bring back the social environment lost because of Covid-19. I would like to orchestrate different activities that would bring students and teachers out of their classrooms and dorms and socialize again," she said.
Rodriguez was first introduced to Student Council in junior high school. Getting involved in huge projects around the community, allowed her to get to know more people. When she came to Jones College, she knew she wanted to get involved in campus activities on a larger scale. Rodriguez offers this advice for anyone not sure of the best way to succeed in college and life.
"Get out there! Everyone is friendly and ready to accept you with open arms. There is always a way to become involved! Another big thing that helps, treat everyone you meet with respect and that respect will be reciprocated."