ELLISVILLE –Jones College's Fine Arts Department invites the public to enjoy an evening of Renaissance music with the JC music department at its annual "Madrigals and More" concert, free of charge. The various small ensembles of JC students and faculty will be performing at First-Trinity Presbyterian Church in Laurel, on Tuesday, October 26, at 7 p.m. This special event spotlights a diverse group of performers, from student ensembles and solos to faculty solos, and faculty-student collaborations, featuring music from composers such as Claudio Monteverdi, Francesco Landini and Johann Sebastian Bach, to John Dowland, Thomas Morley, Domenico Cimarosa, and Georg Philipp Telemann, to name a few.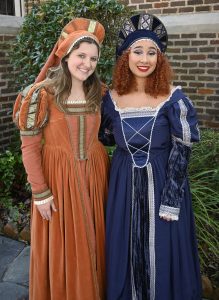 Concert hosts, JC Voices, under the direction of Dr. Susan A. Smith will perform a variety of selections from the Renaissance period. Additionally, various small vocal groups and solos will be featured throughout the evening including a performance by Assistant Director of Bands and percussion instructor, Dr. Josh Frans. He will add a new dimension to the evening with his performance of the fourth movement of J.S. Bach's, Sonata No. 1 in G minor for marimba.
Dr. Michael Boyd, JC guitar instructor, will accompany JC students, Chicago Collins of Brookhaven and MacKenzie Lacy of Pass Christian as they sing the beautiful duet, Pur ti miro from Monteverdi's LIncoronazione di Poppea.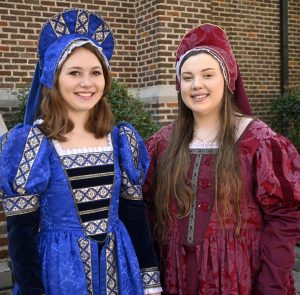 Also accompanying JC Voices on two instrumental and vocal selections will be Assistant Band Director and flute instructor Dr. Lindsey Keay, and piano instructor, Dr. Theresa Sanchez, and Drs. Boyd and Frans. JC students, Emily Valentine of Taylorsville and Hanna Grace Wood of Laurel will perform the stunning Antonio Caldara duet, Benedictus Deus, accompanied by Dr. Sanchez on organ. Darcy Beech of Ellisville, Savannah Greene of Sumrall, and Jalen Poindexter of Jackson will sing the very complex and intriguing trio, Whither Away So Fast, by Thomas Morley.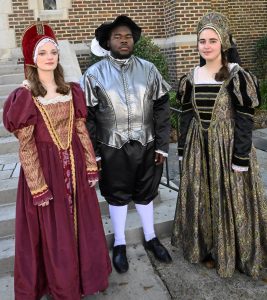 The trumpet ensemble, conducted by JC's new, brass and music instructor, Caleb Owenby, will play a stately fanfare on the newly purchased, "Herald Trumpets." The audience will also hear performances by Dr. Sanchez and Dr. Boyd, on somewhat rare instruments like the harpsichord and the lute. Additionally, the Flute Choir, Saxophone Ensemble and Brass Ensemble will perform a variety of early music selections, led by instrumental conductors and the Director of Bands, Dr. Ben Burge, Dr. Keay, and Owenby.
Faculty members Drs. Keay, Sanchez, and Boyd will each play solo selections, continuing a long tradition of collaborative performances hosted by JC Voices and Dr. Susan A. Smith. The concert will be narrated by JC voice instructor, Gregory Wascoe.
For more information about "Madrigals and More," or to find out how to support JC Voices call 601-477-4203.
2021 Members of the Chamber Choir and Madrigal Singers
Conductor, Dr. Susan A. Smith
Accompanist, Dr. Theresa Sanchez
Darcy Beech, Ellisville
Chicago Collins, Brookhaven
Savannah Greene, Sumrall
Madison Lanier, Laurel
Kambri Pippin, Laurel
Jalen Poindexter, Jackson
Mackenzie Lacy, Pass Christian
Anna Leigh Ragsdale, Magee
Jaylon Sims, Raleigh
Jacob Strickland, Ovett
Josiah Raine, Picayune
Emily Valentine, Taylorsville
Hanna Grace Wood, Laurel