ELLISVILLE –Jones College sophomores, Alyssa Adrion of Taylorsville, Raygen Keyes of Taylorsville, Halcyon Morgan of Laurel and Tanner Woolbright of Oak Grove each received Mississippi Engineering Society scholarships to earn their engineering degrees. All four students are planning to attend Mississippi State University to earn their bachelor's degrees in various engineering fields. For the last 21 years, Jones College's physics instructor, Mary Boleware has worked with the Southeast Chapter of the Mississippi Engineering Society which has awarded annual scholarships to her students.
"It has been an honor and a privilege to work with the MES because they support our students as they transfer to a University Engineering Program," said Boleware. "These four students have exhibited exemplary academic performance in one of the most challenging times in education. I wish them all the best as they continue their degree plans at the next level.
Students receiving a scholarship from the MES are required to be members of the Jones College Engineering Society and have a GPA ranging from 3.5 to 4.0.  MES Scholarship Chairman, Steven Parker, explained each student's GPA, essay and application were reviewed before being selected for the scholarship.
"The four students were awarded a total of $5,000 in scholarships to attend an accredited engineering program in the state," said Parker. "The Southeast Chapter of the Mississippi Engineering Society promotes and defends the rights of licensed professional engineers. Being an engineer is a prestigious discipline; these students will be the problem solvers of the future."
Morgan, who is majoring in aerospace/astronautical engineering is a non-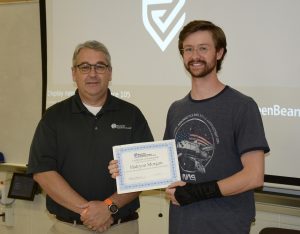 traditional student with a technical degree in precision manufacturing and machining. Scholarships which help earn an engineering degree are vital for Morgan in reaching his lofty goals. Growing a company that builds products for space and starting a STEM based extracurricular program for kids are just some of Morgan's future plans.
"The less mental energy and time I have to spend worrying about how my education is being paid for, the more time I can spend on making use of it. This is a great cycle to be in because the more time I spend doing better in school, the better my opportunity for more scholarships. Standing out academically, will hopefully carry me further into my career," said Morgan.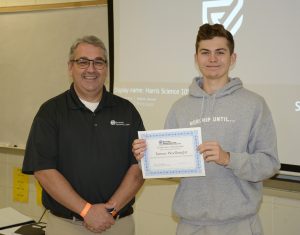 Also intrigued by "space" is Woolbright who is working on a degree in astronautical engineering.
"The ultimate goal is to work for a company with relations to space. Space fascinates me and I would really like to be involved in researching and discovering new things," said Woolbright. "This scholarship helps reduce the financial stress and allows me to focus on my studies."
Keyes' dream job is to design launch sites for NASA. Receiving the MES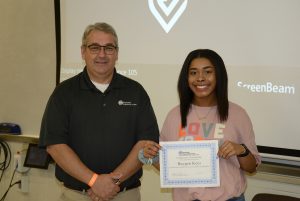 scholarship keeps her focused on achieving her goal.
"I appreciate the support and confidence from my peers and I'm proud that I'll be able to represent them through my ambitious career path," said Keyes.
Taking a different path in the field of engineering, Adrion is pursuing a biomedical engineering degree. Her sights are set on developing medical equipment.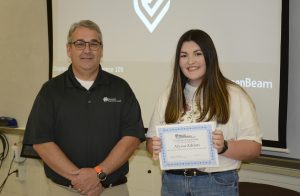 "My goal is to be a part of a team that designs and creates the newest and most innovative devices to be used in the medical field. A dream come true would be to create prosthetics," said Adrion.  "It is an honor to be selected for this scholarship and representing Jones College and future engineers."
Typically, The Southeast Chapter of the MES invites college and high school students to an annual meeting, exposing them to job opportunities and academic advice during Engineering Week. This year the festivities were canceled because of concerns with COVID-19.  JC's Engineering Society co-hosts the annual event.