ELLISVILLE-Jones College's Radiologic Technology 2020 graduate, Taylor Bryant of Mize, was recently named the Mississippi Radiological Society's 2020 Radiologic Technology Student of the Year for Jones College. The 2016 Mize Attendance Center graduate received a $400 scholarship from the Mississippi Radiologic Society to continue her education.
"I am humbled to receive this scholarship," said Bryant. "My plans include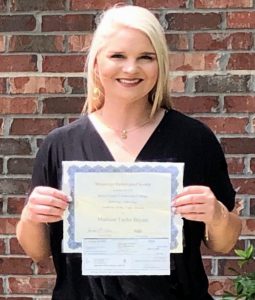 continuing my education in Diagnostic Medical Sonography, thanks to the Mississippi Radiological Society. I could not have done it without my teachers motivating me. I am extremely thankful for Jones College and the two years in this competitive program. It has not been easy, but it has been worth it!"
Jones College's Radiography Program Clinical Coordinator and instructor, Brittany Weatherford Barron, M.H.S., R.T. (R)(M)(CT)(ARRT)  said Bryant was selected for the scholarship because she was successful academically and she is of sound moral character, which are some of the requirements for the honor.
"Taylor is goal-oriented and driven and she has distinguished herself scholastically with competitive grades while in the radiography program. Taylor is currently working at Hattiesburg Urgent Care with plans to further her education in ultrasonography and eventually become a travel technologist. She has demonstrated competence in radiologic procedures and patient care skills in the clinical setting," said Barron.
She added, Bryant is especially deserving of the Award and Scholarship because she has distinguished herself in the classroom. The radiography program faculty at Jones College said they are very proud of Bryant and are thankful for the Mississippi Radiological Society's support of radiologic technology students.